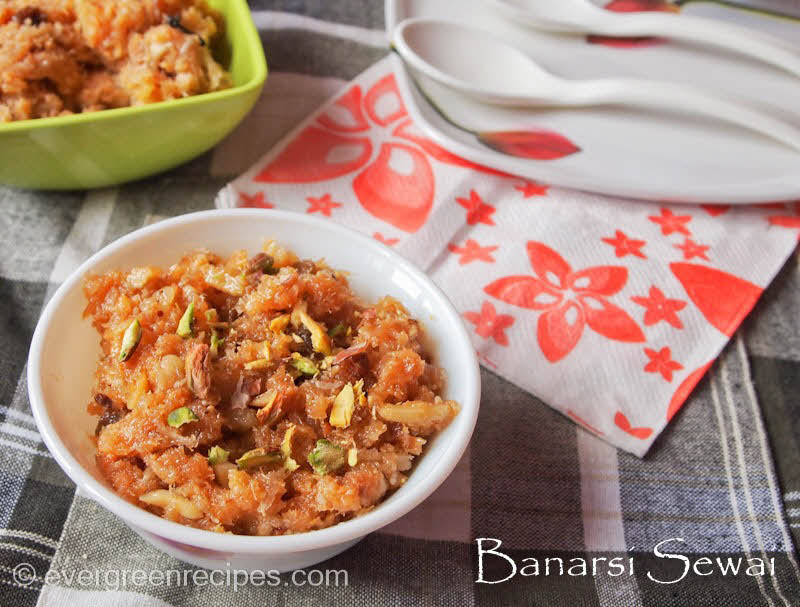 It's been few days since EID, I had prepared this recipe in EID but couldn't update it on the blog. It is a nice idea to prepare two type of Sevai in EID (or any other festival). You can check out the recipe of Kimami Sevai also.
Banarsi sevai is different because it is the most fine sevai available in the market. So is the taste. Follow this easy step by step recipe.
Note: You have to take the sugar three times of sevai. For example, 300gms of Sugar, 100gms of Khoya and 200gms of Dry Fruits will be to prepare 100gms of Sevai.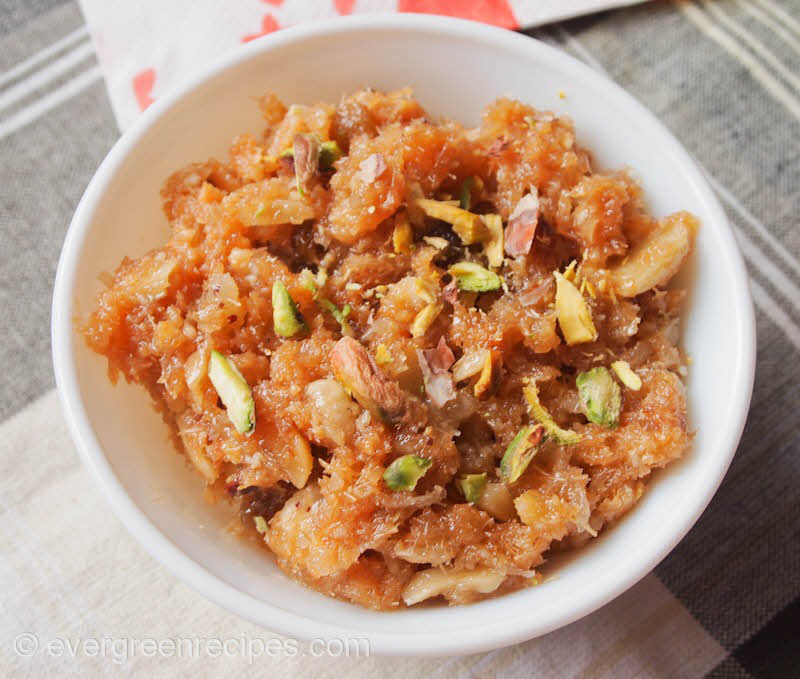 Preparation Time: 10 Minutes
Cooking Time: 25- 30 Minutes
| | |
| --- | --- |
| Ingredients | Quantity |
| Sewai | 1/2 kg |
| Sugar | 1 & 1/2 kg |
| Milk | 1 kg |
| Cashew nuts | 150 gram |
| Almonds | 150 gram |
| Chirogi | 50 gram |
| Talmakhana | 100 gram |
| Kishmish/ Currants | 50 gram |
| Khoya | 1/2 kg |
| Ghee | 250 gram |
| Cardamom green | 4 |
| Cloves | 4 |
| Pistachio | 50 gram |
| Grated coconut | 150 gram |
Method:
1. Take the banarsi sewai and crush it with your hands . You can easily get these sewai in the market.

2. Heat the big pan or bhagona with 100 gram ghee and sauté with cardamom green and cloves. Add talmakhana, chirogi and kishmish and fry it on slow heat for about 1-2 minutes.

3. Then add khoya, chopped almonds (Soak almonds in hot water for 30 minutes and peel off the skin, then chop it) and cashews nuts and pistachio. Mix it well and fry it for about 2 minutes. Lastly add grated coconut and fry it for about 30 seconds and switch off the flame  (coconut burns very quick so be careful while frying) . I had fried almonds, cashews nuts and khoya earlier and stored in the freezer a day before of Eid, below you can see the pictures.

4. Heat another pan with 100 gram ghee and roast the crushed sewai on low heat till golden brown in the color. Add roasted sewai in the fried dry fruits, mix it well and keep it aside.

5. Now heat the pan with 50 gram ghee and sauté with cardamom green and cloves. Then add 1 litre milk and 1 & 1/2 kg sugar. Prepare 2 string sugar syrup (long sticky string between two fingers) and add the syrup in another pan in which you have kept sewai. Mix it well and cook covered on low heat for about 10 minutes. Banarsi sewai is ready

. I forgot to take the pictures of roasting the sewai and  mixing syrup in sewai,  will update the pictures next time.
Note: Getting a 2 string sugar syrup is important, otherwise the sevai will not get it's fine texture.

6. Enjoy!!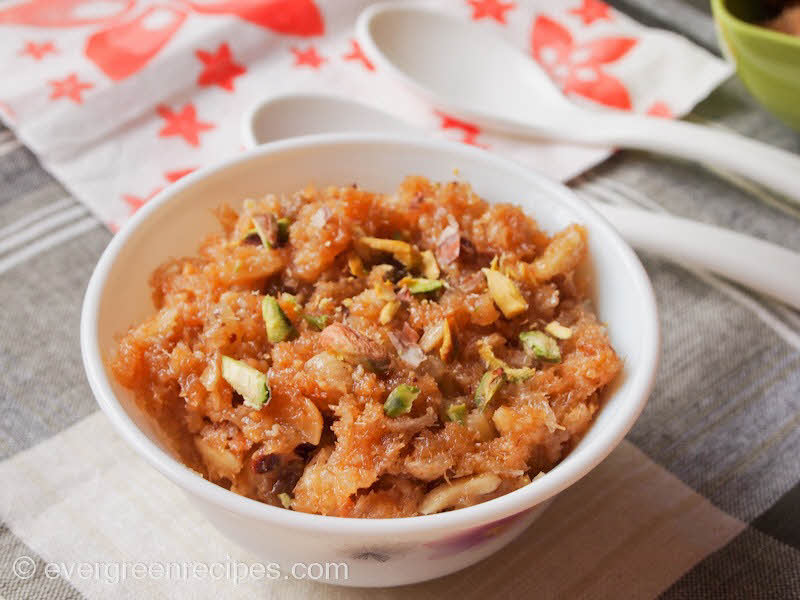 Got anything to say?
comments