What started as a personal space for sharing recipes with friends and family in 2012, turned out to be a popular place which has been visited a million times since its inception. One Million people who visited Evergreen Recipes have given us the responsibility to deliver quality recipes to our visitors.
At Evergreen Recipes, we are trying to make cooking fun and easy with our easy step by step recipes with pictures.
You can read about the person behind this website, Surkhab
Getting in touch with us
If you are looking to contribute to this website, look here,
If it's about Advertising your Product or Brand, look here,
If you want to leave feedback or just want to say hello, use this page.
We are very much active on Social Media Sites as well, it's would be great if you connect there to get the updates with the latest content from the website.
Facebook, Twitter, Email, Tumblr, YouTube
Meet the team
About Surkhab
Hello Reader, My name is Surkhab, I am from Lucknow, the city of Nawaabs, and also happens to be the capital city of Uttar Pradesh, India's Populous State.
The only achievement I have in my life so far is that I topped UP Board exams in Sr Secondary School. I completed my Bio-tech from Amity University, Lucknow and then got married a year later. So, I am technically an Engineer
I couldn't got myself addicted to the daily TV Soaps and decided to blog.
The blog was founded over a year ago but I actively started writing on the blog since March 2012, and now I write about everything I cook.  If you have liked my blog, I would request you to like, comment and share my posts with your friends, this is the only thing that keeps me motivated to give more and more time to my blog and come up with nice recipes.
Evergreen Recipes has been a kind of one-woman show from a very long time, but in last two months the blog has grown tremendously and thousands of people are visiting ER from all corners of the world. So much that it was beyond my ability to manage it alone and I had to look for help.
So, we are now a team of 4 people performing different tasks at the website, from developing recipes to creating photos, to writing them and making the recipes pages look good.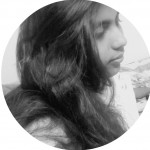 Aisha Khan is a creative girl who is responsible for dressing up the recipes for presentation, and boy, she has a talent. If you see a difference in the presentation of our Recipes, it's done by Ayesha.
Apart from making recipes look good on camera, she is also learning to maintain a balance of the ingredients in recipes she is preparing and is learning a bit fast.
Shameem Rana is now responsible for all the amazing photos of recipes you see and love on ER. In simple words, she is the Girl with the dSLR, who captures every angle of the produced recipes, decides which one should be taken for the blog and then makes appropriate enhancements in post production of the photos.
Being an Employee of ER, she also takes part in kitchen activities and learning the basics. Hope she will be as perfect as she is with taking photographs.
Tool and hardware used for blogging
We use Olympus EP1 with a 14-40mm Lens, which (I am sure you have noticed) gives great look to the photos. We use Adobe lightroom for post production of the photos and watermark them with our logo. We also use our phones (Samsung Galaxy Note 1) for taking quick photos during the preparation of food in the kitchen.
We am active on most of the popular social networks, like Twitter, Facebook and Google Plus, as well as I am contributing to many other famous food communities.
You can connect with me via any of the mediums We mentioned above or else you can email us at surrkhab at gmail.com if you've got something to say or want to submit a recipe on the blog.
Please feel free to ask us any Food related questions or just leave a feedback so that we can improve more. Enjoy the Blog now