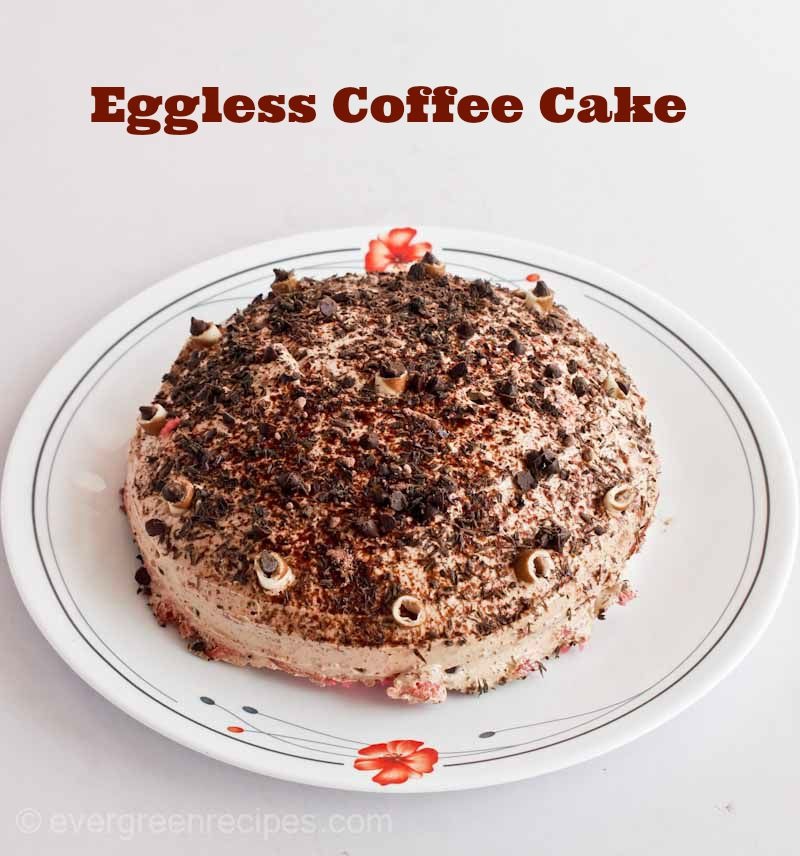 Here is the recipe of an Eggless Cake everyone has been asking for. Ever since I started sharing the recipes of Cake, I have been asked to put together a recipe of an Eggless cake that even Vegans can enjoy.
So, here it is, and it's delicious, just follow the step by step method to prepare this at home and make people around you happy. I hope you will love it.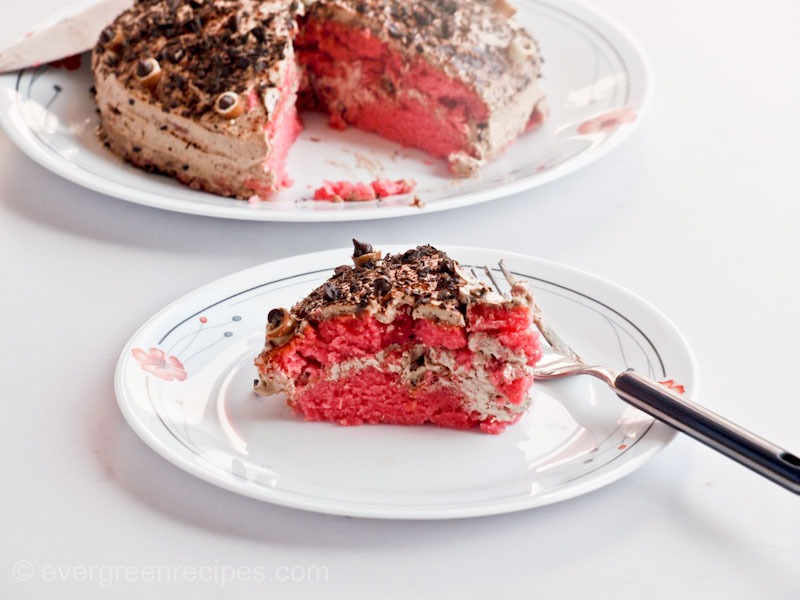 Preparation Time: 10-15 Minutes
Cooking Time: 35-40 Minutes
Serving: 1 kg cake
| | |
| --- | --- |
| Ingredients | Quantity |
| All purpose flour | 2 cup |
| Baking Powder | 2 teaspoon |
| Cooking soda | 1/2 teaspoon |
| Curd | 1/2 cup |
| Vegetable oil | 1/2 cup |
| Raspberry essence | 1 teaspoon |
| Sugar | 3/4 cup |
| Milk | 1/2 cup |
Ingredients for Coffee Frosting:
| | |
| --- | --- |
| Heavy cream/ whipping cream | 1 cup |
| Icing sugar | 1/4 cup |
| Coffee powder | 1 teaspoon |
| Dark Chocolate chips | 1/2 cup plus 3-4 tbsp more |
| Chocolate essence | 1 teaspoon |
| Grated chocolate or chocolate curls | 1/4 cup |
Method:
1. Take the curd in a bowl and add sugar.  Mix it well, till sugar dissolves completely. Then add baking powder and cooking soda. Mix it well.

2. You will notice that the curd is foamy now. Then add oil and essence into it. mix it well. (You can use essence/flavor) of your choice, I used red because my kid loves it)

3. Sieve the flour in a broad bowl and add curd-sugar mixture into it. Just give a  quick mix.

4. Add milk and make a lumps free batter. Don't over mix the batter.

5. Grease the baking pan with oil and dust with flour. Now pour the cake batter in a greased pan. Bake it in a pre-heated oven for 35-40 minutes. Insert a toothpick in the center of the pan if its comes out clean, it means the cake is ready and if it doesn't, bake for few more minutes. Let it cool at the room temperature, the invert the cake.

6. Now prepare frosting for the cake. Take the cream, icing sugar in a mixing bowl.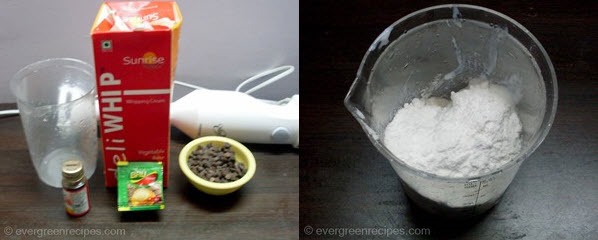 7. Add chocolate essence, coffee powder, chocolate chips the bowl.

8. Beat it with the hand blender till the cream is light and fluffy.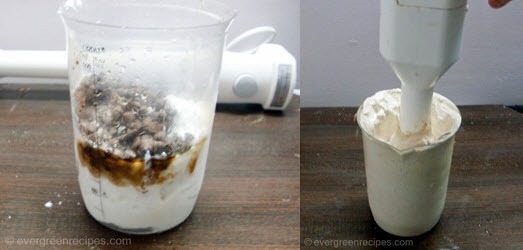 9. Take out the whipped cream in a bowl or container and add some more chocolate chips. Mix it well.

10. Cut the cake horizontally into two, apply the cream on one part of the cake evenly. Cover it with the another half. Apply some cream on the top of the cake to cover it properly.

11. Decorate with chocolate chips, grated chocolate etc. (dressing of your choice) Keep it in a fridge for 2-3 hours to set. Delicious Coffee cake with raspberry essence is ready.

12. Enjoy!!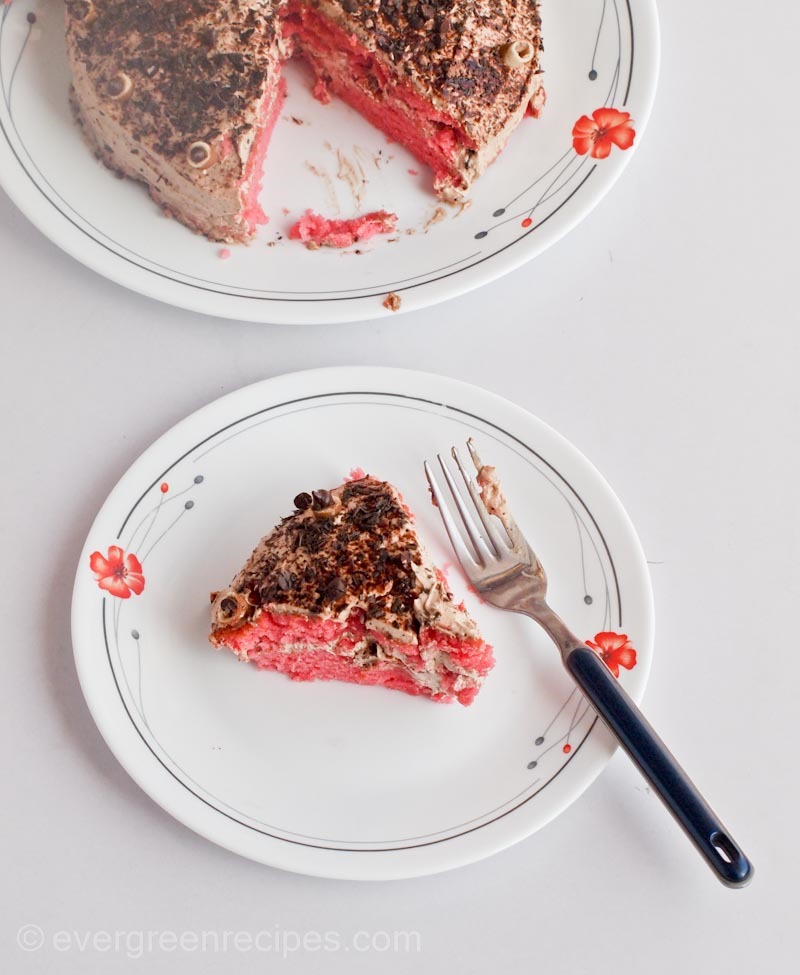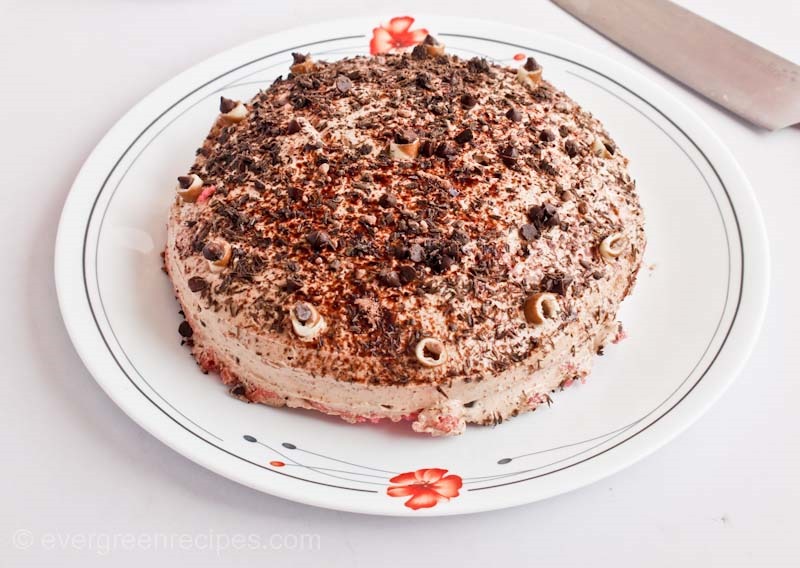 Got anything to say?
comments