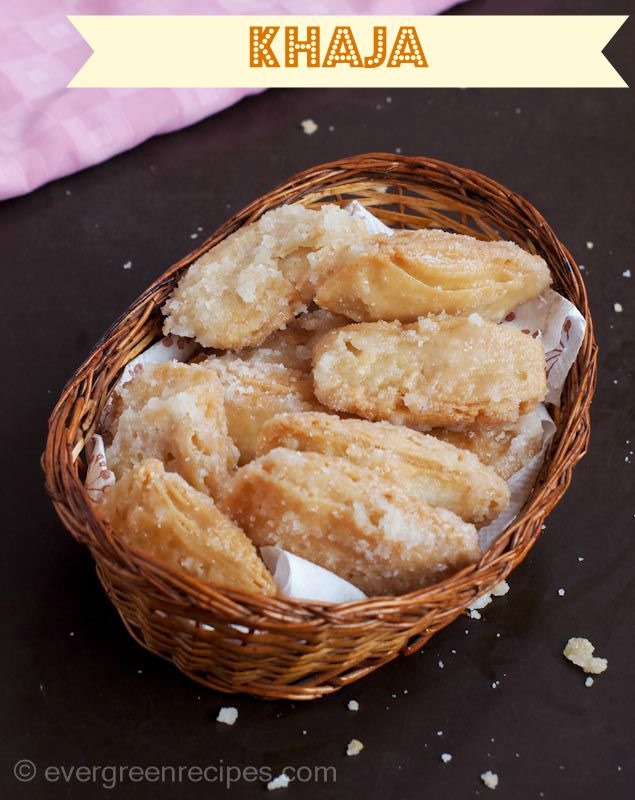 Here is the recipe of a regional sweet dish named Khaja, the name may sound unfamiliar because it is an old dish that used to be a must have a thing in north Indian weddings (mainly Uttar Pradesh).
Thanks to the globalization and the easy availability of so many different dishes, that the popularity Khaja seems to have faded away and is on the verge of being forgotten.
I got the recipe from one of the relatives who live in the area where it still can be found. Though it might not be the exact same shape or texture, but the ingredients (which are also simple and easily available) are same.
You can follow this step by step recipe along with pictures and prepare it in your own kitchen. I hope you will love it.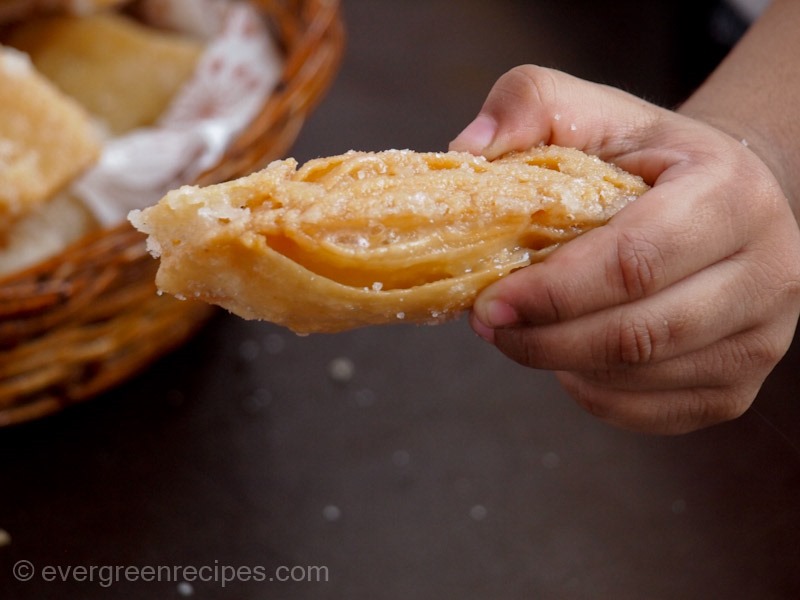 Preparation Time: 20 Minutes
Cooking Time: 12-18 Minutes
| | |
| --- | --- |
| Ingredients | Quantity |
| All purpose flour/ Maida | 1 cup |
| Ghee | 1/2 cup |
| Vegetable oil / ghee | for deep frying |
| Sugar | 2 cup |
| Water | 1/2 cup |
| Rose water / kewra | 1 teaspoon |
Method:
1. Sieve the flour in a broad bowl and add pure ghee. Mix it well .

2. Knead the flour to make a tight dough.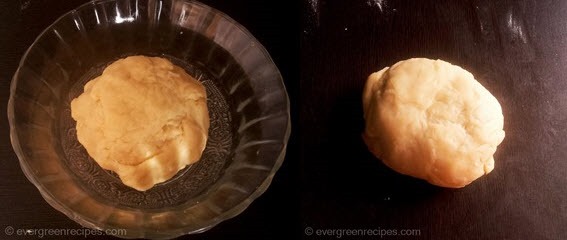 3. Roll the dough with the rolling pin in a rectangular shape, as thin as possible, but make sure it does not break from anywhere. You cut out the excess parts to get a perfectly sized rectangular shape.

4. Dust it with some flour.

5. Start rolling it from on side.

6. Now when the roll is over, cut out a small portion from both the sides.

7. Cut roll into small pieces should be 1 to 1.5 inch  in thickness.

8. When you view it from the sides, you will see the layers which make it look good (and also lets the flour absorb the sugar syrup).

9. Now, using the rolling Pin, slightly press it to flatten it. Do it with all the pieces.

10. Heat the work with oil and deep fry it on low flame till it turns light golden in colour.

11. Fry only 3 to 4 pieces at a time to make them fry evenly.

12. Take sugar, rose water and water in a separate Pan, and make three string sugar syrup. Switch off the flame.

13. Put all the deep fried khaja into the sugar syrup, mix it well and leave it for 5 minutes, the mix it again and keep it aside. The sugar will be visible on the khaja once it cools down. It is ready to be served or stored.

14. Enjoy!
Got anything to say?
comments