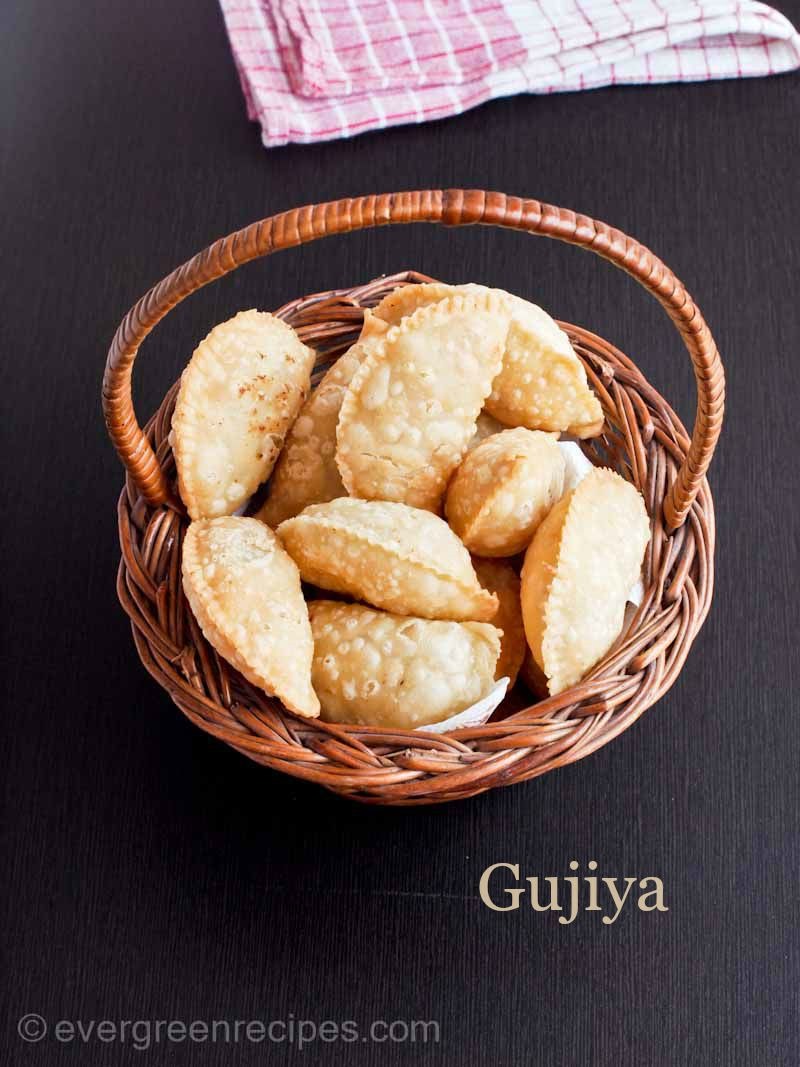 Here is the recipe of Gujiya, A wonderful thing you can store for the times when you are craving to have something sweet.
Gujiya is usually prepared during the Holi Festival, but there is no reason you cannot have it on any regular days. If you love them, here is a simple step by step recipe to prepare at home. I hope you will love it.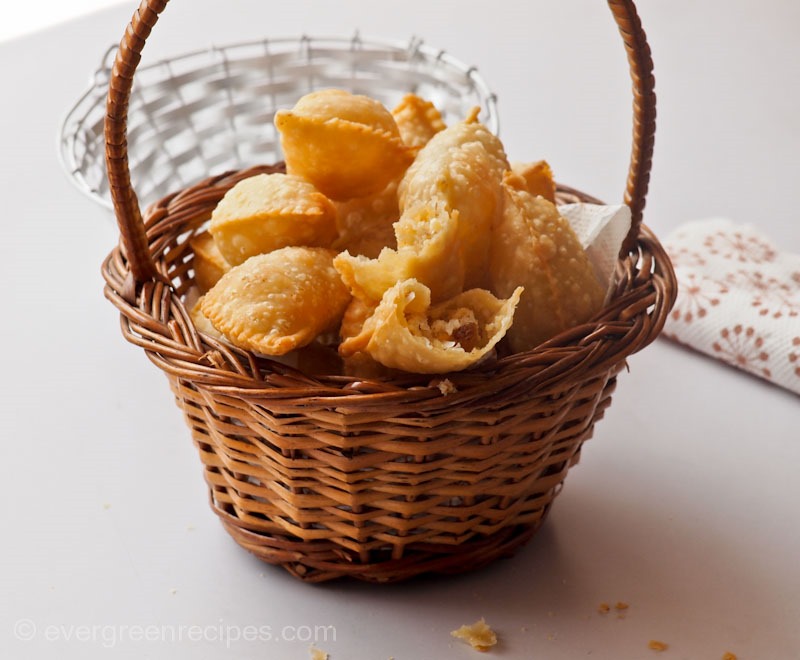 Preparation Time: 15-20 Minutes
Cooking Time: 8-10 Minutes
| | |
| --- | --- |
| Ingredients | Quantity |
| All purpose flour / maida | 2 cup |
| Ghee | 3 tbsp to knead the flour, 1 tbsp for cooking the mawa |
| Mawa/ khoya | 1 cup |
| Chirogi/ charoli | 2 teaspoon |
| Almonds | 2 tbsp |
| Cashew nuts | 2 tbsp |
| Grated coconut | 1/4 cup |
| Powdered sugar | 1/2 cup |
| Cardamom green powder | 1/4 teaspoon |
| Raisins/ kishmish | 2 teaspoon |
| Vegetable oil /ghee | for deep frying |
Method:
1.  Heat the pan with ghee and add mawa. Fry it on a low flame till it is light golden in the color. Keep stirring while frying it to avoid burning. Switch off the flame.

2. Take the fried mawa in a bowl and add chopped almonds, cashew nuts, raisins, charoli and grated coconut. Mix it well. Let the mixture cool completely. Then add cardamom powder and powdered sugar. Mix it well. Stuffing is ready, keep it aside. (Make sure, mixture is cooled completely before adding the sugar,  If the mawa is too hot, sugar will start melting and the stuffing will be runny, we don't want that in this recipe)

3. Take the flour in a separate bowl and add 3 tbsp ghee. Rub it with your fingertips so that the ghee gets mixed with the flour well. You will get like bread crumbs mixture.

4. Add water little at a time and knead the flour well to make a stiff dough. Cover it with wet muslin cloth to prevent it from drying out. let it rest for 15-20 minutes.

5. Divide the dough into 18-20 equal portions. Take one portion of the dough, dust with flour and roll into a 4-5 inch diameter circle using rolling pin as shown in the image below.

6. Take the gujiya mold, apply some oil on the inner part of the mold and put the rolled circle on it as shown below in the image.

7. Put  1-2 teaspoon stuffing in the center of the mold and apply water around the edges and fold it into half circle then press it tightly.

8. Take out the gujiya from the mold and do the same with the rest of the dough. Cover it with muslin cloth till you prepare rest of the gujiya to prevent from drying out.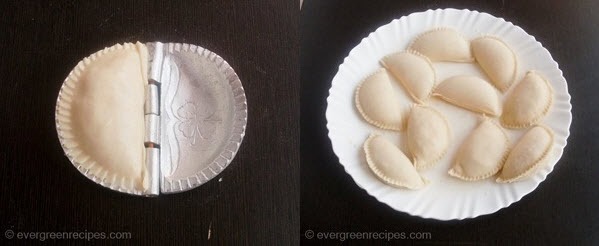 9. Heat the kadai/ wok with oil and deep fry it on low flame till light golden and crispy from both the sides.

10. Take out the fried gujiya on the tissue paper to get rid of extra oil.  Delicious gujiya is ready, store it in a airtight container for later use.

11. Enjoy!!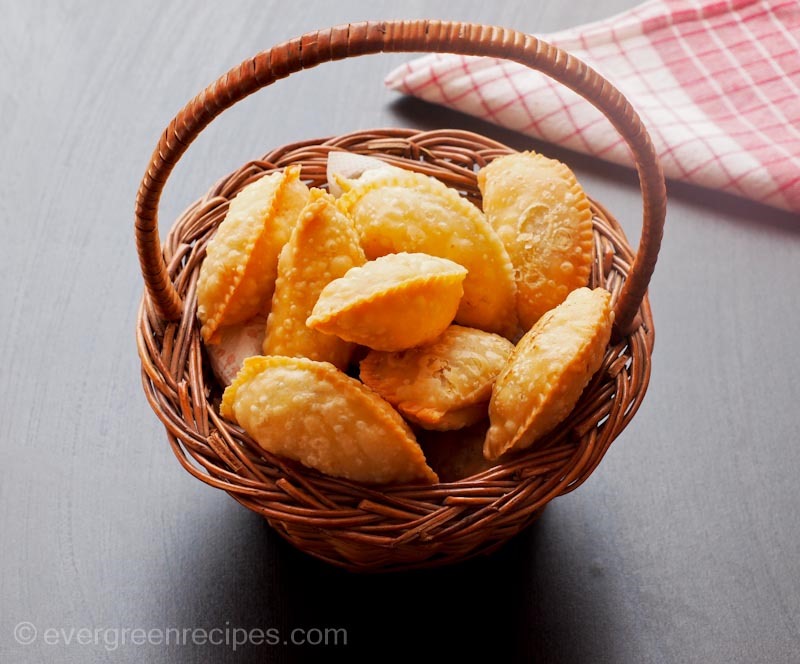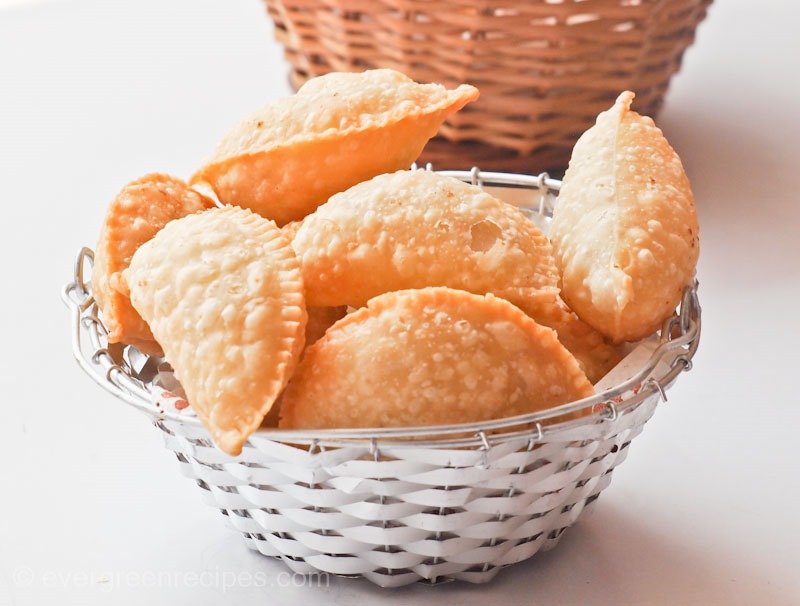 Got anything to say?
comments