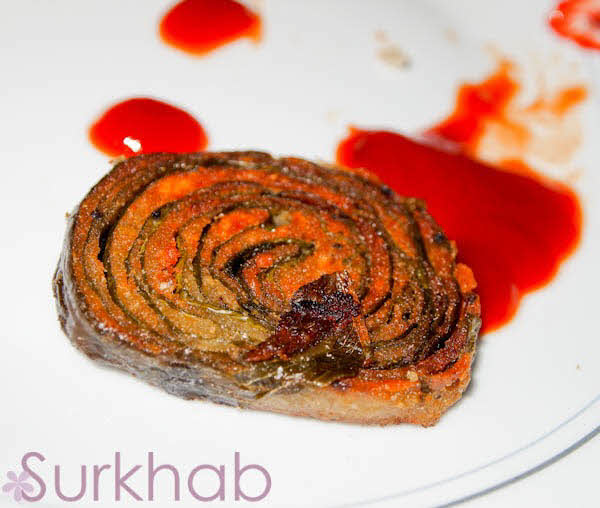 Rikwach is a an innovative dish which makes an excellent use of Colocasia leaf as a base in a Pakora like snack. Colocasia leaves are  heart shaped leaves and can easily be found at vegetable market. If you haven't tried anything like that, just think of pakoras but 10 times tastier and call it Patora.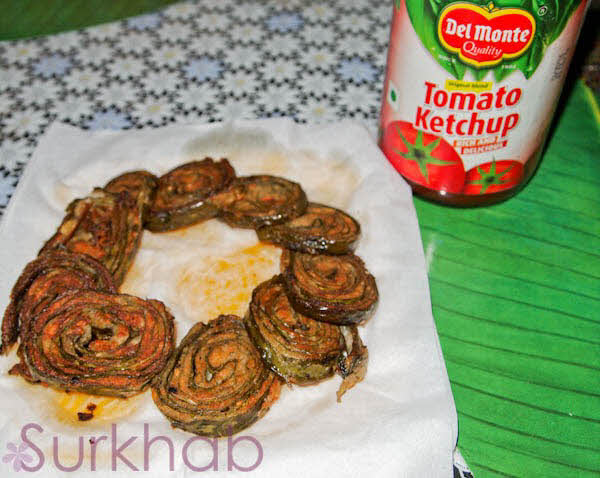 I am sending this recipe for Del Monte Blogger Recipe Carnival presented by IndiBlogger and I have used one of their product, Del Monte tomato ketchup.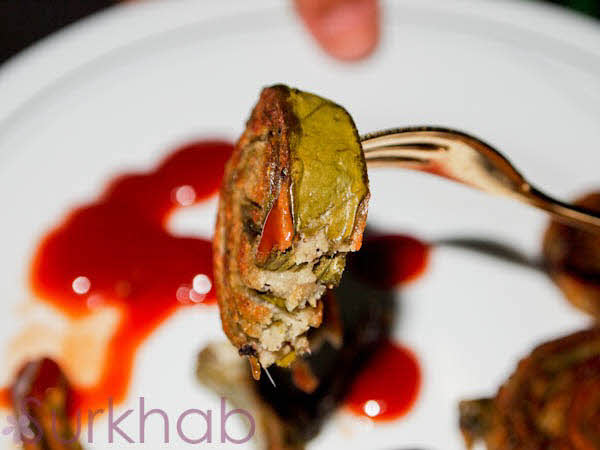 Preparation Time: 20 Minutes
Cooking Time: 20 Minutes
| | |
| --- | --- |
| Ingredients | Quantity |
| Colocasia Leaves/ Arvi ka patta | 6 (for One Roll) |
| Bengal gram lentil/ Chana daal | 3 cup |
| White Split lentil/ Urad daal | 2 cup |
| Green Chilli | 15 |
| Coriander Leaf | 1 bunch |
| Garlic | 10 cloves |
| Dry Mango Powder | 1/2 teaspoon |
| Oil | for shallow fry |
| Salt | To taste |
Method:
1. Clean and wash the Colocasia leaves, dry all leaves and remove the stems. Grind green chilli, garlic, and coriander leaves coarsely and keep aside.

2. Wash and Soak both lentil for 1 hours. Now grind both lentil coarsely without adding the water. Then take both lentil in a large bowl and mix grind green chilli mixture, dry mango powder and salt. Mix Well.

3. Take the bigger leaf and apply the paste all over the leaf properly then Put another leaf on top of it and again apply the paste as shown below in picture. Repeat the same procedure for all remaining leaves. There should be 6 leaves in one roll.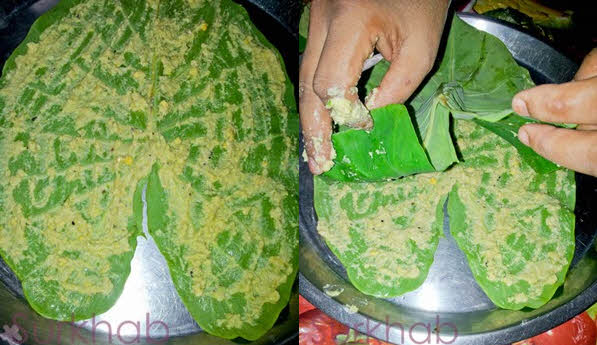 4. Wrap the leaves to make roll as shown below in picture.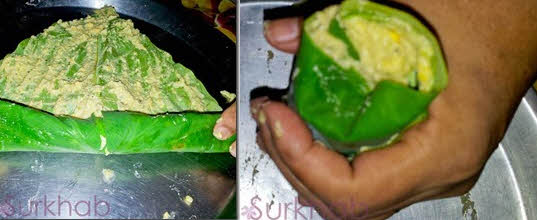 5. Steam the leaf roll in a steamer and cook for 20 minutes approximately.

6. Let it cool for some time and cut it into small pieces as shown below in picture. Now heat the oil in frying pan and shallow fry them on both sides till they turn golden brown and crispy.

7. Enjoy it with Tomato ketchup!!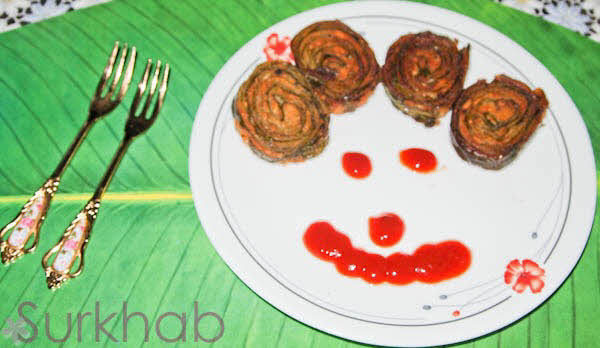 Got anything to say?
comments