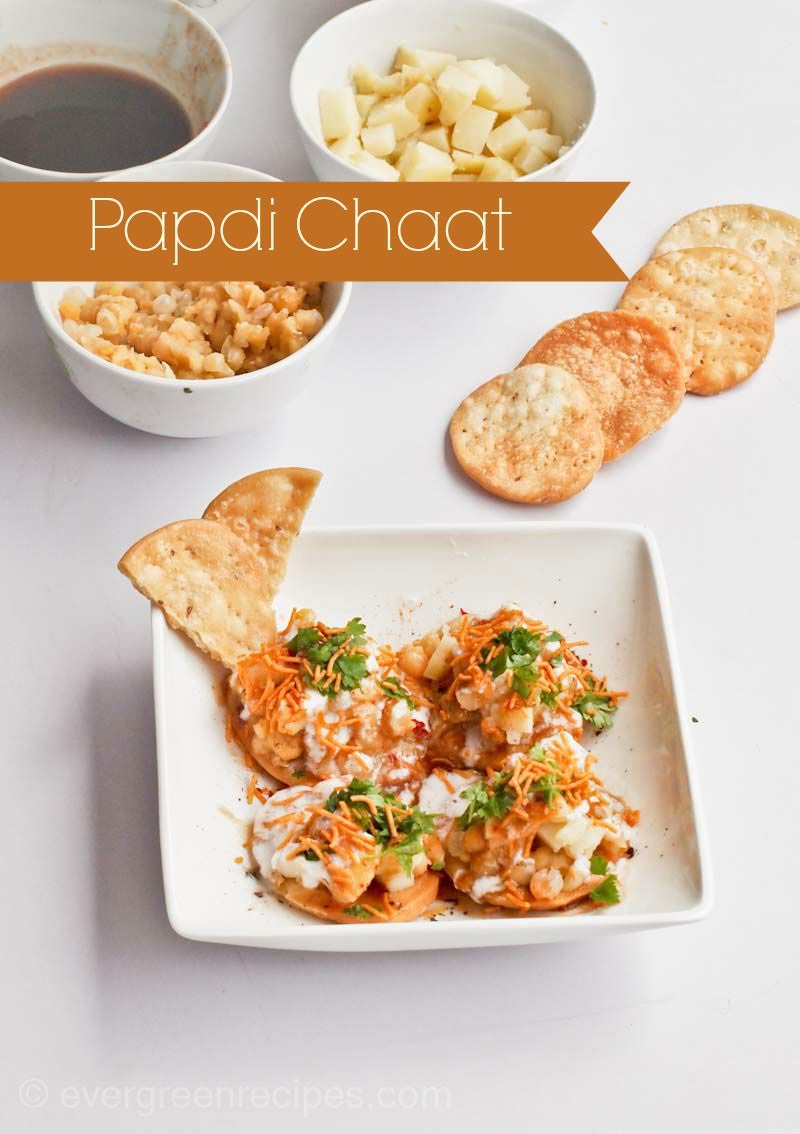 Apart from the main course meal recipes that I share on the blog, another type that is quite a hit among ER readers is, especially among the females, and that is, Spicy Indian Fast Foods, be it the Basket Chaat or the Fence Chaat, everyone loved it.
So, here is yet another spicy fast food you can try in your own kitchen, the Papadi Chaat, it's super delicious and I just finished having it with my evening tea.
Follow the step by step process along with photos and make treat yourself with this amazing Paapdi Chaat. I hope you will love it.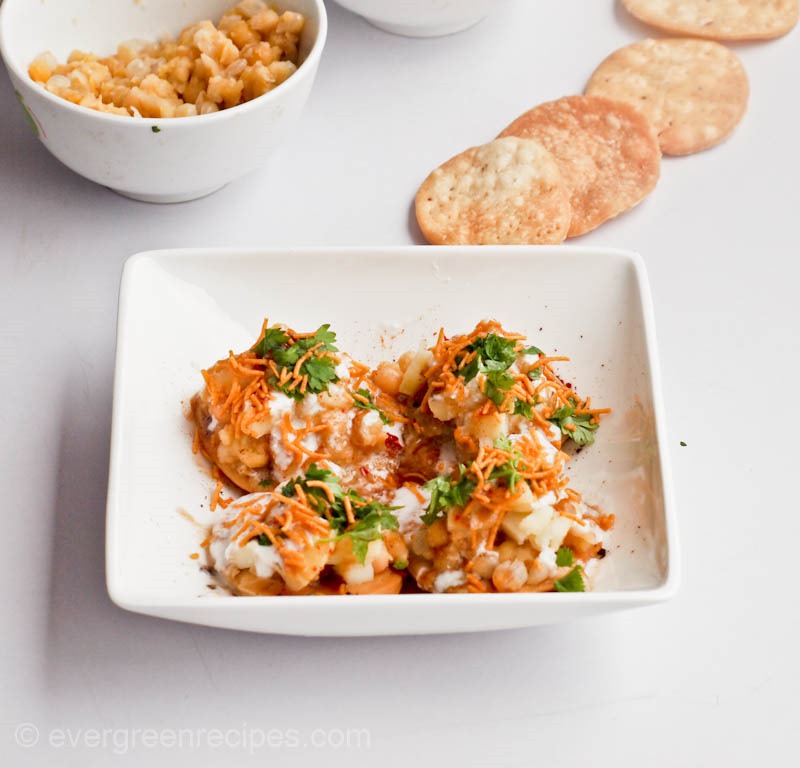 Preparation Time: 15 Minutes
Cooking Time: 10-12 Minutes
Serving: 4
Ingredients for Papdi:
| | |
| --- | --- |
| Ingredients | Quantity |
| All purpose flour/ Maida | 2 cup |
| Carom seeds/ ajwain | 1/2 teaspoon |
| Cumin seeds/ zeera | 1/2 teaspoon |
| Salt | to taste |
| Ghee | 3 tbsp |
| Vegetable oil | for deep frying |
Ingredients for Chaat:
| | |
| --- | --- |
| Potato (boiled, peeled  and cut in the cubes) | 2 |
| White peas, boiled | 1 cup |
| Red chilly flakes | 1/4 tsp |
| Red chilly powder | 1/8 tsp |
| Cumin powder | 1/2 teaspoon |
| Chaat masala | 1/4 teaspoon |
| Salt | to taste |
| Curd (beat the curd with 2 teaspoon sugar) | 1/2 cup |
| Tamarind chutney | 1/2 cup |
| Sev | 1/4 cup |
| Coriander leaves | for garnish |
| Pomegranate, ginger, green chutney (optional) | for garnish |
Method:
1. Combine flour, carom & cumin seeds, ghee and salt in a broad bowl. Rub the flour with your hands, you will get consistency of the flour like the bread crumbs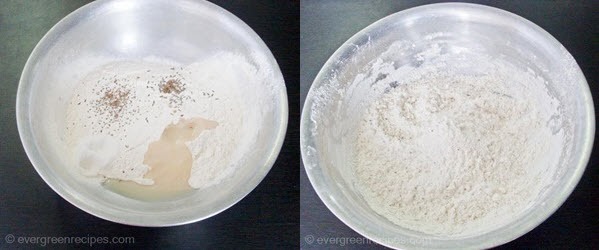 2. Knead the flour with water to make the stiff form dough. Dough should be tight not too loose. Cover with a muslin cloth and let it rest for 15-20 minutes. Then divide the dough into 5 equal portions.

3. Take one portion of the dough, dust with some flour and roll it like a chapatti, slightly roll thick from the regular chapatti. Use a cookie cutter to cut the chapatti to make the small papdis. I used round and heart shaped cookie cutter.

4. Now prick each paapdi with a fork, when you will fry the paapdi, it will not become puffy, by doing this trick with paapdi help to get crispier paapdi. Use the leftover dough to make another paapdi. Heat the kadai/wok with oil and deep fry it on low flame till light golden and crisp from both the sides.

5.Take out the paapdi from the oil, keep it on tissue paper to absorbs extra oil. Do the same with the rest of the dough. Now paapdi are ready. Let it cool, and keep it in an airtight container to get crispier for few days.

6. Keep ready all the ingredients  for Papdi Chaat. Take a bowl and put 4 paapdi.

7. Then put boiled peas and potato on each paapdi. Sprinkle Chaat masala, red chilly flakes, red chilly powder and salt. Then pour some tamarind chutney and curd. Garnish with sev and coriander leaves. (you can garnish with green chutney, pomegranate, and grated ginger too, but I didn't use) Delicious, mouth watering papdi chaat is ready to serve, Serve immediately.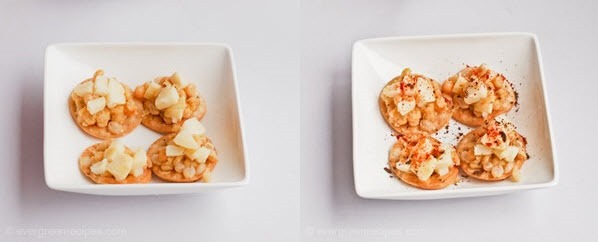 8. Enjoy!!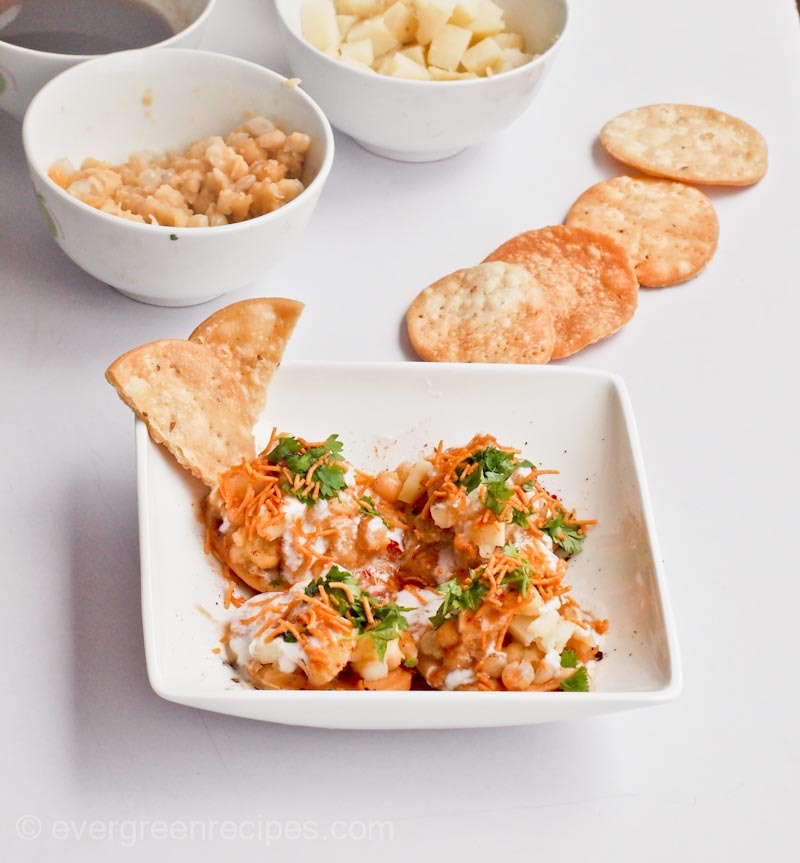 Got anything to say?
comments