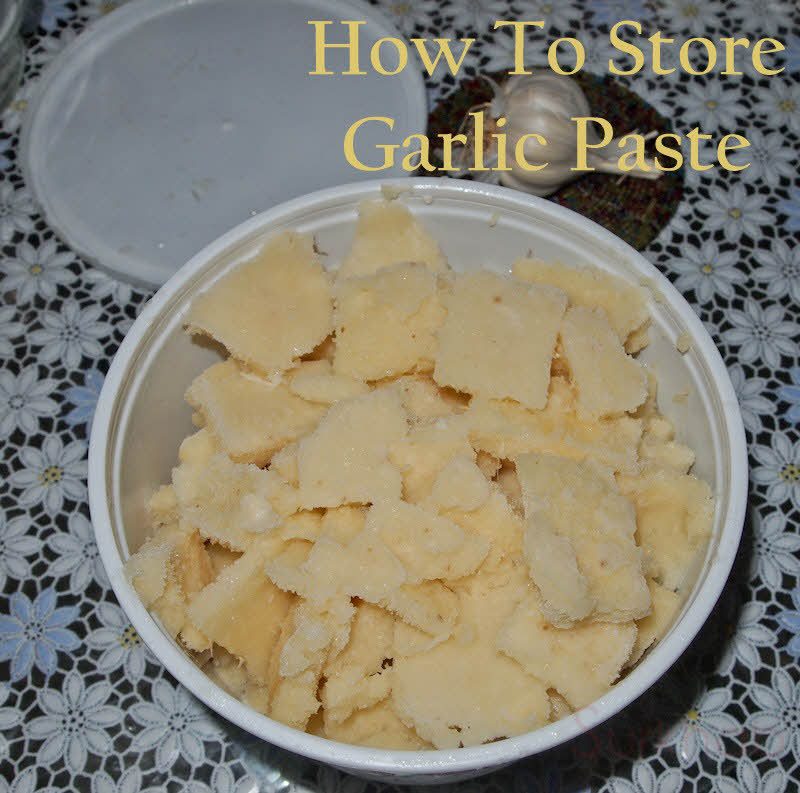 Garlic is an essential ingredient for creating more of the recipes we post here at Evergreen Recipes. Storing them for long term use can save you few minutes everytime you have to cook something.
I have been doing this from a very long time, so, I thought of sharing this with you today.
Take out some time to peel off the garlic skin or ask your domestic help to do it for you. 1kg is quite sufficient for three months if you will use it twice every day.
Below is the video of the entire process for you. Or you can simply follow the step by step instructions with photos below. Your choice.
Preparation Time: 5 Minutes
Method:
1. Peel off the skin of the garlic and grind it in a grinder to make it a fine paste. Put it in a plate and spread it with the help of a spatula.

2. Then keep the plate in the freezer for half an hour. Take it out and cut it into cubes, then store it in an airtight container. Keep it refrigerated up to 3 months.

The reason for cutting them into cubes is to make it easy for you to measure how much to use. Though I have freezed it into cubes, you can freeze them in an ice tray.
I hope you liked this tip. Thanks.
Got anything to say?
comments