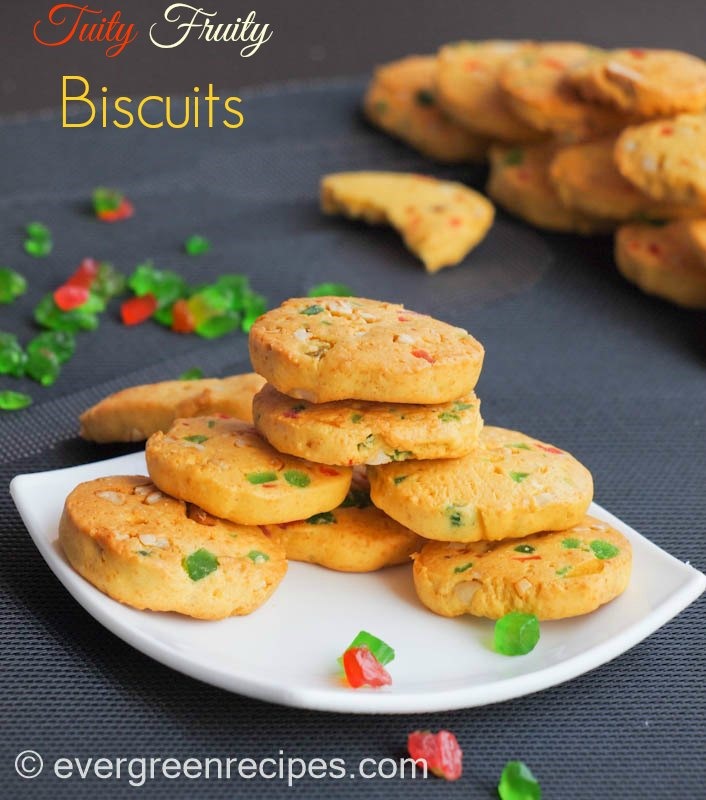 A few days ago, I tried to bake the cookies and failed miserably. It was burned and there was no taste, I wasn't sure I would ever be able make it. But today, I gathered the courage to try it again. And this time, it was perfect. I have started getting better at baking and I am glad that I can now experiment more varieties of cookies in future.
And for some reason, my two year old toddler was excited to see this coming out of oven. So, he became the validator that this one is better than most of the cookies we get from shops, because he does not like any of them.
Anyway, you can try this at home by following the step by step instructions along with photos. And don't be afraid of failing, because, you will get there anyway. I hope you will love this one as well.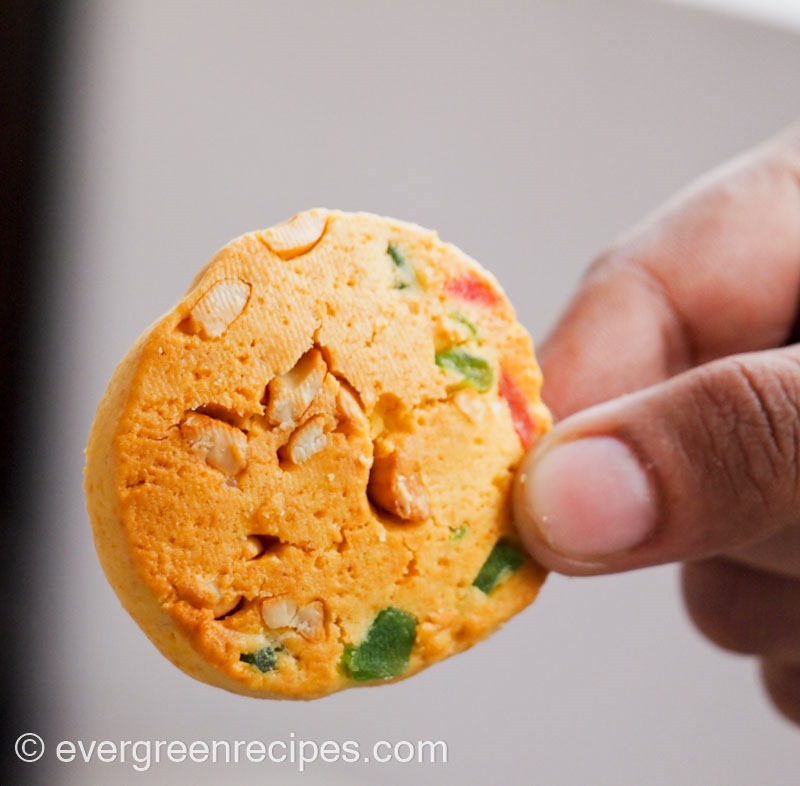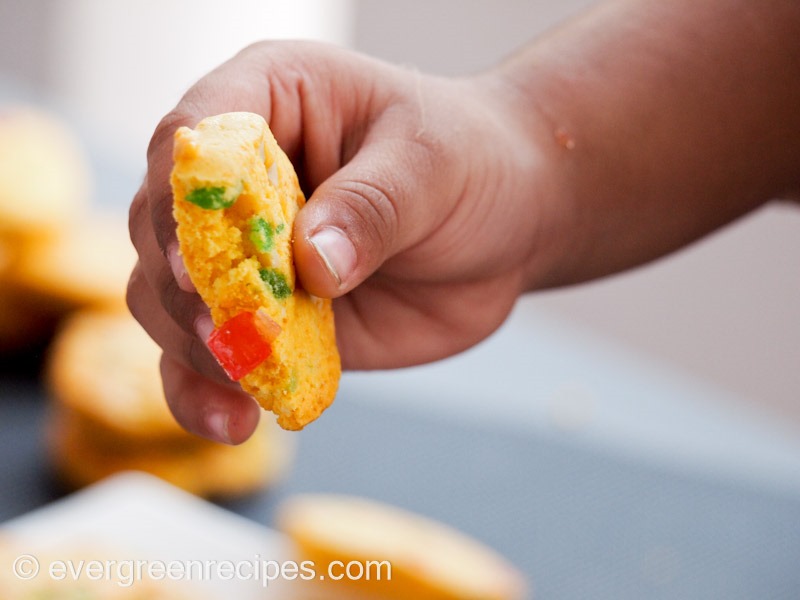 Preparation Time: 10 Minutes
Cooking Time: 30 Minutes
| | |
| --- | --- |
| Ingredients | Quantity |
| All purpose flour | 1.5 cup |
| Custard powder | 1/2 cup |
| Baking Powder | 1 teaspoon |
| Powdered sugar | 1 cup |
| Butter | 1/4 cup |
| Milk | 3 tablespoon |
| Vanilla essence | 1 teaspoon |
| Tuity fruity cherry | 1/4 cup |
| cashew nuts | 10-12 |
| Almonds | 10-12 |
Method:
1.Combine butter and powdered sugar in a bowl and mix it well. Then add milk and vanilla essence in the bowl.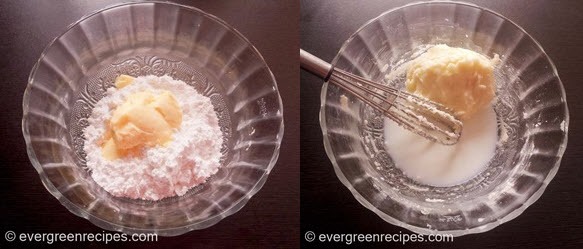 2. Mix it well till sugar dissolve completely. Sieve flour in another bowl.

3. Add custard powder and baking powder in the flour bowl. Add cherry and coarsely ground almonds and cashew nuts in the bowl.

4. Mix it well the dry ingredients. Now add liquid ingredients to dry ingredients. (Add sugar-butter mixture to flour mixture)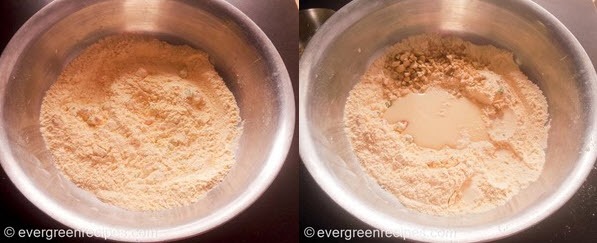 5. Knead the flour to make dough. There is no need to add water while kneading the flour. If need add 1 or 2 tbsp milk. Now roll the dough as shown below in the image.

6. Wrap the dough in a plastic bag or polythene and close both the ends. Keep it in freezer for 1-2 hours till it becomes little hard.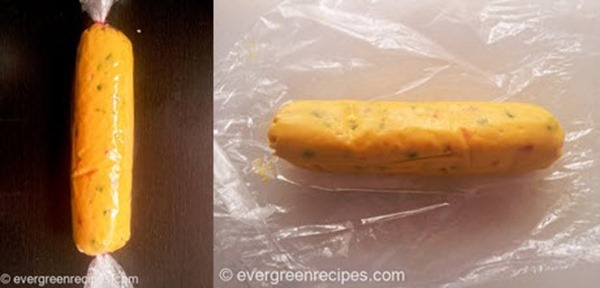 7. Remove the rolled dough from polythene and cut it into small cookies shape. Pre-heat oven at 170 C and bake it for 15 minutes at 170 C. Then turn the cookies to the other side and bake for another 12-15 minutes. If your Oven's heating rod is on the top, make sure the cookies are not as close else they will be little uncooked from the inside. Main some distance from the rod to have the cookies cooked evenly from both in and out. (You can cook it for a few more minutes if it doesn't get cooked in given time, also, keep checking it between the process)

8. Enjoy!!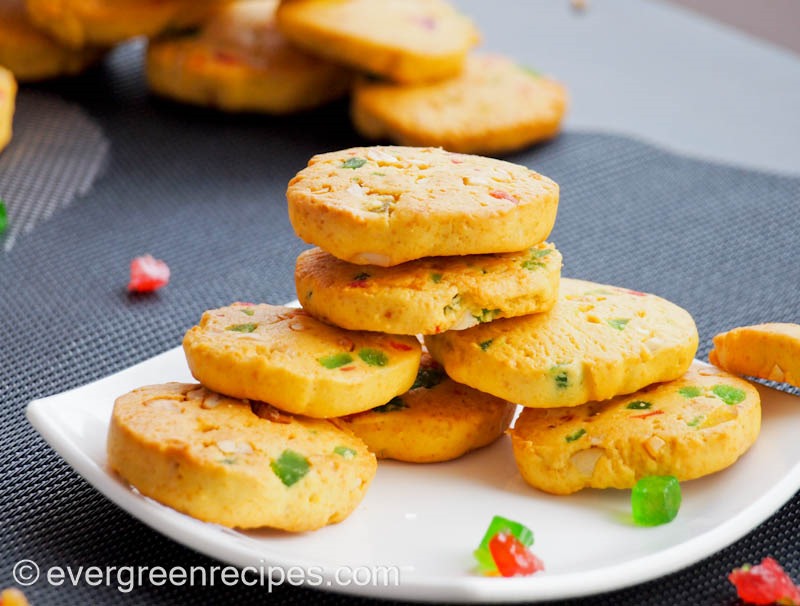 Got anything to say?
comments