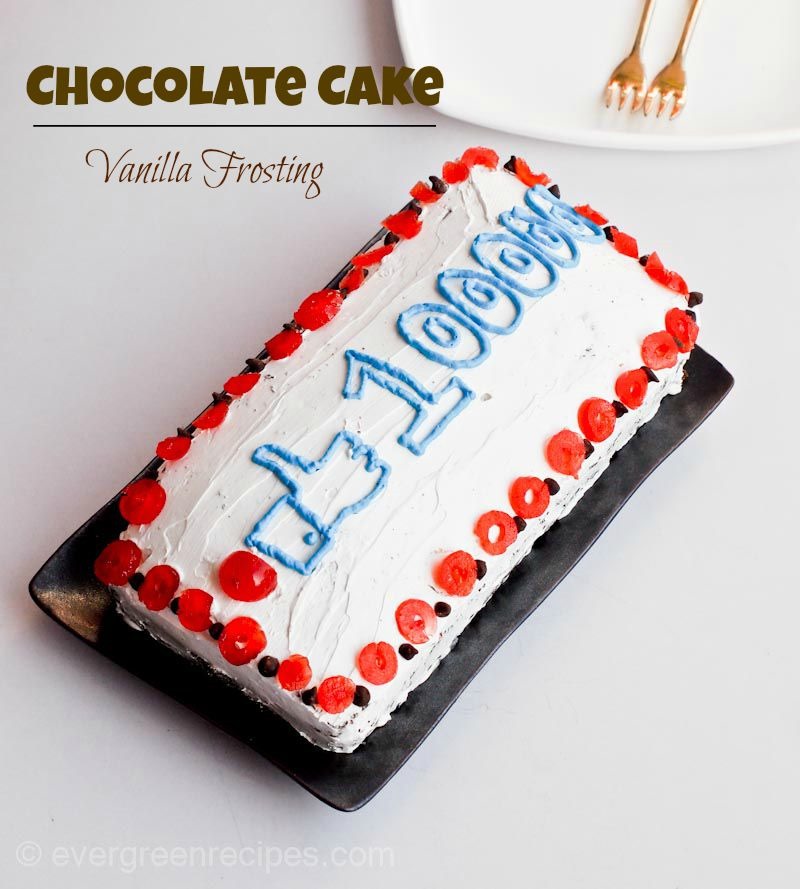 Presenting the Recipe of Chocolecious Chocolate Cake, if you are wondering why it's written ????100,000 Let met explain it to you.
It's the cake we chose to celebrate our little success of crossing 100,000 fans on Facebook. And you might be one them (like us here if you haven't yet). So, celebrate it with us, prepare this super delicious cake at home by following the easy step by step recipe mentioned below. I am sure you are going to live this.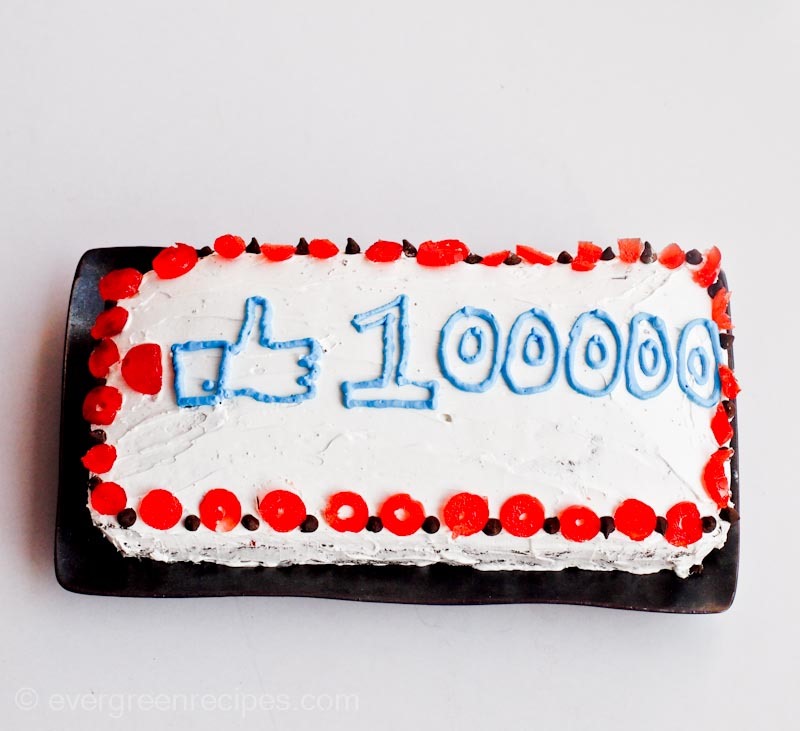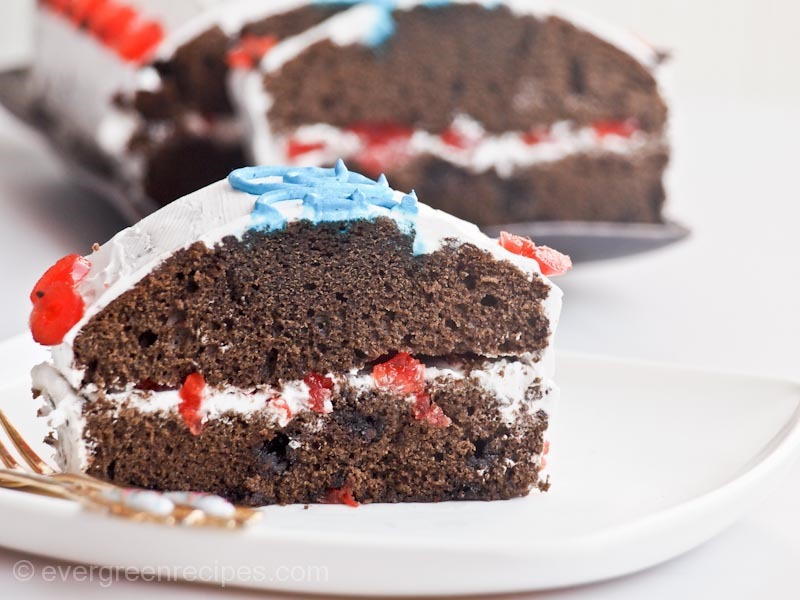 Preparation Time: 15 Minutes
Cooking Time: 35-40 Minutes
| | |
| --- | --- |
| Ingredients | Quantity |
| All purpose flour | 1 -1/2 cup |
| Baking Powder | 1 teaspoon |
| Cocoa Powder | 2 tbsp. |
| Egg | 4 |
| Vanilla essence | 1 teaspoon |
| Dark chocolate | 150 gram |
| Butter | 50 gram |
| Sugar | 1 cup |
| Chocolate chips | 3 tbsp |
Ingredients for frosting:
| | |
| --- | --- |
| Heavy cream | 1 cup |
| Powdered sugar | 1/4 cup |
| Vanilla essence | 1 teaspoon |
| Cherry | 2 tbsp |
Method:
1. Melt the chocolate and butter using the steam that comes out of hot water. Put the bowl on a pan filled with hot water, keep it in mind that the water should not touch the base of the bowl.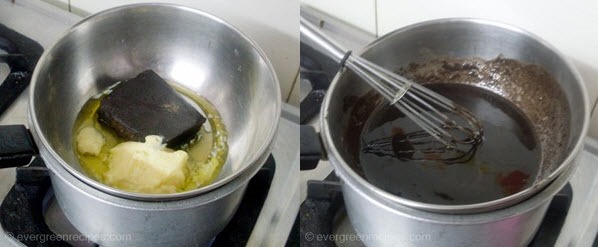 2. Beat the egg with the hand blender till its foamy. Add sugar and beat it again till sugar dissolves completely. Keep it aside.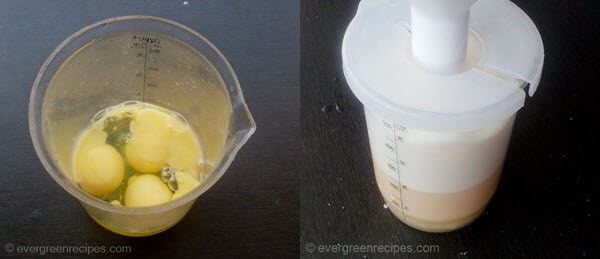 3. Sieve the flour in a plate.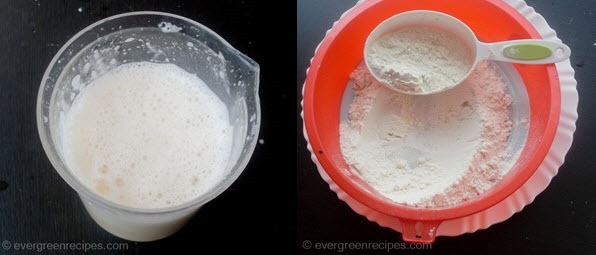 4. Then sieve the cocoa powder and baking powder in the same plate, mix it well with the flour. Now take the chocolate-butter (melted) mixture in a broad bowl.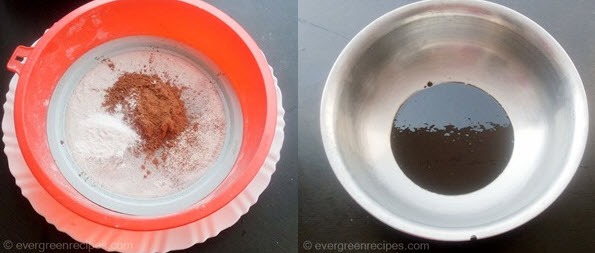 5. Add egg-sugar mixture and vanilla essence in the same bowl. Mix it well.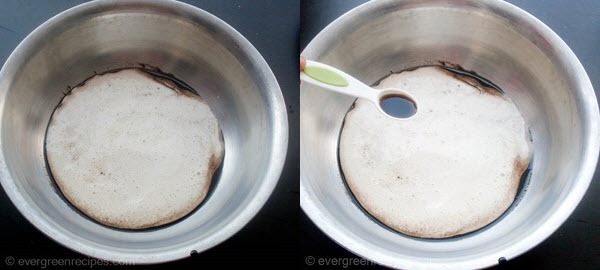 6. Add dry ingredients (sieved flour, cocoa and baking powder) and chocolate chips in the bowl. Mix it well. Don't get the batter overmixed.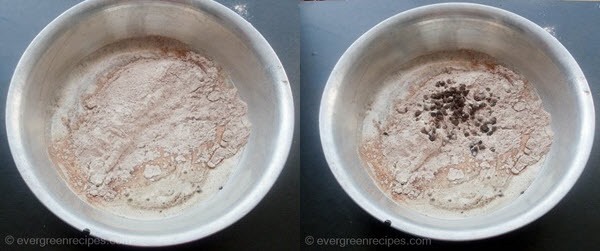 7. Grease the baking pan with ghee, dust with flour and pour the cake batter.

8. Bake it in a pre-heated oven at 170 C for 35-40 minutes. Insert a tooth pick in the center of the cake, if it comes out clean, it means the cake is ready. Cool it at the room temperature. Cut the cake vertically into two as shown below in the image.

9. Take the cream, sugar and vanilla essence in a bowl and beat it till the soft peaks form or light and fluffy. Spread the whipped cream on one part of the cake evenly.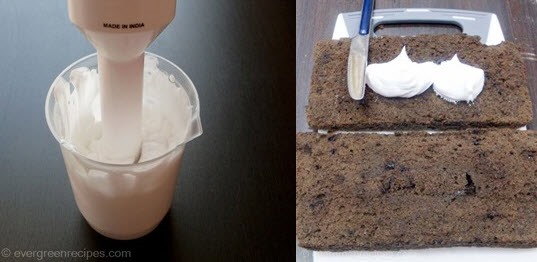 10. Put some chopped cherry on the cream and cover it with the another half

11. . Now Spread the cream on the top of the cake and apply evenly to cover the cake.

12.  If you have some leftover cream, add food color & mix it well. (I used blue color to decorate the cake) Put it in the piping bag and decorate the cake as you like.  Decorate the cake with cherry and chocolate chips. You can also use grated chocolate.

13. Enjoy!!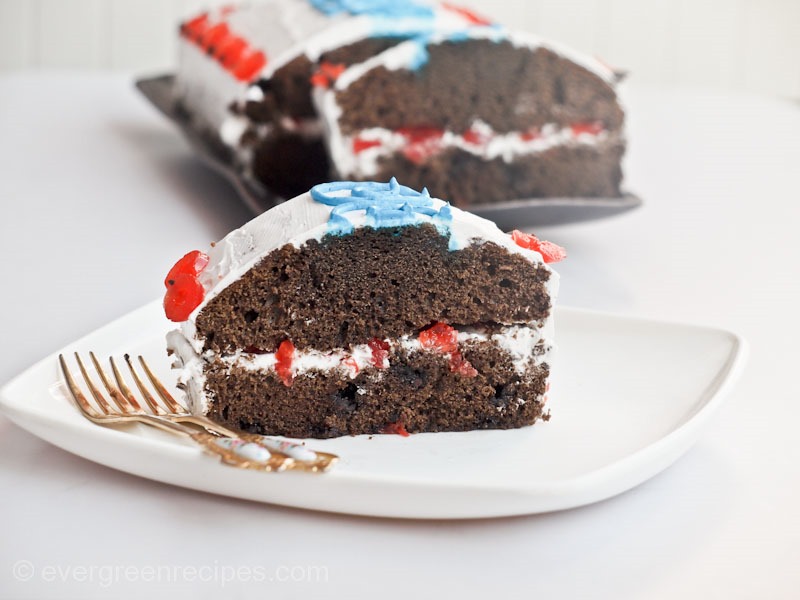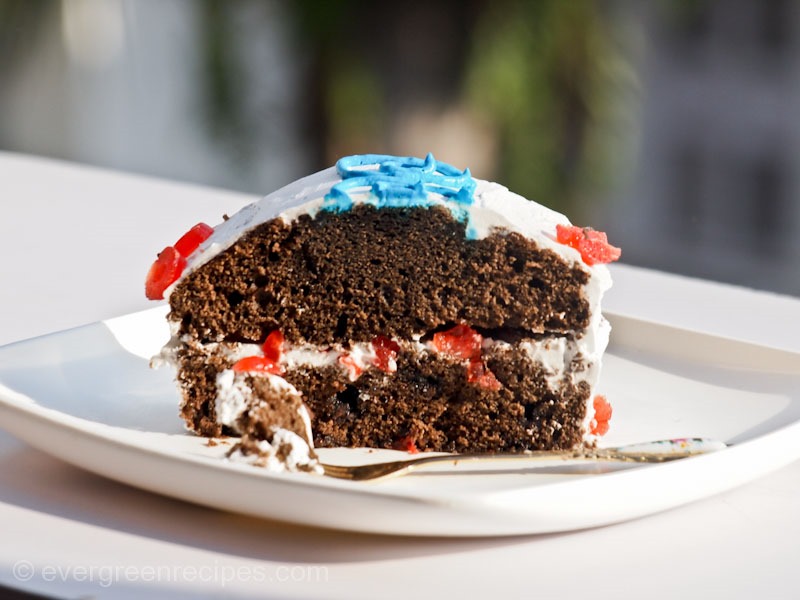 Got anything to say?
comments