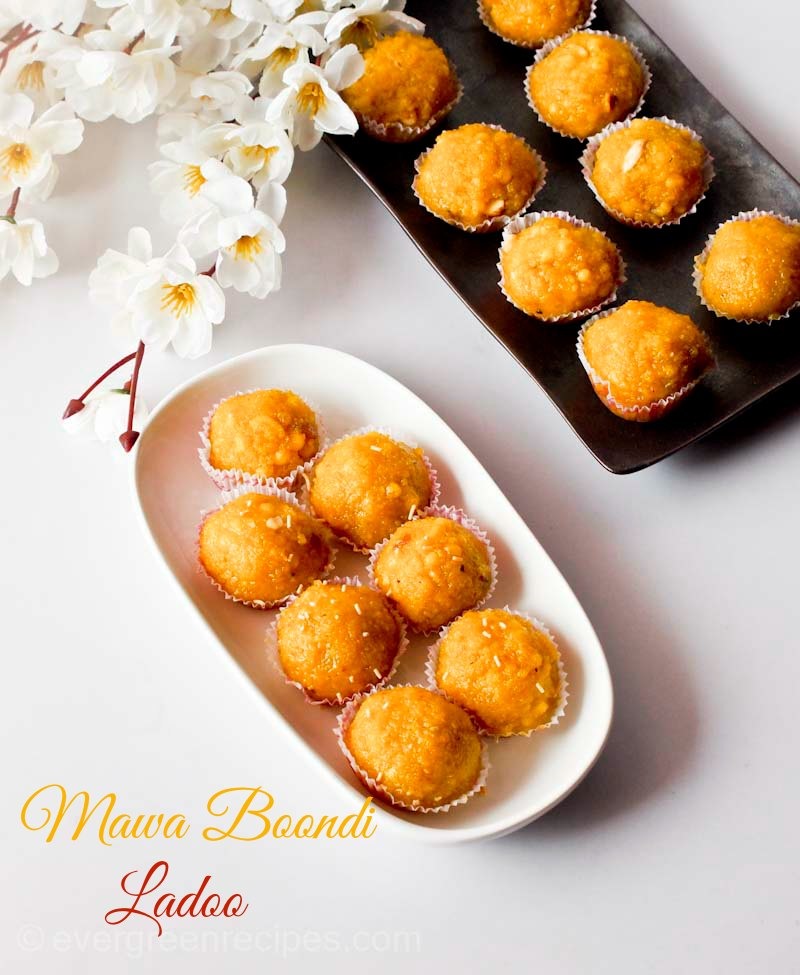 This is how you make a delicious sweet dish, Mawa Boondi Ladoo is the favourite of many, and as Deepawali is around, this thing will be much more in demand. Prepare it for the entire family and friends and other people who will be visiting your home.
In case you are curious, or looking for variety, we have got you covered.
Below is the step by step process for preparing these delicious lodoos, have fun making it.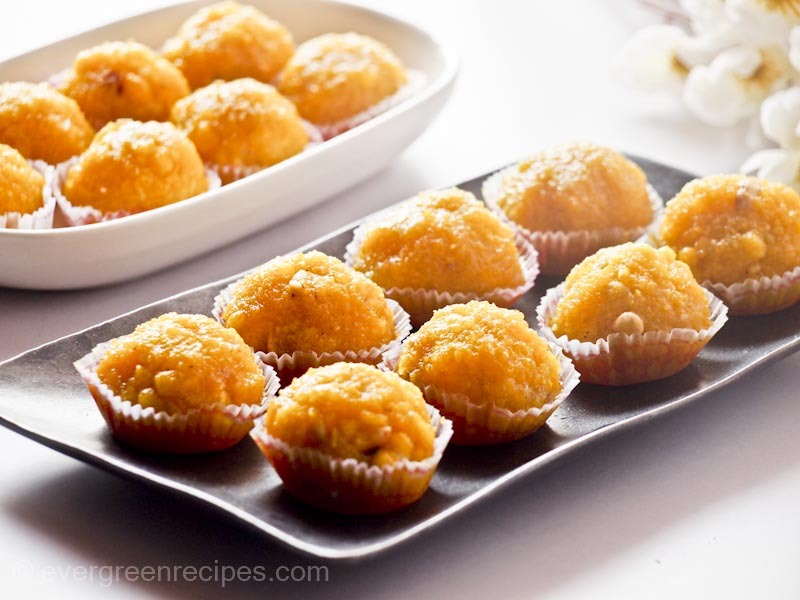 Preparation Time: 15-20 Minutes
Cooking Time: 15- 20 Minutes
Ingredients for Boondi:
| | |
| --- | --- |
| Ingredients | Quantity |
| Chickpea flour – besan | 2 cup |
| Cooking Soda | 1/8 teaspoon |
| Ghee | for deep frying the boondis |
| Food color | small pinch |
| Water | 1.5 cup |
Ingredients for Sugar Syrup:
| | |
| --- | --- |
| Sugar | 1  & 3/4 cup |
| Water | 3/4 cup |
| Rose Syrup/ essence | few drops |
| Food color | small pinch |
| Cardamom green powder | 1/8 teaspoon |
Other Ingredients:
| | |
| --- | --- |
| Cashew nuts- kaju | 10-15 |
| Almonds- badam | 10-15 |
| Mawa- khowa | 1 cup |
| Raisins- kishmish | 12-13 |
Method:
In a pan, add sugar and water and keep it on a stove top on a medium flame. Cook the sugar syrup till you get one thread consistency. Switch off the flame. Add food color, rose syrup and cardamom green powder. Mix it well, keep it aside.

2. In another bowl, add chickpea flour, cooking soda and food color, mix it well. Add water and make the lumps free batter. The consistency of the batter should not be thick nor thin. First check the batter consistency, pour few drops of boondi in the hot oil, if it is in round shape , batter is perfect for boondis. If its gets tails ends, the batter is thick, you need to add more water. If the boondis gets flat in the oil, it means batter is thin and you need to add some flour. so be careful while making the batter.

3. Take the perforated ladle or anything that is available in your kitchen. I used my channa for this.

4. Heat the kadai/wok with ghee and put the channa/perforated ladle on it. Pour one bowl of the batter and spread it with the ladle.  Deep fry the boondis till it is properly cooked, don't over fry the boondis otherwise it will become crisp and won't absorb the sugar syrup and ladoos will not be soft. (it will take 1-2 minutes). Take out the boondis from the oil on a tissue paper to get rid of the extra oil.

5. After, each batch wash the perforated ladle and dry it with the kitchen towel. Do the same with the rest of the batter. Take half of the boondis in a grinder and grind it coarsely.

6. Take the sugar syrup in a bowl, add coarsely ground and whole boondis in the hot sugar syrup.

7. Add chopped almonds, cashew nuts, raisins and mawa. Mix it well. Keep it aside for 30 minutes to absorbs the sugar syrup.

8. Once the boondis absorbed syrup, make the boondi mixture into ladoo shape. you can apply ghee on your hands while making the ladoo.

9. Put the boondi ladoo in a small muffin liner. Delicious ladoo is ready to eat.

10. Enjoy!!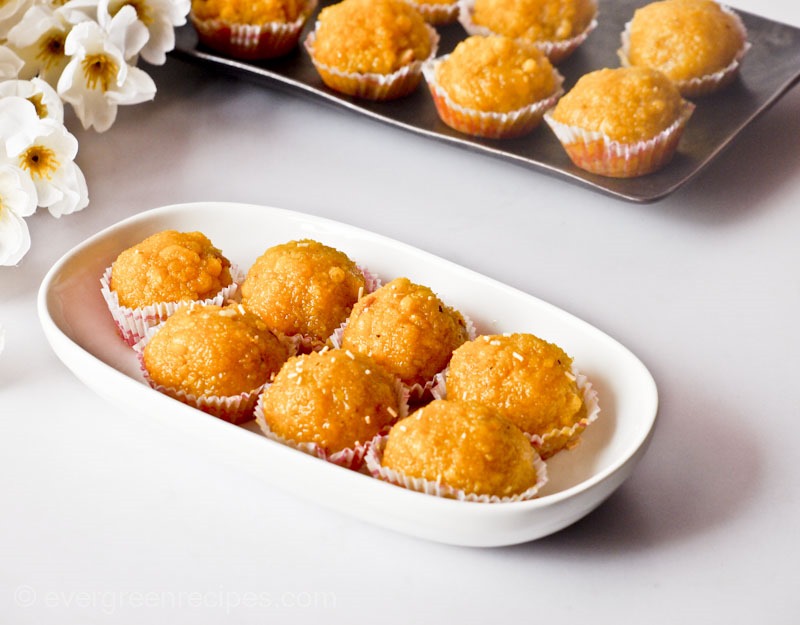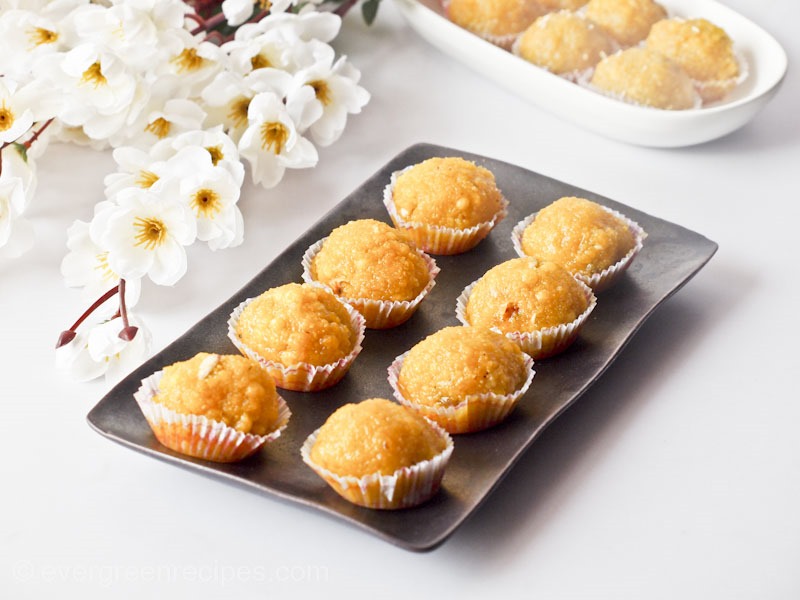 Got anything to say?
comments