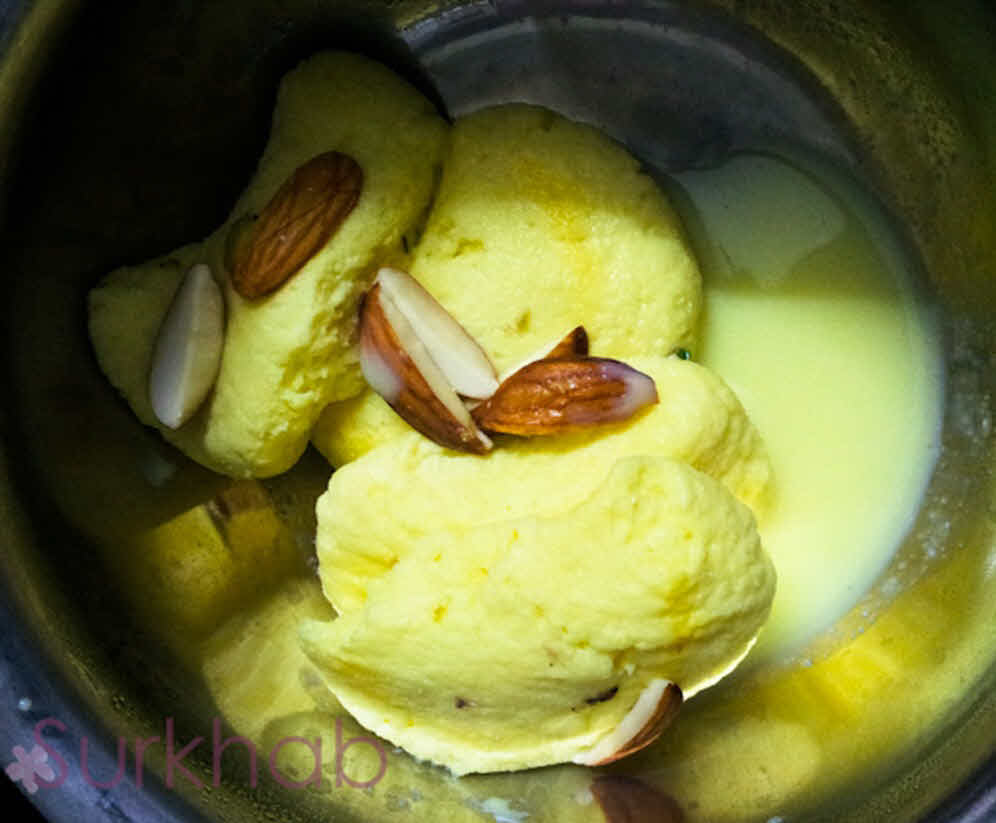 Kesar rasmalai is a well made Desert that will melt in your mouth. It is simply delicious and you will definitely enjoy this recipe. Try it
Preparation Time :10 Minutes
Cooking Time: 45 Minutes
| | |
| --- | --- |
| Ingredients | Quantity |
| Milk | 1 litre |
| sugar | 1 cup |
| saffron | a few strands |
| almonds | 5-6 |
| Lemon | 1 |
| Cardamom green | a large pinch |
| water | 4 cup |
Method:
1. Boil 1/2 litre milk in a sauce pan and boil the remaining 1/2 litre milk in other  second pan .
2. The milk in the second pan needs to be reduced to half the quantity.
3. Grind saffron with a small amount of sugar and add it to the milk while boiling  in the second pan.
4. Milk in the first sauce pan comes to a rolling boil, slowly add lemon juice.
5. When the milk curdles (paneer), switch off the gas and strain the paneer in a cheese cloth.
6. Pour a little cold water over the paneer and hang the cheese cloth on the tap .
7. Remove the paneer from the cheese cloth  and make it smooth by hand.
8. Divide the paneer into 6 equal portions .
9. Roll the portions in your hands until a smooth ball is formed ,and flattened it.
10. In the third pan dissolve 1 cup sugar  with water and add the flattened paneer.
11. Close third pan and cook for 5 minutes.
12. Remove the paneer with a spoon into a bowl and allow it to cool.
13. Meanwhile, the milk in the second pan should have reduced to half. Add sugar to taste, cardamom powder.
14. Once the paneer is cool enough to handle with your hands, gently squeeze out the sugar syrup from the paneer and place the paneer into a serving dish.
16. Pour the prepared reduced milk over the paneer and chill in the refrigerator.
17. Garnish with almonds.
18. Enjoy!!
Got anything to say?
comments