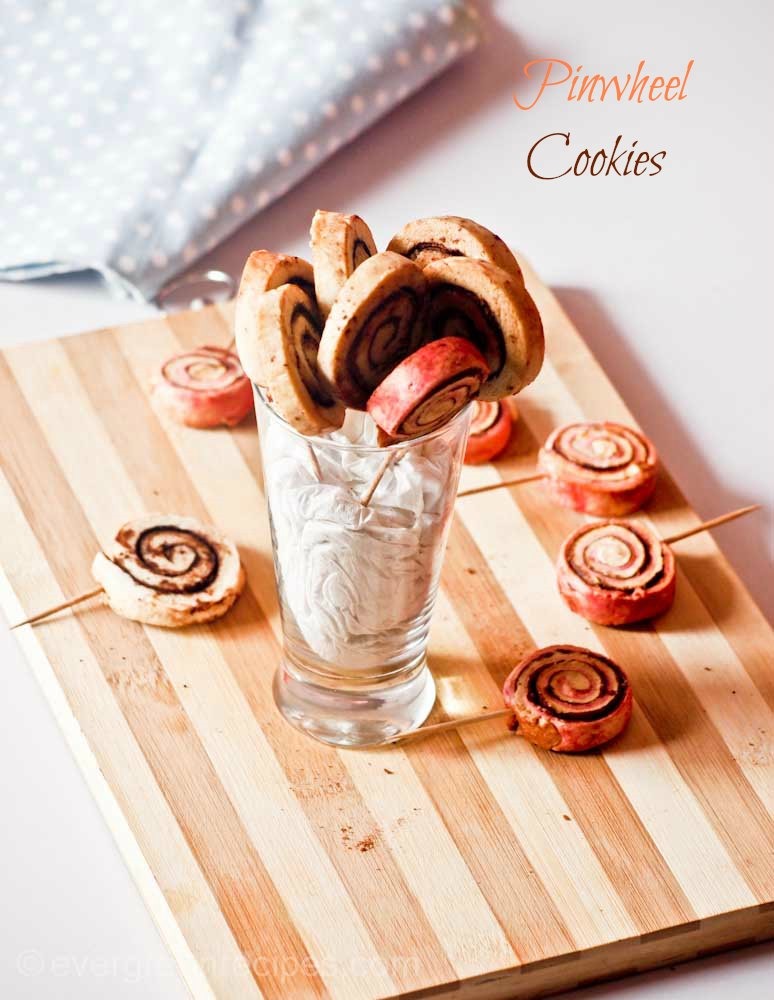 This is how you will prepare Pinwheel cookies at home. My watched this in TV and demanded that I bring these for him.
But, I said to myself, I can make this. Thanks Asad for giving me this idea of making these cookies at home.
Below is the step by step process of preparing cookies at home with photos of every step. I hope you are going to love it.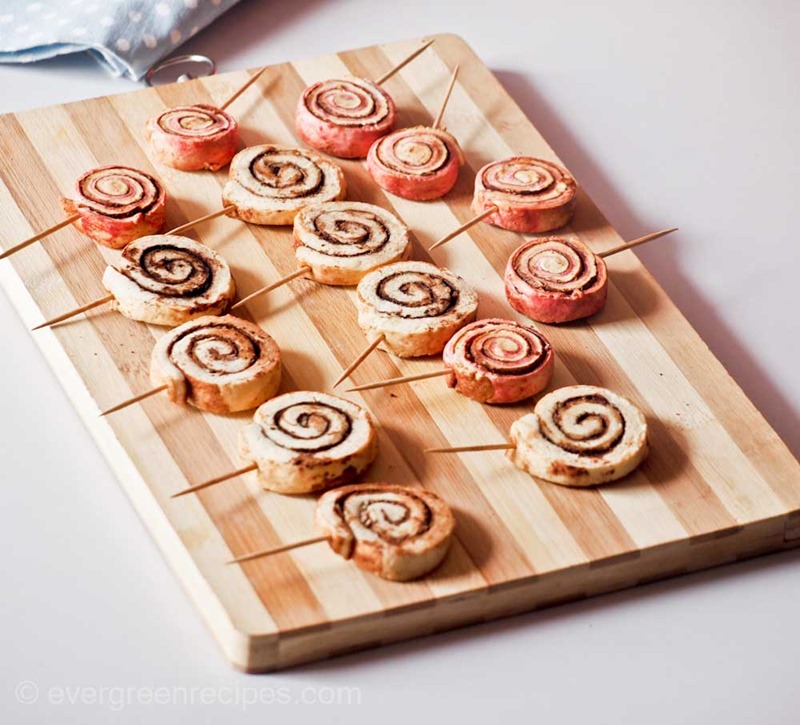 Preparation Time: 10-15 Minutes
Cooking Time: 20-25 Minutes
Serving: 15-16 cookies
Ingredients for the cookies:
| | |
| --- | --- |
| Ingredients | Quantity |
| All purpose flour |  1 cup |
| Butter |  50 gram |
| Egg |  1 |
| Powdered sugar |  1/2 cup plus 3 tbsp |
| Vanilla essence1 |  1 teaspoon |
| Cocoa powder |  1/4 cup |
| Almonds | 2 tbsp |
| Cinnamon powder | 1/4 teaspoon |
| Cardamom green powder | 1/4 teaspoon |
Method:
1. In a bowl, add butter. pour the egg and whisk it well.

2. Add powdered sugar and vanilla essence. Mix it well.

3. Sieve the flour in a broad bowl and add egg-butter mixture. Mix it well with the flour and knead it to make a soft and pliable dough.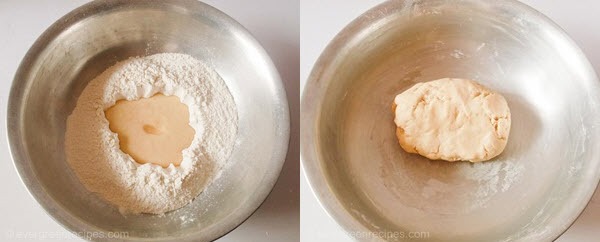 4. Cover it in a ziplock bag and keep it aside for 1 hours.

5. Take the dough, dust with flour and roll it into 1/2 Centimeter thickness and make a square by cutting the portions on the each side.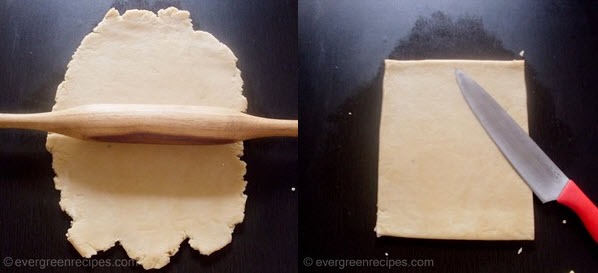 6. In a bowl, add cocoa powder, 3tbsp powdered sugar, cinnamon powder and cardamom powder. Mix it well. Spread it over the square dough.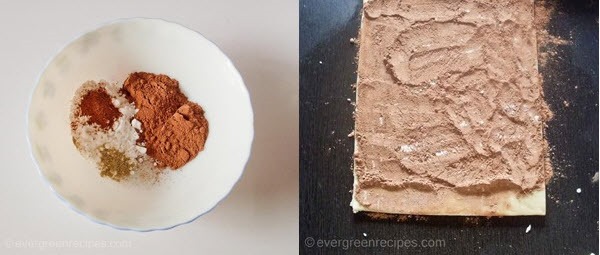 7. Spread chopped almond and then make a roll of it.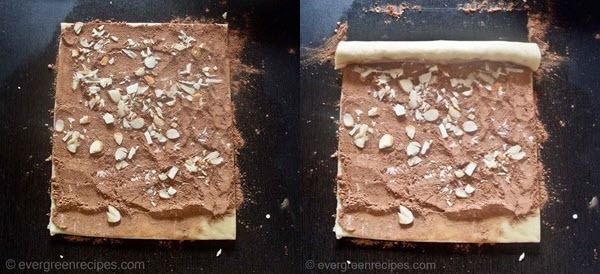 8. Keep rolling till the end.

9. Wrap it in a transparent plastic sheet and put it in the fridge for an hour or so. Take it our and cut it into slices. Put a toothpick in each of the sliced pinwheels.

10. Bake it in a pre-heated oven at 170C for 20-25 minutes. Let it cool at the room temperature. Delicious pinwheel cookies are ready.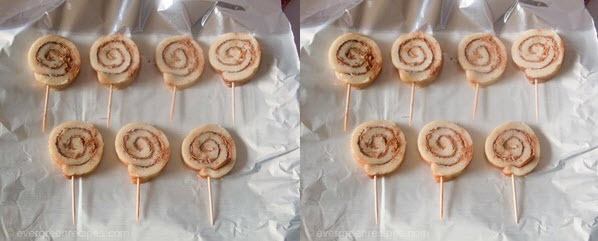 11. Enjoy!!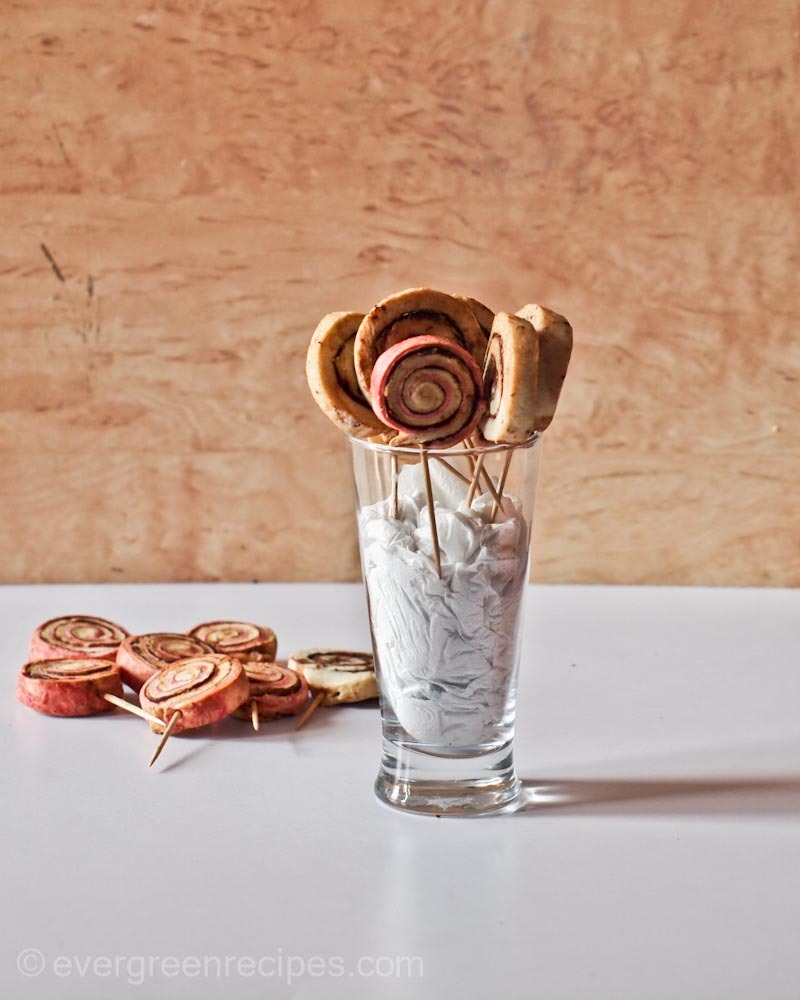 Got anything to say?
comments