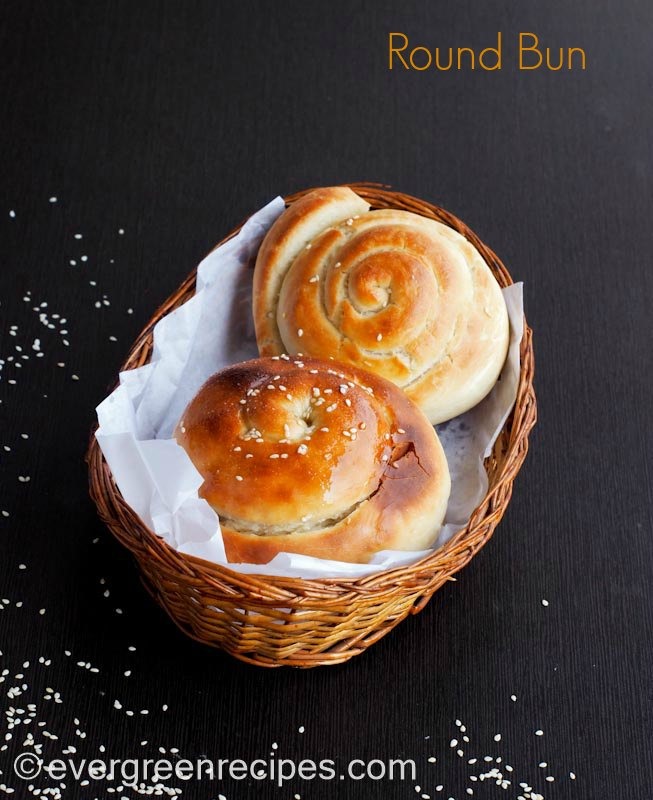 This Round Bun is a type of homemade bread I baked after a long time. I remember that I used to love them a lot  in my childhood.
And till now, we usually used to buy them from the local bakery. Until yesterday, when I got the idea to try and see if that can be prepared at home.
And to my surprisec  it turned out to be exactly what I wanted. It's soft, fluffy and smells so nice. I'm very confident that I can make more variants of buns and share them with you all.
You can follow the easy step by step recipe posted below. I hope you like this one as well.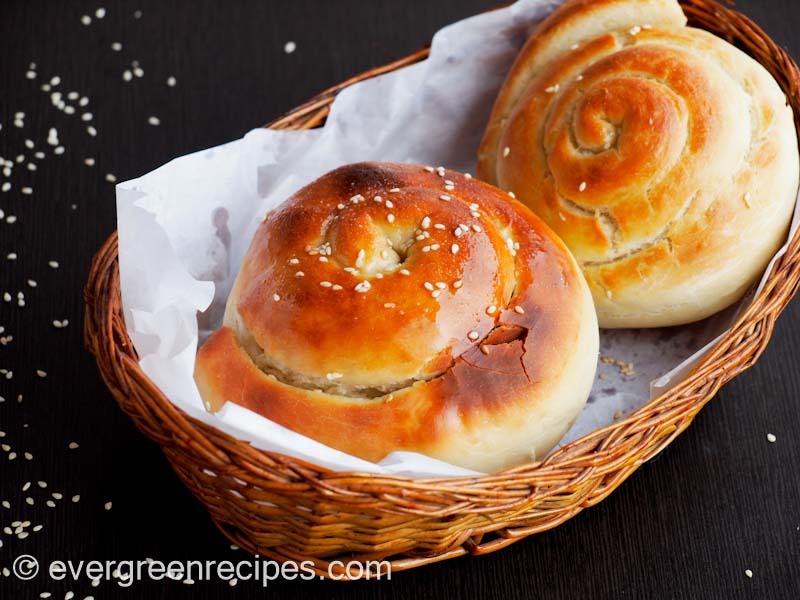 Preparation Time: 15 Minutes
Cooking Time: 13 Minutes
Serving: 4
| | |
| --- | --- |
| Ingredients | Quantity |
| All purpose flour /maida | 2 cup |
| Baking powder | 1/2 teaspoon |
| Salt | 1/2 teaspoon |
| Sugar | 1 teaspoon for yeast mixture and 1 teaspoon for flour |
| Vegetable oil | 1 tablespoon |
| Sesame seeds | for sprinkle |
| Butter | for brushing |
| Active Yeast | 1-1/2 teaspoon |
| Warm water | 3 tablespoon |
Method:
1. Take 3 tablespoon warm water in a bowl and add yeast and sugar. Don't mix it, just cover and keep it aside for 15 minutes to get foamy bubble on the top of bowl as you can see in the image below. That means yeast is active and is going to work well to get the dough double in size. Sieve flour in a broad bowl and add sugar, salt , baking powder and oil.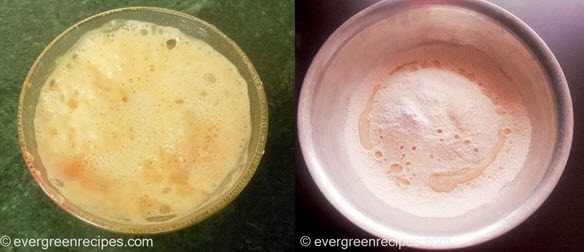 2. Add yeast-water mixture in the bowl and mix it well. Add 3-4 tablespoon water in the bowl and knead the flour to make soft and smooth dough.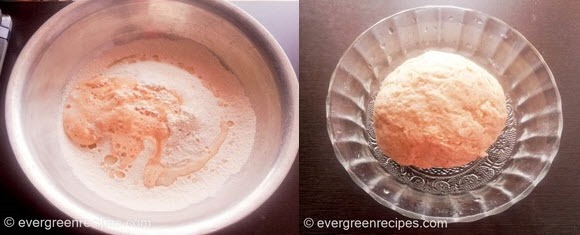 3. Take the dough into another bowl and cover it with plastic bag and keep it aside for 3 hours to get the dough double in size as you can see below in the image.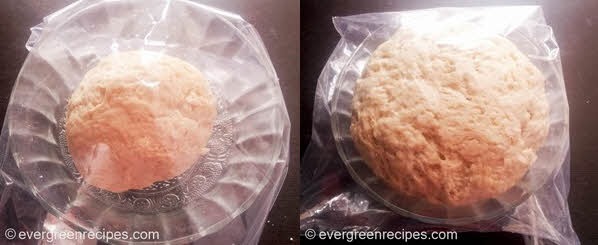 4. Take the dough and knead it with your hands for 30 seconds. Divide the dough into 4 equal portions. Take one portion of the dough and roll it with your hands.

5. Fold it into a round shape as shown below in the image. Grease the baking tray/mold with butter.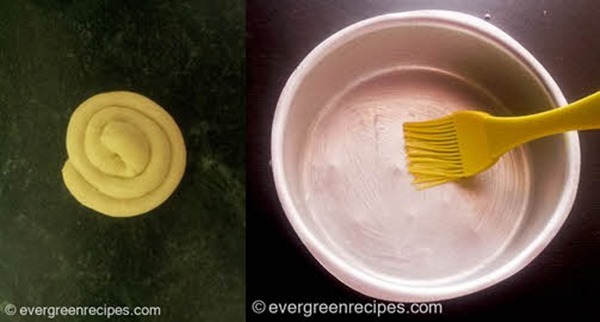 6. Put the rolled bun in the center of baking mold and apply butter on the top of bun and sprinkle sesame seeds. Cover it again with plastic bag and leave it aside for 7 minutes. Mean while pre-heat oven to 180C.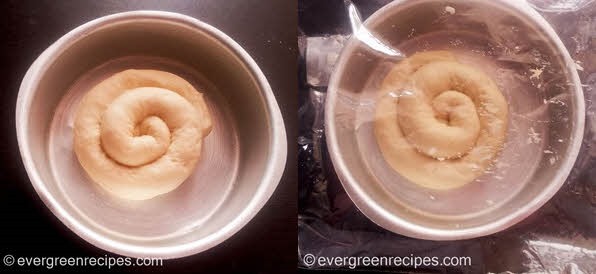 7.Take out the bun from plastic bag and bake it in a pre-heated oven at 180 C for 9 minutes then bake it on 200 C for 3 minutes. Delicious homemade round bun is ready to serve.

8. Enjoy!!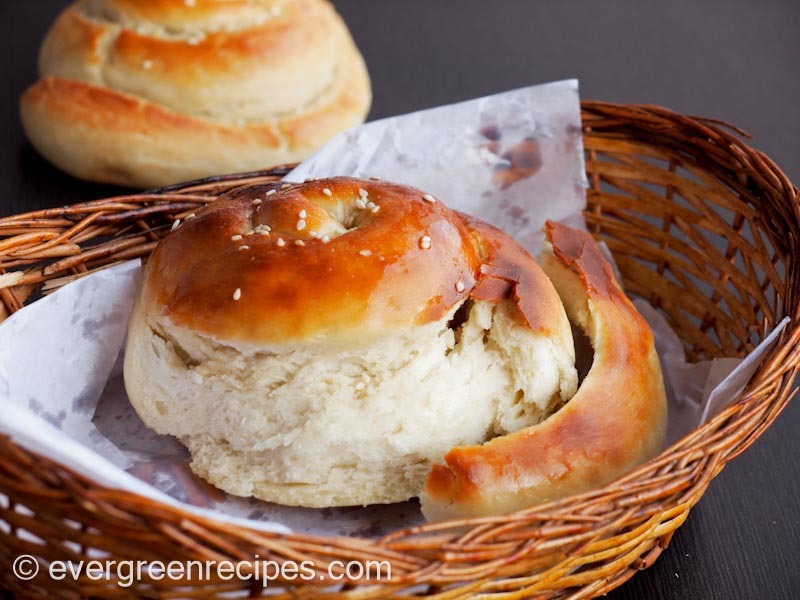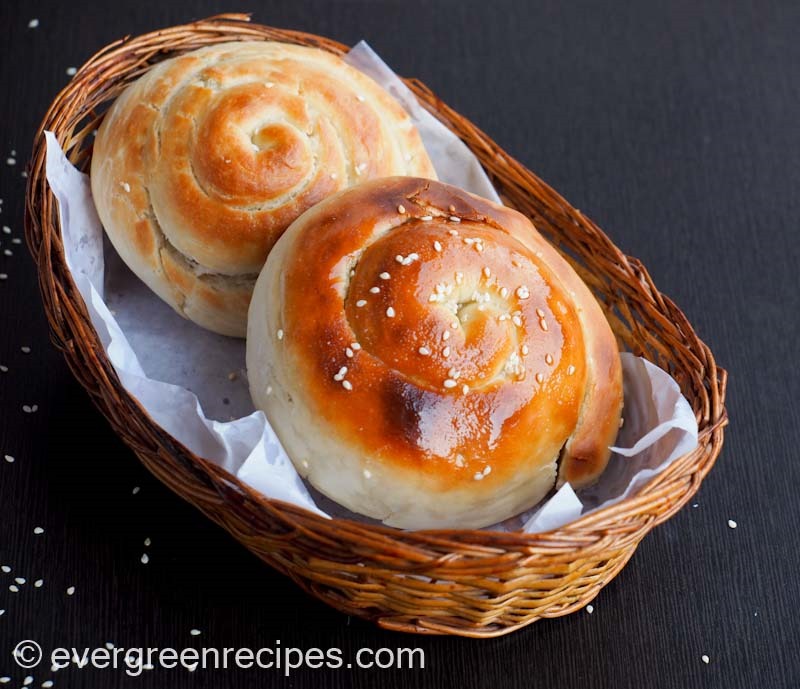 Got anything to say?
comments