The Chana halva is a wonderful dessert. It is an item of choice for those who prefer sweet foods. It is an asian with its popularity spread worldwide. Halva was something I grew up with, and it was always one of my favourite desserts/breakfasts.  Its sweet, spiced, buttery, delicate and just overall amazing.  If you've ever had freshly made home cooked halva, you know what I'm talking about.  I hope you all try this one out and enjoy it.
Preparation Time : 30 Minutes
Cooking Time: 30 Minutes
| | |
| --- | --- |
| Ingredients | Quantity |
| Chane ki daal (Bengal Gram split) | 250 gram |
| Sugar | 250 gram |
| Milk | 1 kg |
| Saffron | a pinch |
| Cardamom green | 3 |
| Cloves | 4 |
| Almonds | 150 gram |
| Desi Ghee | 150 gram |
| Grated Khoya | 250 gram |
Method: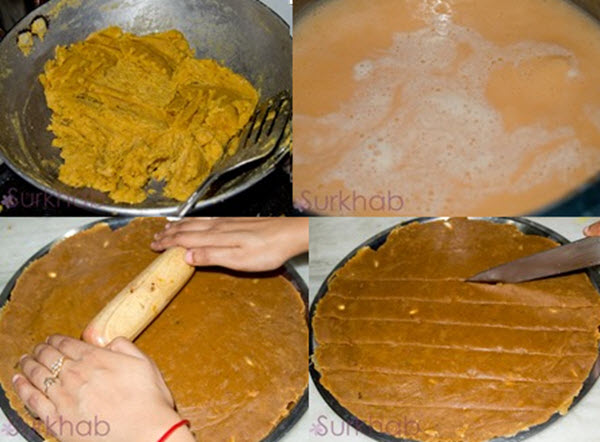 1.  Soak Bengal gram Split for two hours .
2. Now take Bengal gram split into pressure cooker ,add 1/2 kg milk and boil it for 15 minutes.
3. Allow to cool naturally.
4. Grind  cooked Bengal  gram split and keep it aside.
5. Heat Ghee in a Pan for 2 minutes ,add Cardamom green and cloves. Now add grind paste into pan.
6. Sauté on low flame till it turns golden brown and leaves a distinct aroma. Remove from the flame and set aside.
7. Heat 1/2 kg milk in a pan, add sugar, grated khoya , and saffron, boil the mixture till sugar melts.
8. Now add sugar syrup into Bengal gram mixture and cook on a low flame till the dal and sugar blends well.
9. Remove halva from the flame .
10. Transfer halva to a tray or a baking sheet.
11. Spread it out into a thickness of no more than 1/2 inch.
12. Leave it to cool down.
13. Cut it into squares or diamonds, as soon as it begins to set.
14. Leave it to cool completely for several hours.
15. Decorate with sliver wark, sliced pistachios and almonds.
16. Lift off the halva with a spatula and arrange on a serving dish
17. Enjoy!!
Got anything to say?
comments