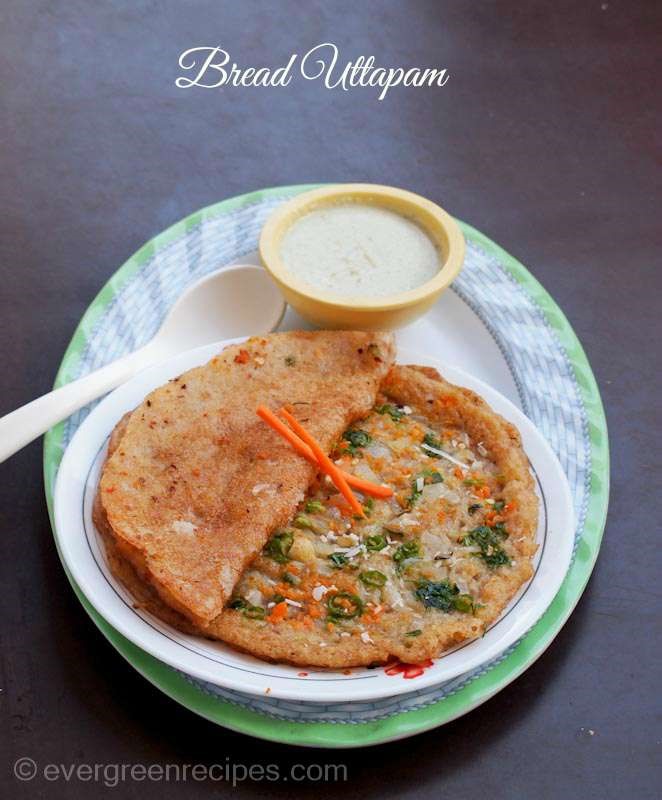 Ever wonder what else can you prepare with the Bread other than things like Sandwiches or Bread Pakoras?
Here is the recipe of Bread Uttapam which is easy and quick to make. The fact that the batter you make with bread, does not require fermentation, makes it quite great for quick breakfasts.
Plus it still stays delicious like the usual uttapam. You can follow the easy step by step instructions along with photos to prepare this at home. I hope you will love this one as well.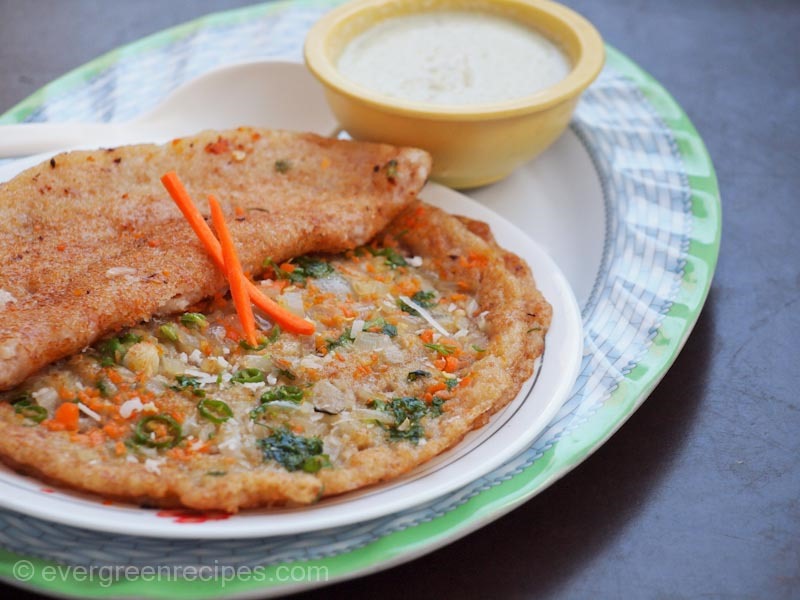 Preparation Time: 10 Minutes
Cooking Time: 10-13 Minutes
Serving: 4
| | |
| --- | --- |
| Ingredients | Quantity |
| Bread | 10-12 pieces |
| Cooking soda | 1/4 teaspoon |
| All purpose flour/ maida | 3 tablespoon |
| Semolina / sooji | 3 tablespoon |
| Buttermilk | 2 glass |
| Salt | to taste |
| Onion, chopped | 1 cup |
| Carrot, chopped | 1/4 cup |
| Coriander leaves, chopped | 1/4 cup |
| Green chilly, chopped | 2 |
| Vegetable oil | for cooking uttapam |
Method:
1. Take bread slices and cut brown part of the bread from all the sides.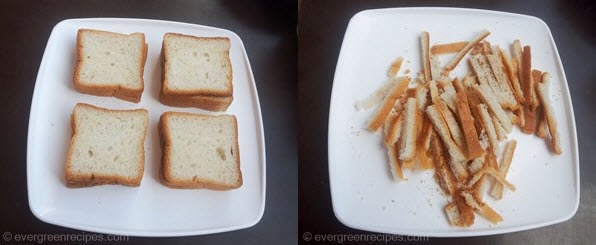 2. Take brown part of the bread slices in a grinder and grind it to make a fine powder. Transfer it into bowl.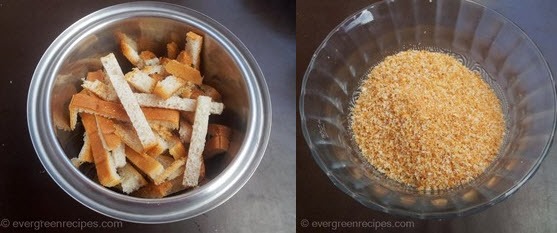 3. Now take white part of the bread in a grinder and grind it to make a fine powder. Don't add water while grinding the bread. Transfer this mixture in the same bowl.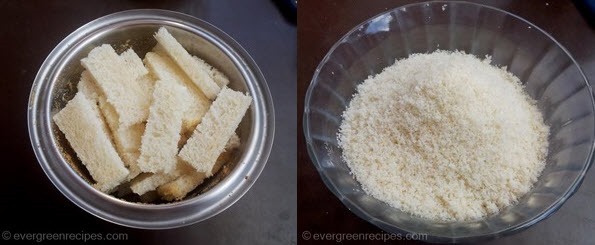 4.  Add cooking soda in the bread mixture and mix it well. Now take semolina and flour in a grinder.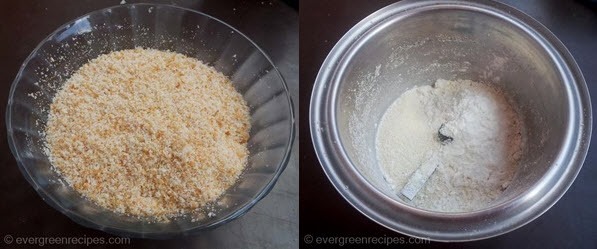 5. Add in buttermilk and grind it to make fine paste.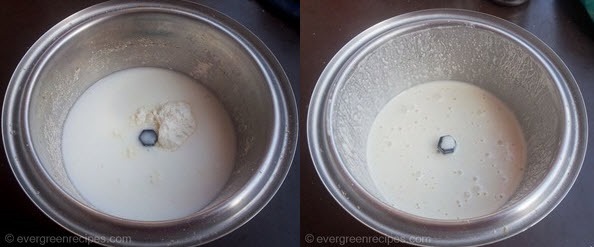 6. Take 5 tablespoon of bread mixture into another bowl, add salt and 1/4 cup buttermilk-flour paste. Mix it well.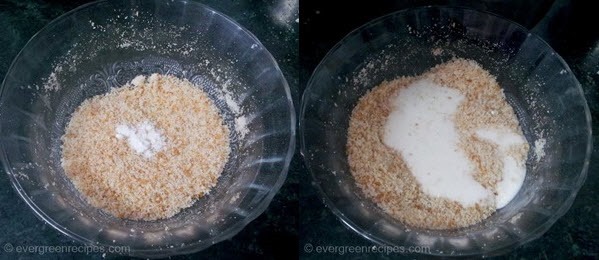 7. Heat the non-stick tawa and put Uttapam batter with the help of spatula into a round circle as shown below in the image. Sprinkle 2-3 teaspoon oil.

8. Now spread onion, carrot, coriander leaves and green chilly. Cook covered on low flame for 3-4 minutes, so that the upper part can cook better from steam.

9. Then with the help of spatula turn the uttapam and cook covered for another 2-3 minutes till onion caramelize. Do the same with the leftover mixture of bread and buttermilk-flour paste. Don't combine all the mixture at a time, because the bread will absorb all the buttermilk-flour paste and will be very thick. So Combine paste when you are ready to spread the batter. Delicious bread Uttapam is ready to serve. Serve hot with coconut chutney.

10. Enjoy!!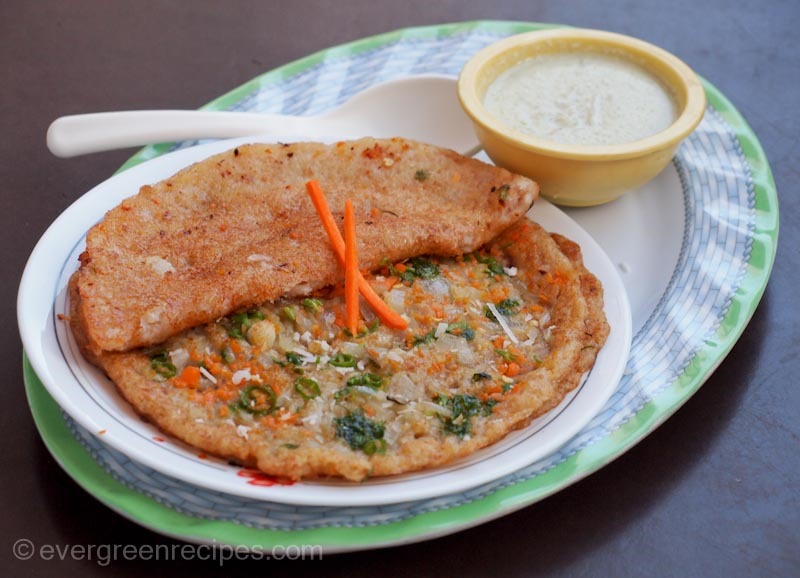 Got anything to say?
comments