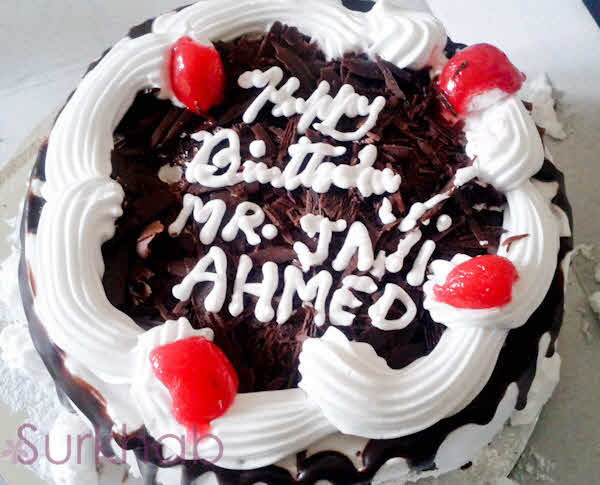 I have prepared this cake for my hubby , An easy and delicious . This cake has multiple (usually 4) layers of chocolate sponge cake, cherries, and whipped cream. It is frosted with whipped cream and covered with chocolate shavings and a few cherries for decoration.
Preparation Time : 3o Minutes
Cooking Time : 1 hours
| | |
| --- | --- |
| Ingredients | Quantity |
| Dark Chocolate | 500 gram |
| Red food colouring | 1 teaspoon |
| Vanilla extract pure | 1 teaspoon |
| Heavy Cream | 2 cup |
| powdered sugar | 1/4 cup |
| Kirshwasser (cherry brandy) | 1/4 cup |
| Cream cheese | 250 gram |
| cherry pie filling | 1 |
| Maraschino cherries (for garnish) | for garnish |
| Shaved semisweet chocolate | 100 gram |
| | |
Method:
1. Make chocolate cake according to package directions, adding 1 teaspoon red food colouring and 1 teaspoon vanilla extract.
2. Bake cake in cake pans. When done baking, remove from oven and cool the cake completely on a wire rack.
3.  When the cake is cooled, wrap each layer in plastic wrap. Place layers in the refrigerator for approximately 1  hour.
4. In a large bowl of the electric mixer, whip together the heavy cream and powdered sugar. Refrigerate until ready to use.
5. Using a sharp knife, slice each cooled cake round horizontally to make four layers.
6. First Layer: Place one layer on a flat plate and brush with 2 tablespoons cherry brandy. Fill a plastic bag with whipped vanilla or cream cheese icing (your choice) and pipe a generous ring (at least one (1) cherry high!) around the edge of first cake layer. Fill the exposed ring of the cake with some of the cherry pie filling.
7. Second Layer: Place the second layer on top of the first layer,Repeat first layer process with the second layer.
8.Third Layer: Place third layer on top of the second layer, Repeat process with the second layer.
9. Fourth Layer: Place fourth layer on top of the third layer, Frost the entire cake with freshly whipped cream.
10 .Garnish the top of the cake with (cherries picked from the pie filling) or maraschino cherries. Sprinkle the top chocolate shavings. Gently press chocolate shavings onto sides of cake.
11. Refrigerate for at least two hours prior to serving.
12. Enjoy!!
Got anything to say?
comments