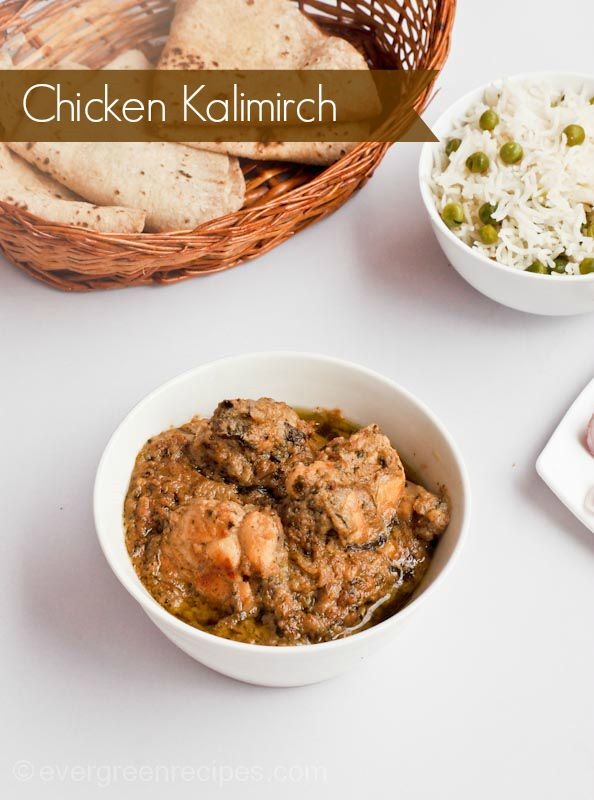 If you are a regular visitor of ER, you may have noticed that I share more veg recipes than non-veg. The reason is, I am a vegetarian myself. But everyone else in the family is a passionate non-vegetarian. They love Chicken and Mutton more than anything else and I, being pretty good in the kitchen department, have learned preparing the best Non-veg meals for them.
One of the recipes, that's super hit in my family and friends circle is Chicken Kaali Mirch or the Pepper Chicken as many people call it.
If you too are a non-vegetarian, this will be a treat for you that you shall remember for a long time. The process is pretty straightforward and easy to follow.
Take a look at the step by step process along with photos and prepare this delicious Kaali Mirch Chicken at home. I am sure everyone will love this.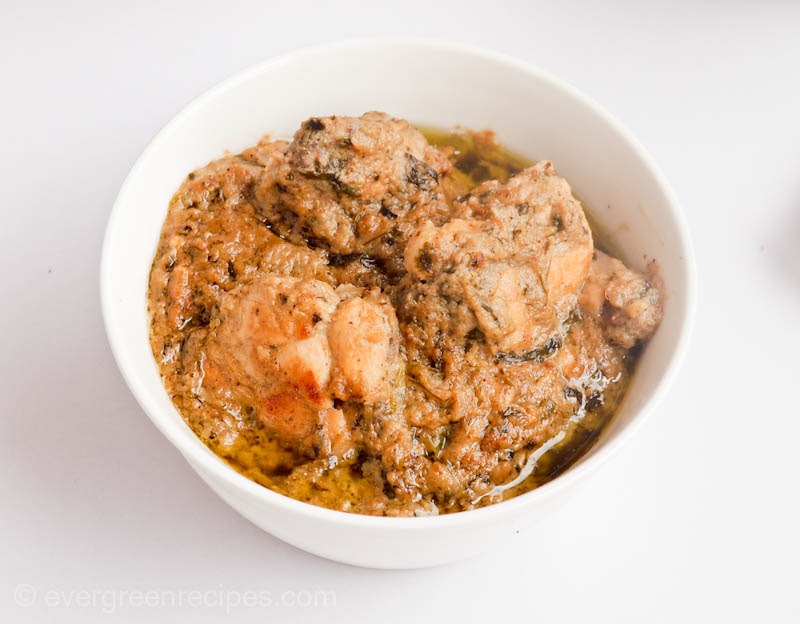 Preparation Time: 15-20 Minutes
Cooking Time: 25-35 Minutes
Serving: 4
Ingredients for Marinating the Chicken:
| | |
| --- | --- |
| Ingredients | Quantity |
| Chicken (with bones) | 1/2 kg |
| Beaten Curd/dahi | 1 cup |
| Kasoori methi/ fenugreek leaves | 1 teaspoon |
| Pepper powder | 1/2 teaspoon |
| Salt | 1/4 teaspoon |
| Ginger-garlic paste | 1 teaspoon |
| Lemon juice | 1 teaspoon |
Ingredients for Gravy:
| | |
| --- | --- |
| Vegetable oil | 4 tablespoon for cooking the gravy and 2 tablespoon for frying the chicken |
| Onion | 3 for boiling with cashew  nuts and 2 for cooking |
| Grated ginger | 1 teaspoon |
| Green chilly (chopped) | 4 |
| Cashew nuts | 1/4 cup |
| Pepper powder | 1 teaspoon |
| Cumin powder | 1/2 teaspoon |
| Garam masala powder | 1 teaspoon |
| Ginger-garlic paste | 1 teaspoon |
| Fenugreek leaves/ kasoori methi | 1 teaspoon |
| Coriander leaves | 2 tablespoon |
| Butter | 2 tablespoon |
| Charcoal/optional | for flavoring to the gravy |
| Hung curd | 1/4 cup |
Method:
1. Marinate the chicken with all the ingredients given in the table " Ingredients for Marinating the Chicken". Mix it well, keep it aside for 2-3 hours for marinating. Boil onion and cashew nuts together with 1 cup of water for 5-7 minutes.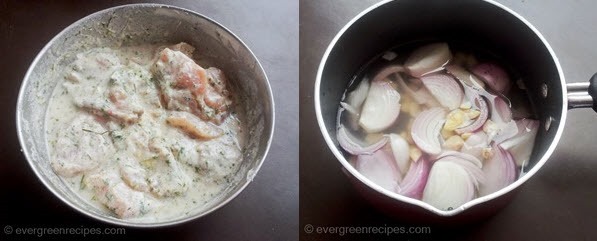 2. Drain the water, let it cool at the room temperature. Now take the onion-cashew nuts mixture in a grinder and grind it to make a fine paste.

3. You can add 2 –3 tablespoon of water while grinding it. Now heat the wok with oil and saute with onion.

4. Add ginger and green chilly in the wok. fry it till onion are light golden in the color.

5. Add ground onion-cashew paste in the wok and mix it well. Add pepper powder, garam masala powder, cumin powder, ginger-garlic paste, and salt. Mix it well, cook the spices on low flame till oil shows separately. (keep stirring in between the process to avoid sticking to the pan)

6. Add kasoori methi, butter and chopped coriander leaves. Mix it well, cook the spices for another 5-6 minutes on low flame. (I added ginger-garlic paste at this stage because forgot to add in step 5)

7. Now heat another wok with 2 tablespoon oil and add marinated chicken. Fry it on medium flame till light golden in the color or almost cooked. Keep it aside.

8. Add beaten hung curd in the gravy and cook for another 7-8 minutes till oil shows separately. Add fried chicken in the gravy along with a cup of water. Cook covered till the chicken is properly cooked and gravy is thick and oil shows separately. if you want smoky flavor in the gravy, do this.
Make small bowl from aluminum foil and keep the aluminum foil bowl in the wok and put heated charcoal in the bowl. Pour one teaspoon ghee on heated charcoal and immediately cover the wok, so that the gravy can absorb the essence of coal. Only cover the bowl for 30 seconds, then remove the charcoal along with aluminum foil bowl. Delicious Kalimirch chicken is ready to serve. Serve hot with butter Naan.

9. Enjoy!!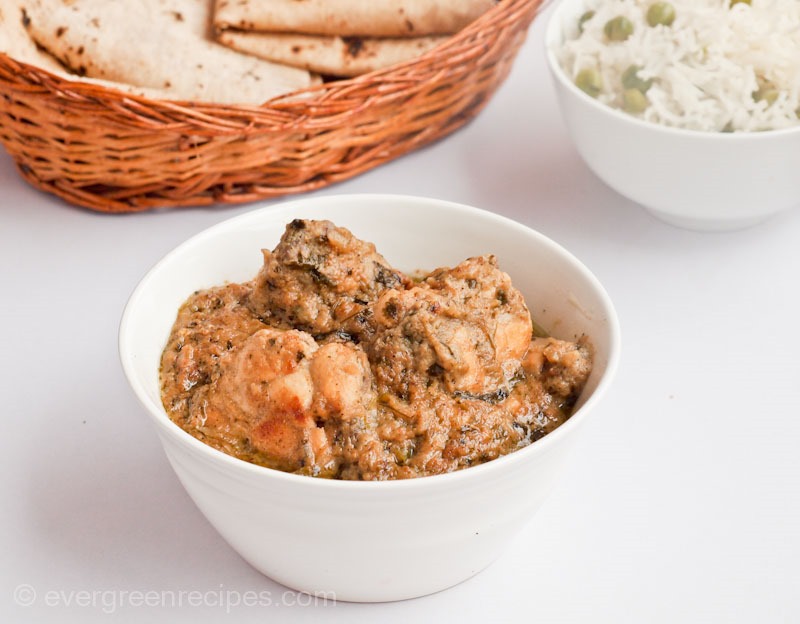 Got anything to say?
comments