I started this blog because I love cooking and wanted to share my recipes with the world. It really feels great to get emails from people saying how helpful they find this blog for making delicious food. Most of my recipes can be prepared in 10 minutes. Here are few of my recipes that I recommend to bachelors or people who stay alone and want their food on the table as soon as possible. However, there is another group of people who don't have time to step into their kitchen and are just too tired to do all the cooking and doing the dishes, FoodPanda is a nice service to try for ordering delicious food online.
What is FoodPanda?
FoodPanda is actually a website that list restaurants from all major cities of India. You can think of it as a search engine for finding your favorite food and an eCommerce site for ordering it for home delivery.
How does it work?

You can search for a restaurant from your area that offers home delivery and order your favorite food. You can also filter the results according to the type of cuisines you are looking for.
My Experience
I was able to find some 18 restaurants from my area.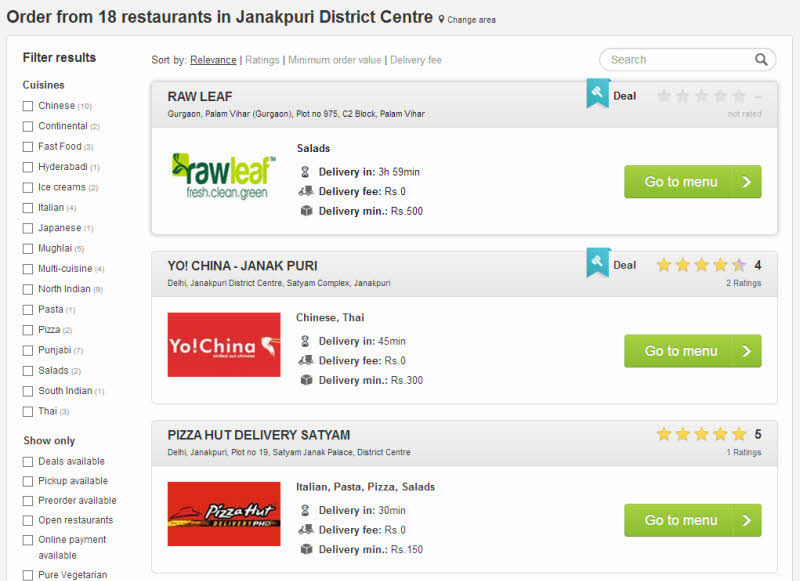 You can see most of the options I got are quite popular ones. The restaurant you select has their menu listed on FoodPanda where you can select the items you want to order and make the payment for your order. Cash on delivery is also available. The rating system on the website helps you find which Restaurant has best services and are offering delicious food. I also like the easy user interface of their website which makes it easy to find what you are looking for. So, the next time you hungry and tired and don't feel like cooking something from Evergreen Recipes, you now have got an alternative by ordering food online using FoodPanda.
Got anything to say?
comments