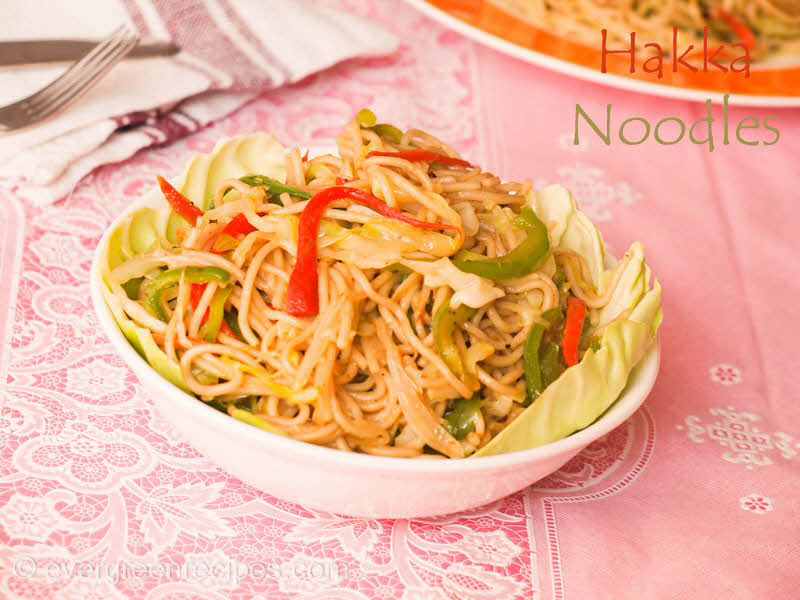 Vegetable Hakka Noodles (Veg) is Indo-Chinese dish and is most popular in India too. It is a favourite dish of kids and adults. In our country, it is also serve as snacks or starters in marriges and party. In this dish noodles are boiled and stir fried vegetables and some spices makes yummy and delicious noodles ever.
The trick of making this dish is the pan in which you are making noodle should be large or broad so that you can toss well and the cooking process should be done on high flame so that you can get the crunchiness of veggies in your noodles which you find in restaurant. Follow my easy recipe with step by step tutorials to make Vegetable Hakka Noodles.
[sociallocker id="4220″]Download the Print Friendly version of this Recipe: Vegetable Hakka Noodles Recipe[/sociallocker]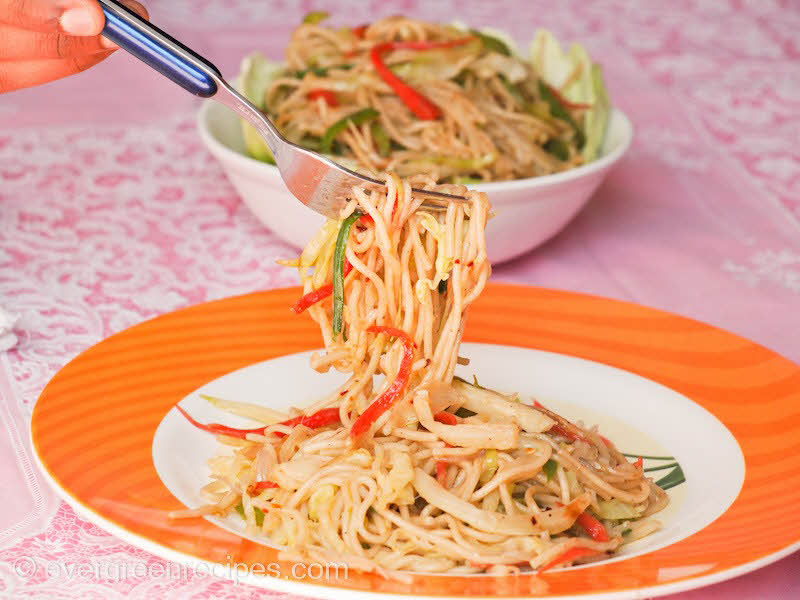 Preparation Time: 10 Minutes
Cooking Time: 7 Minutes
| | |
| --- | --- |
| Ingredients | Quantity |
| Noodles | 2 cup |
| Spring onion | 1 |
| Onion | 1 |
| Carrots (thinly sliced) | 1/2 cup |
| Cabbage (thinly sliced) | 2 Cup |
| Capsicum (thinly sliced) | 1 cup |
| Soya sauce | 1 teaspoon |
| Pepper Powder | 1/2 teaspoon |
| Salt | as needed |
| Red chilli flakes | 1/4 teaspoon |
| Vinegar | 1 teaspoon |
Method:
1. Boil plenty of water along with some salt and add noodles in boiled water. Boil noodles on medium flame until 3/4 is cooked. Drain the water and pour some cold water on the top of noodles and wash it to remove excess starch from the noodles. Put the boiled noodles in a large plate and sprinkle 2 teaspoon oil on it. By doing this noodles will not stick together.

2. Cut the cabbage, carrot, capsicum and onion white part into thin strip as shown below in the image. Heat the oil in a pan or wok and add onion white part. sauté for for 15 seconds.

3. Then add chopped onion and cook for another 30 seconds or till the onions are transparent. Add thinly sliced cabbage, carrot and capsicum and cook for another 30 seconds to 1 minutes. Keep remember this all the cooking process should be done on high flame to get the restaurant style noodles.

4. Add noodles, soya sauce, salt and pepper powder. Mix it well with spatula or you can mix it with fork to get the even mixing of noodles.

5. Add vinegar, onion green part and red chilli flakes, toss well.Vegetable Hakka noodles is ready, serve hot with your favourite sauce or Manchurian etc.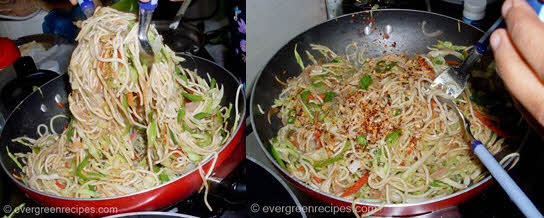 6. Enjoy!!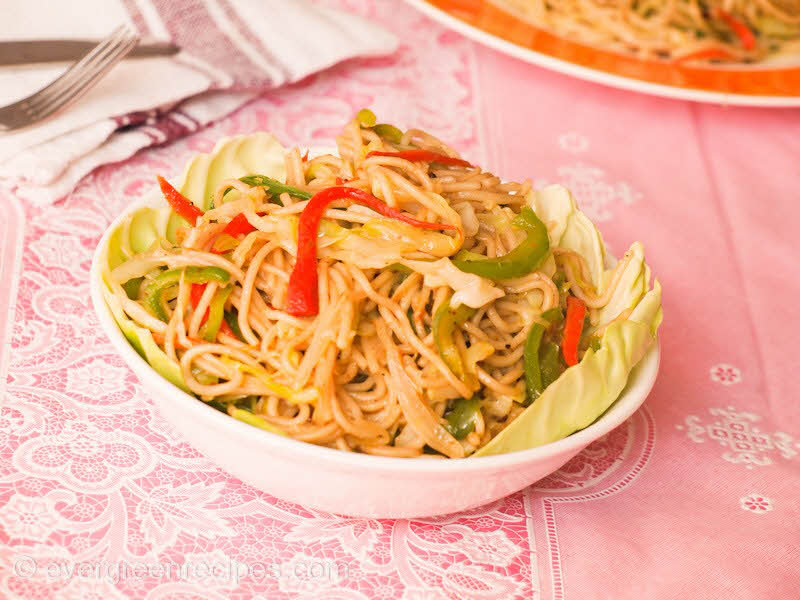 Got anything to say?
comments