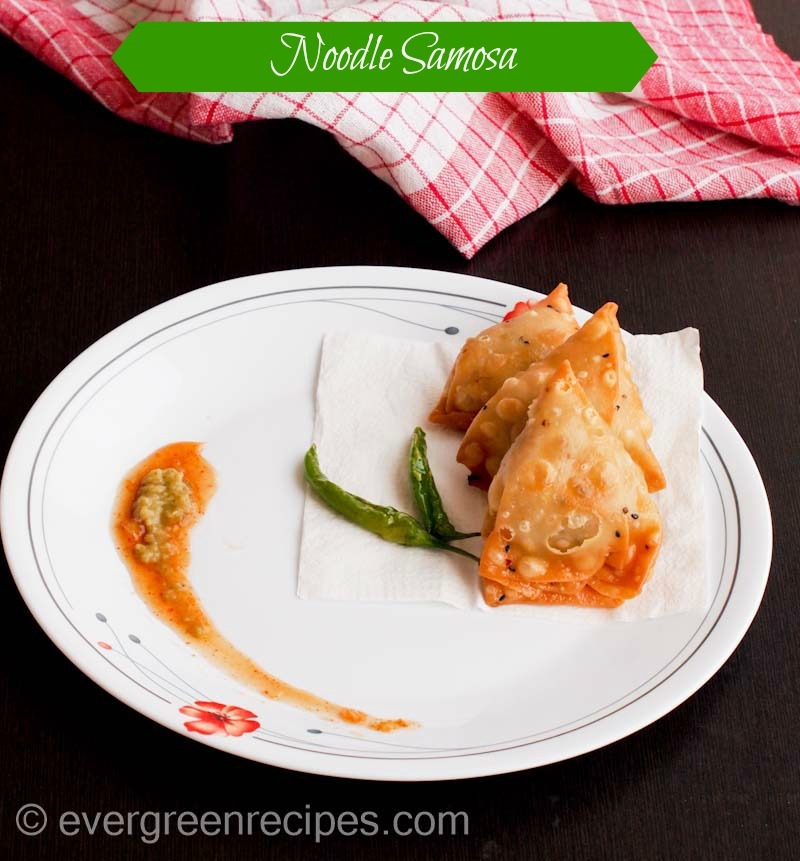 I love Samosa, it's best Indian snack one can have. You will rarely find anyone who doesn't love it. I have found one and he is my husband, his favourite snack is noodles.
So how do we manage to agree on the same snack?
Well, we improvise, how aout something we both can enjoy at the same time. Noodle Samosa is just that. I know it may sound an odd fusion of two distant dishes that belong to a different country but is delightful.
It's like like killing two birds with one stone. No matter if you like Samosa or the Noodles, you will end up loving Noodle samosa.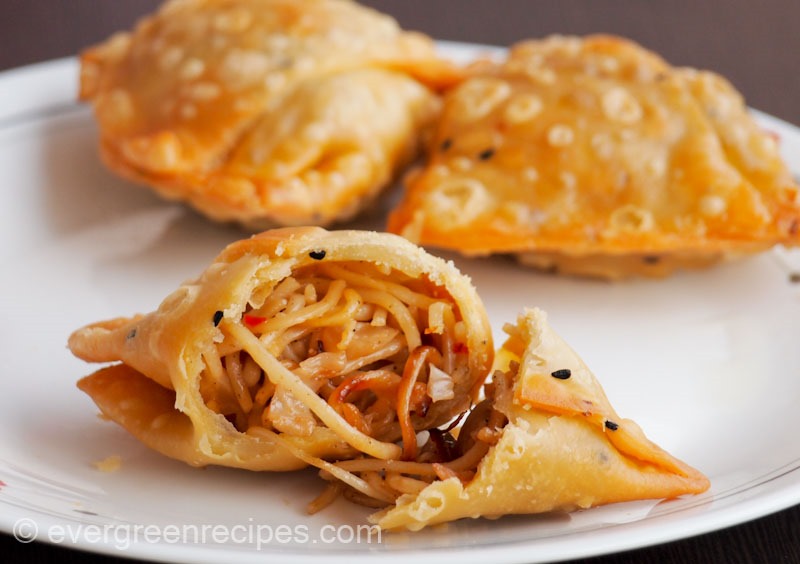 You will find the step by step instructions for the recipe below, I hope you will love this one as well.
Preparation Time: 15 Minutes
Cooking Time: 15 Minutes
Serving: 6
Ingredients for noodle / filling samosa:
| | |
| --- | --- |
| Ingredients | Quantity |
| Noodle | 150 gram |
| Onion | 1 |
| Capsicum( cut into a thin strips) | 1/2 cup |
| Cabbage ( cut into a thin strips) | 1 cup |
| Vegetable oil | 2 tablespoon |
| Pepper powder | 1/2 teaspoon |
| Red chilly flakes | 1/4 teaspoon |
| Salt | to taste |
| Vinegar | 1 teaspoon |
| Soya Sauce | 1/2 teaspoon |
Ingredients for dough:
| | |
| --- | --- |
| Ingredients | Quantity |
| All purpose flour | 2 cup |
| Vegetable oil ( 2 tablespoon for dough and rest for deep frying the samosa) | for deep-frying |
| Salt | 1/2 teaspoon |
| Mangraila/ Kalonji/ black caraway | 1/4 teaspoon |
Method:
1. Heat enough water in a pan along with some salt and teaspoon of oil. When water comes to a boil, add noodles Stir well and cook the noodle till they are just properly cooked. Drain the water and wash noodles in tap running water to remove extra starch. Spread noodles in a big plate so that they don't stick to each other. Chop onion, capsicum and cabbage in a thin strips in advance. Heat the wok with oil and fry onion till onions are translucent in color.

2. Add capsicum and cabbage and fry it on high heat for 2-3 minutes.

3. Add boiled noodles, pepper powder, salt, red chilly flakes, vinegar, soya sauce and mix it well. Cook for another 1 minutes on high heat. Noodle fillings are ready for samosa. Keep it aside.

4. Prepare dough for samosa. Combine flour, kalonji, salt and vegetable oil in a broad bowl and mix it well. Knead the dough by adding small amount of water. Dough should be tight for making samosa.

5. Divide the dough into a 6 equal portions. Take one portions of the dough and roll it like a chapatti. Make samosa cone. ( I made a video in my previous post how to make samosa, if you don't know how to make cone , you can learn from the video)

6. Put 2 tablespoon of noodle filling into the cone and seal the third side. Prepare all the samosa like this.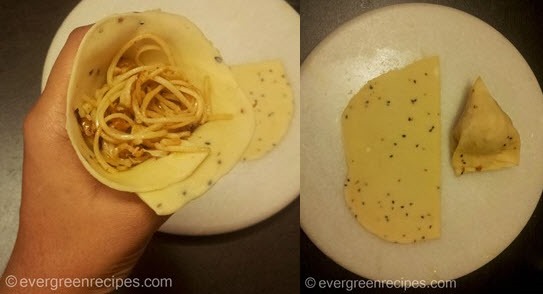 7. Heat the wok with enough oil and deep fry the samosas on low  heat till they are golden and crispy from all the sides. Drain it on tissue paper to absorbs extra oil. Serve hot with tamarind chutney or green chutney.

8. Enjoy!!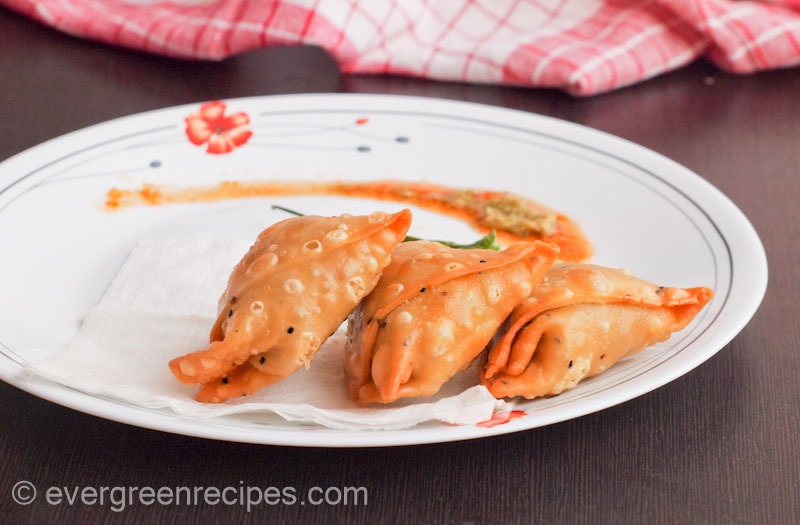 Got anything to say?
comments