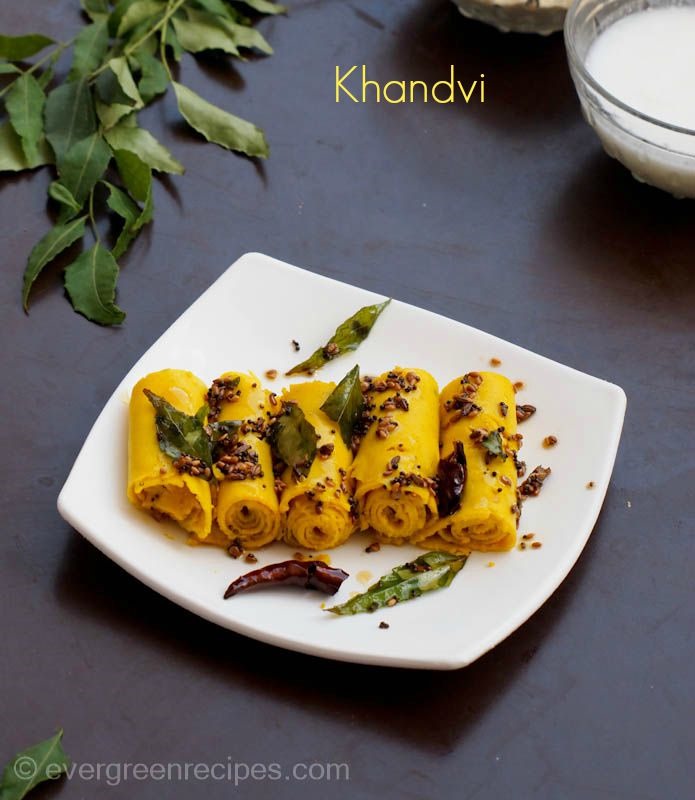 Here is the recipe of Khandvi, a Gujarat Specialty and another popular special from Gujarat after Dhokla. Just a few years ago, I never tasted anything else other than the dishes that were available in my city.
These Gujarati dishes are not as commonly available as the dishes like Dosa, Idli and many other dishes from different parts of India.
Thanks to the Internet that we can find the recipes of dishes from not only India but from any part of the world. So, when I started the blog, Dhokla was one of the few recipes, which I prepared just by using the recipes I found online. And it was so nice to prepare perfectly shaped, superbly delicious Dhokla in my own kitchen.
So, here is another recipe that I tried just from the recipe I found online. The Khandvi is a bit tricky to prepare, as it requires you to roll the batter as thin as possible. But read the instructions carefully and I am sure you can do it well.
You can follow the step-by-step instructions and prepare it at home, do let me know how it turned out. If any Gujarati are around, we would like to have your expert opinion on this recipe. Feedback is appreciated.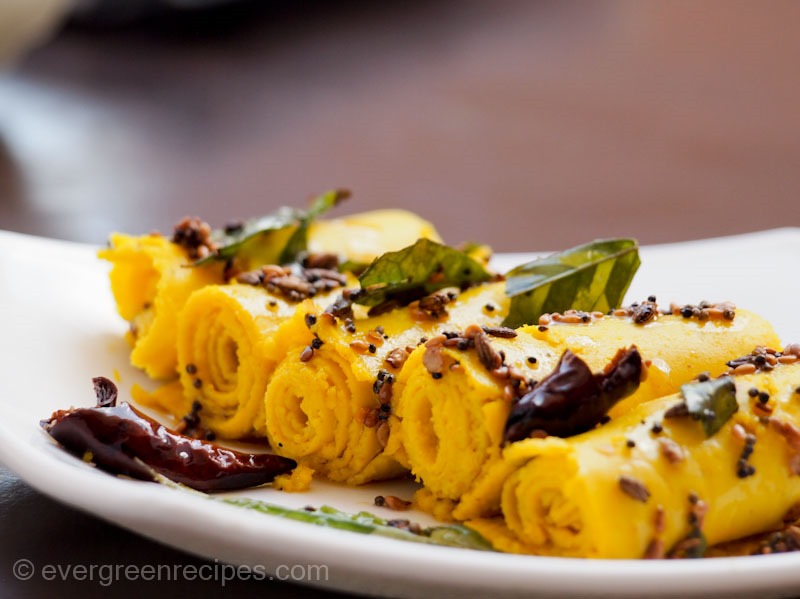 Preparation Time: 10 Minutes
Cooking Time: 8-10 Minutes
Serving: 4
Ingredients to make khandvi:
| | |
| --- | --- |
| Ingredients | Quantity |
| Besan / Chickpea flour | 3/4 cup |
| Curd | 3/4 cup |
| Water | 1 cup |
| Turmeric powder | 1/2 teaspoon |
| Ginger | 1/2 inch pieces |
| Green chilly | 4 |
| Salt | to taste |
| Asafoetida / hing | 1/4 teaspoon |
Ingredients to temper the khandvi:
| | |
| --- | --- |
| Mustard oil | 2 tablespoon |
| Mustard seeds | 1/4 tsp |
| Cumin seeds | 1/4 tsp |
| Asafoetida | 1/8 tsp |
| Dry red whole chilly | 1 |
| Sesame seeds | 1/4 tsp |
| Curry leaves | 4-5 |
Method:
1. Grind the ginger and green chilly together coarsely.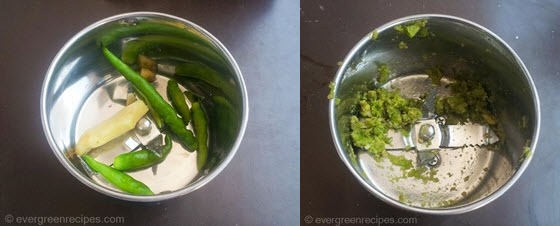 2. Keep all the spices ready. Take beaten curd in a bowl.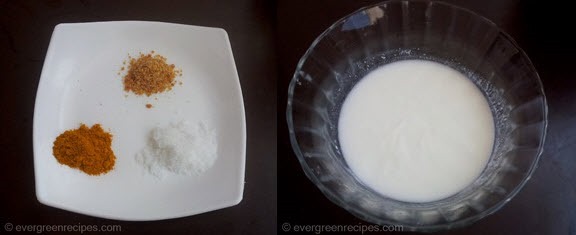 3. Add sieved chickpea flour and water in the bowl. Mix it well, and there should be no lumps in the batter.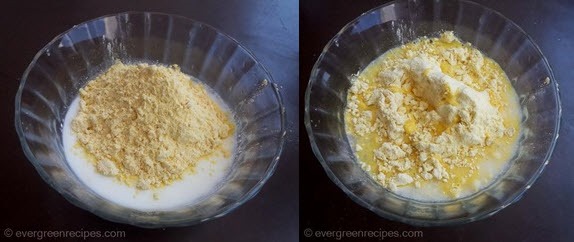 4. Add ground ginger-chilly paste, turmeric powder, asafoetida and salt. Mix it well. Batter is ready for Khandvi.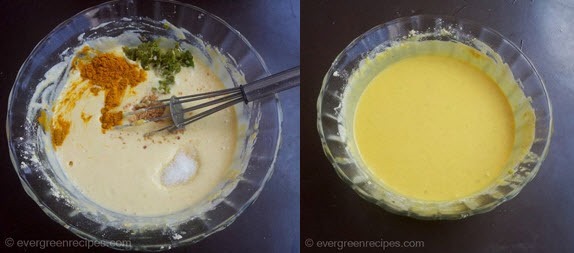 5. Heat the non stick wok and pour the Khandvi batter. Keep stirring it continuously with a spatula on medium flame, you'll notie the batter gets thicker and starts sticking to the wok.

6. You have to continue stirring it until you see the batter is thick enough that it won't stick anymore. Make sure it not too dry neither too loose.
How to find if the batter is ready: Take one teaspoon of batter put it on a greased thaali and spread it over the thaali, make it as thin as possible. Now roll over the spread batter, if you are able to do it then it's ready else, cook it for another minute. 

7. Now, we will do that exact process to the batter by putting it on a greased thaali (the thaali would be upside down as shown in the image below). You may need more than one thaali to spread the batter on, as we need to roll it as thin as possible.
★ Make sure you do it faster, if the batter cools down during the spreading, you won't be able to make it thinner.
★ If the batter mixture is overcooked (or undercooked) or gets thicker, you won't be able to spread it on the thaali properly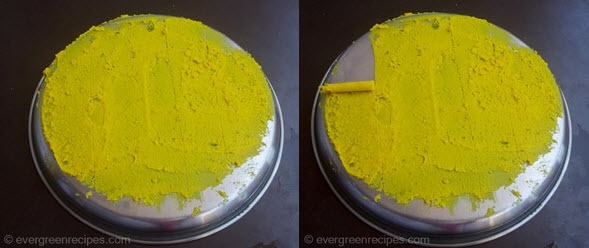 8. Let it cool down for a while (10 to 15 minutes). Then Cut it into strips that are 1.5 to 2 inch in width. Start rolling the strips from one corner, do it very slowly and lightly to get a perfectly rolled strip.

9. Roll all the strips like that, and Now heat the mustard oil in a wok, wait for it to get smoky, switched off the flame. tamper with Mustard seeds, cumin seeds, sesame seeds, dry red chilli and hing. Arrange all the rolled strips in a plate and sprinkle the tampering on it. The Khandwi is ready to be served.

10. Enjoy!!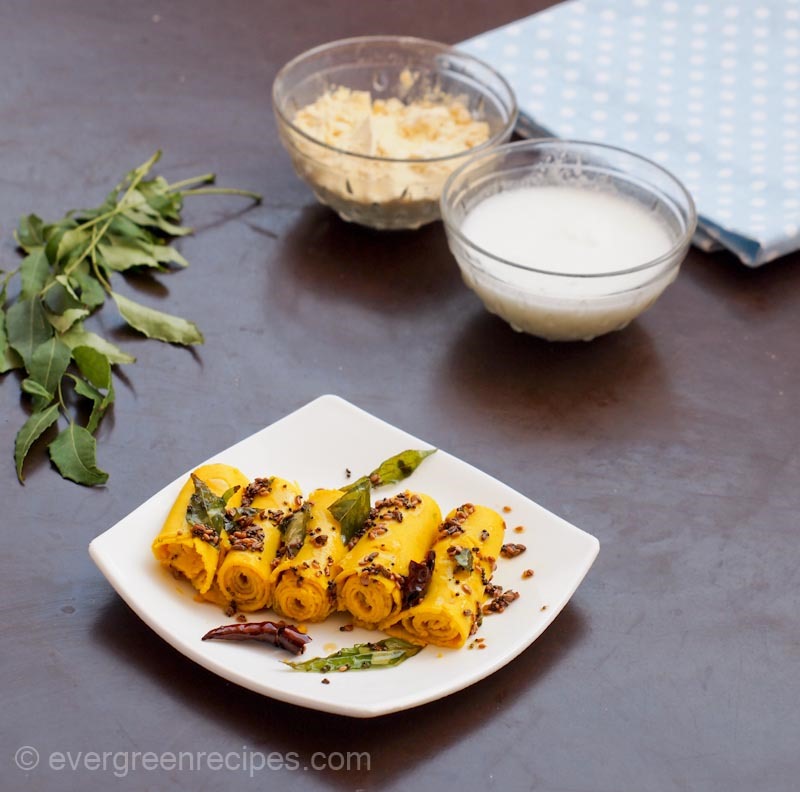 Got anything to say?
comments