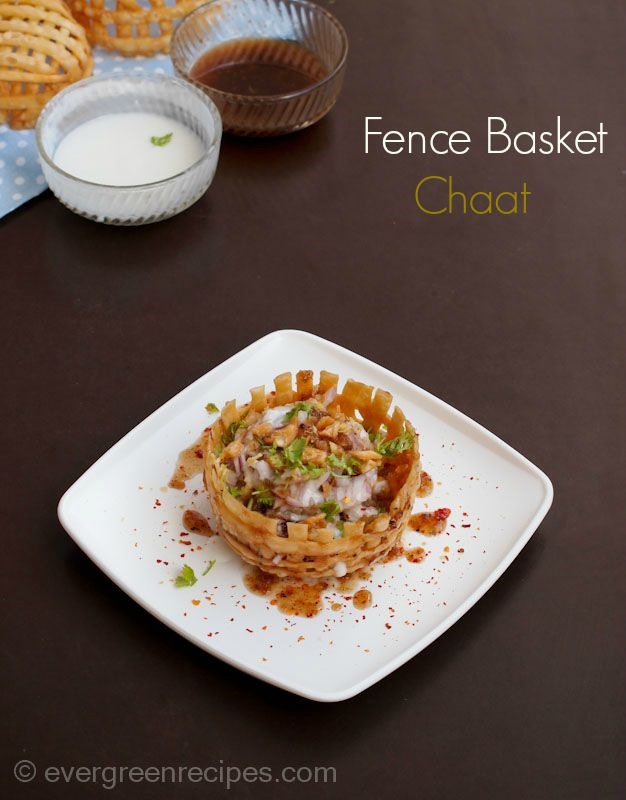 I love Indian fast food, I love the variety this segment has to offer, and I love chaat, there is no denying to the fact that chaat is a girl's best friend, after Diamonds obviously :-).
So, being good at cooking, it is obvious that I try preparing chaat every now and then, like the basket chaat I prepared for the blog or the katori chaat. And here is yet another Chaat, a different variation of chaat that we sould call Fence basket Chaat, (Thanks to the awesome readers for suggesting the name)
This fence basket chaat is as good as it looks. So, make sure you take some time out and learn this spicy and delicous thing. I am sure you are going to impress anyone who tries it.
Follow the step by step recipe along with photos and I really hope you prepare it at least once.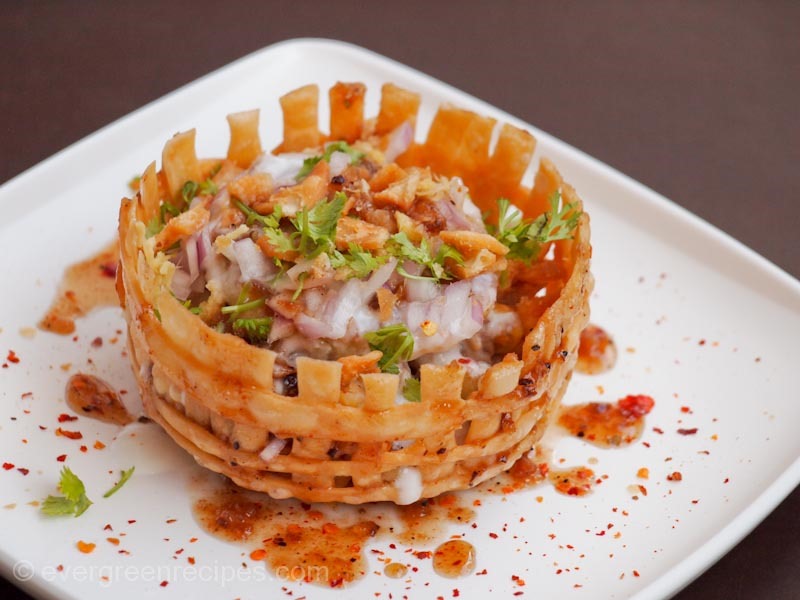 Check out the Basket Preparation Video
Preparation Time: 15 Minutes
Cooking Time: 15-20 Minutes
Serving: 5
Ingredients to make the Basket:
| | |
| --- | --- |
| Ingredients | Quantity |
| All purpose flour/ Maida | 1 cup |
| Salt | 1/4 teaspoon |
| Vegetable oil | 3 tablespoon |
Ingredients for filling the Basket:
| | |
| --- | --- |
| Potato, (boiled, peeled and mashed) | 1 cup |
| White Peas  (boiled) | 1 cup |
| Tamarind chutney | 3 tablespoon |
| Yogurt | 3 tablespoon |
| Ginger | 1/4 teaspoon |
| Coriander leaves | 2 tablespoon |
| Red chilly flakes | 1/4 teaspoon |
| Chaat masala | 1/4 teaspoon |
| Salt | to taste |
|  Onion (Chopped) | 1 |
Method:
1. Combine flour, salt and oil in broad bowl, mix it well. Knead the flour well to make tight dough as much as you can.

2. Divide the dough into 8 equal portions. Take one portion of the dough and roll it like a thin chapatti.

3. Make it square by cutting it from four sides. Then cut it into strips (1/2 inch is okay). I've cut the strips with 1/2 inch for one basket and 1/4 another basket to get different designs.

4. Stick the strips on a steel bowl by putting the bowl upside down. Make sure you put oil on the steel bowl so that the strips do not stick . Give it a fence-like shape by sticking the strips horizontally and vertically. Join the ends of the strips with the help of some water.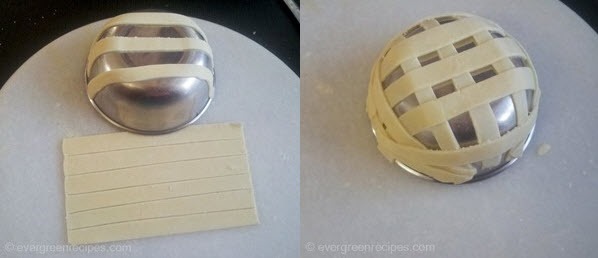 5. Heat the wok with oil and deep fry the bowl on a very low flame otherwise it won't be crispy and it could get bubbles if the flame is high. It will take 12-14 minutes for one bowl of strips to get ready.

6. I used the strips of 1/4inch width and kept them closely as you can see in the image below. Take the basket out when it is golden brown in color.

7. If you find that the strips stick with the bowl, get rid of it with using a sharp knife by poking it where it sticks. Now, carefully rotate the basket with one hand very lightly and hold he bowl with the other hand.

8. Make aloo tikki using the boiled potatoes and fry them till they are light golden in color from both the sides.

9. The fence basket and other ingredients of it are ready.

10. Dress the basket with all the ingredients as per your liking. I've added one aloo tikki, then two teaspoon boiled white peas.

11. Sprinkled red chilli flakes, chaat masala and salt, then put another aloo tikki on the top.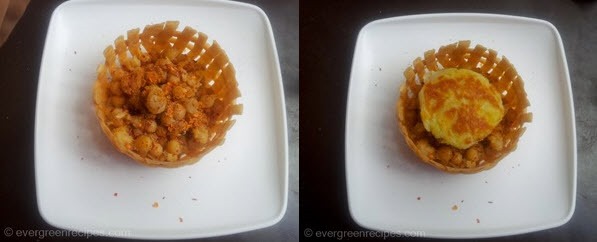 12. Put sweet curd, tamarind chutney, grated ginger, chopped onion and coriander leaves on it. Do the same for the rest of the fence basket.

13. Enjoy!!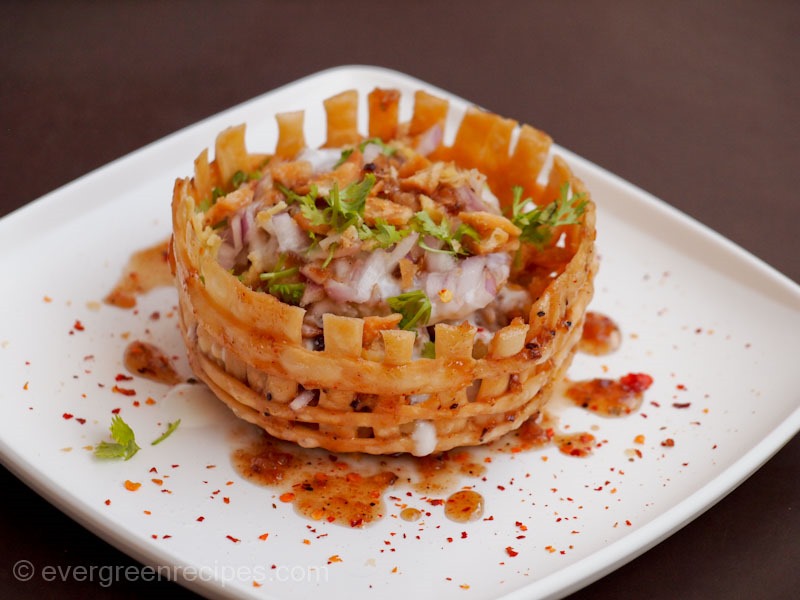 Got anything to say?
comments