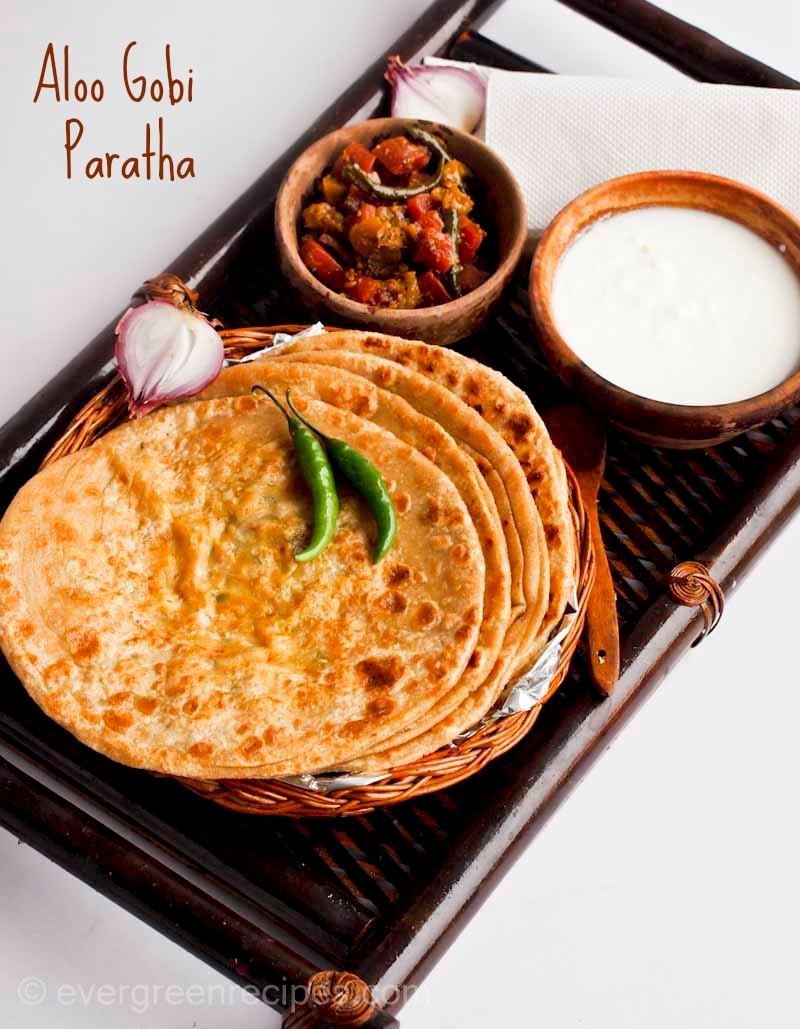 Here is the recipe of Gobi Paratha, something you can prepare for the entire family on a Sunday or a small family gathering.
Paratha is something which is a regular thing in the menu of North Indian homes. People simply love these. (See all Paratha Recipes)
Just stuff it with things like Potato, Onion or Gobi, it becomes favourite of many.
Below is the step by step process of preparing these delicious Gobi Paratha. I hope you will enjoy these.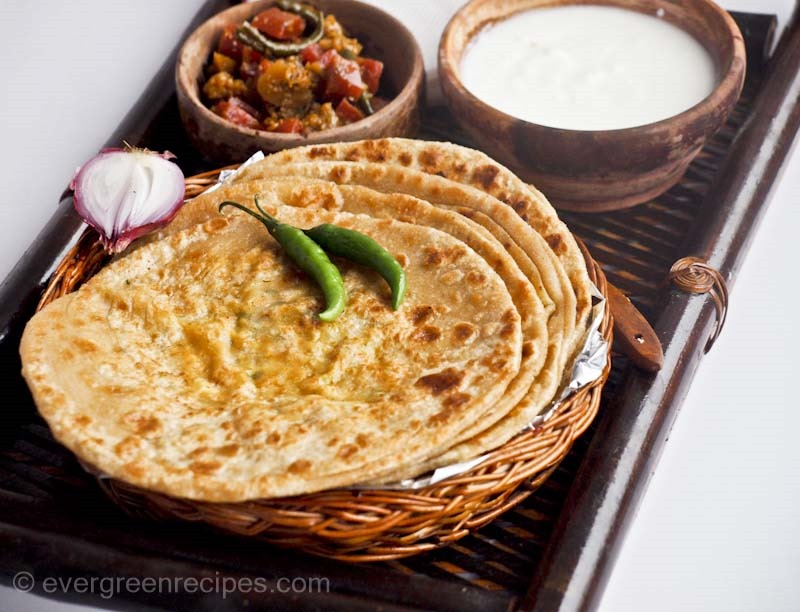 Preparation Time: 15-20 Minutes
Cooking Time: 10-15 Minutes
Serving: 4
Ingredients for the stuffing:
| | |
| --- | --- |
| Ingredients | Quantity |
| Potato (Boiled, peeled and mashed) | 1 cup |
| Gobi, Grated | 1 cup |
| Coriander leaves | 1 bunch |
| Green chilly | 2 |
| Ginger | 1 teaspoon |
| Red chilly powder | 1 teaspoon |
| Turmeric powder | 1/2 teaspoon |
| Cumin powder | 1/2 teaspoon |
| Lemon juice | 1 teaspoon |
| Chaat masala powder | 1/2 teaspoon |
| Salt | to taste |
Ingredients for the dough:
| | |
| --- | --- |
| Wheat flour | 2 cup |
| Vegetable oil | 2 tbsp plus rest for cooking the parathas |
| Salt | to taste |
| Water | to knead the dough |
Method:
1. Chop the coriander leaves, green chilly and ginger finely. Clean, wash and grate the cauliflower, I used my chopper to chop the cauliflower.  In a bowl, add mashed potatoes, grated/ finely chopped cauliflower, coriander leaves, green chilly, ginger, salt, red chilly powder, turmeric powder, cumin powder, chaat masala powder and lemon juice.

2. Mix it well. Stuffing is ready. In another broad bowl, add flour, 2 tbsp oil and salt, mix it well. Add little water at a time and knead the flour well to make the soft and pliable dough.

3. Cover the dough with wet muslin cloth, keep it aside for 15 minutes. Now take two small or medium size ball from the dough and roll it using the rolling pin into a circle of 3-4 inches in diameter or like puri.

4. Put 1 or 2 tbsp stuffing (depending on the size of the circle) in the center of the one circle. Apply water on the edges of the circle and close it with the another. Apply pressure on the edges with your fingertips so that they stick together very well and the filling won't comes out while rolling the parathas.

5. Dust with some flour and roll it using the rolling pin into a circle of 6-7 inches in diameter.

6. Put it on the hot tawa and turn it after 30 seconds. Drop 1 tbsp oil and spread it with the spatula or brush.

7. Flip it and brush it with the oil from the other sides. Cook it on a medium flame till light brown spots appear from both the sides.

8. Take out the cooked paratha on a tissue paper to get rid of the extra oil. Do the same with the rest of the dough. Delicious aloo gobi paratha is ready to serve, Serve hot with your favorite pickles, and curd.

9.Enjoy!!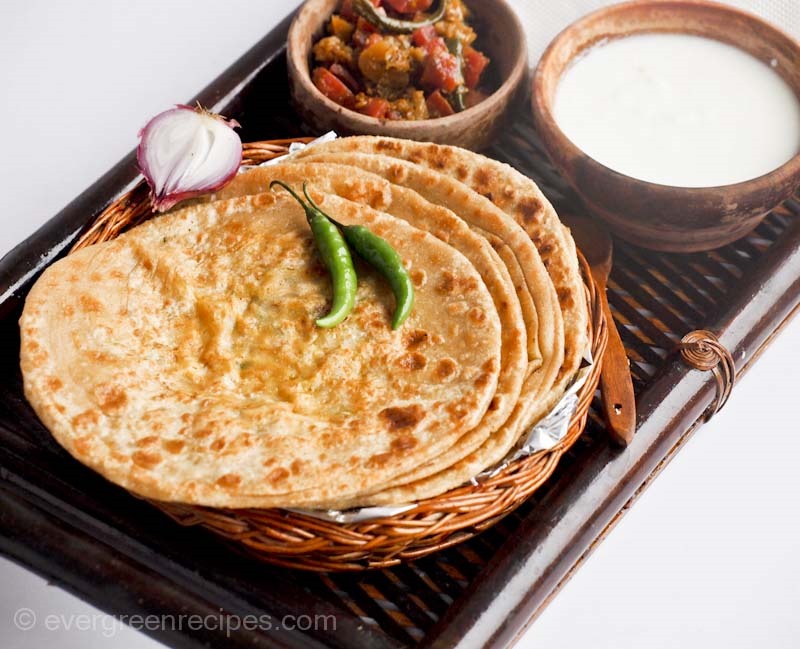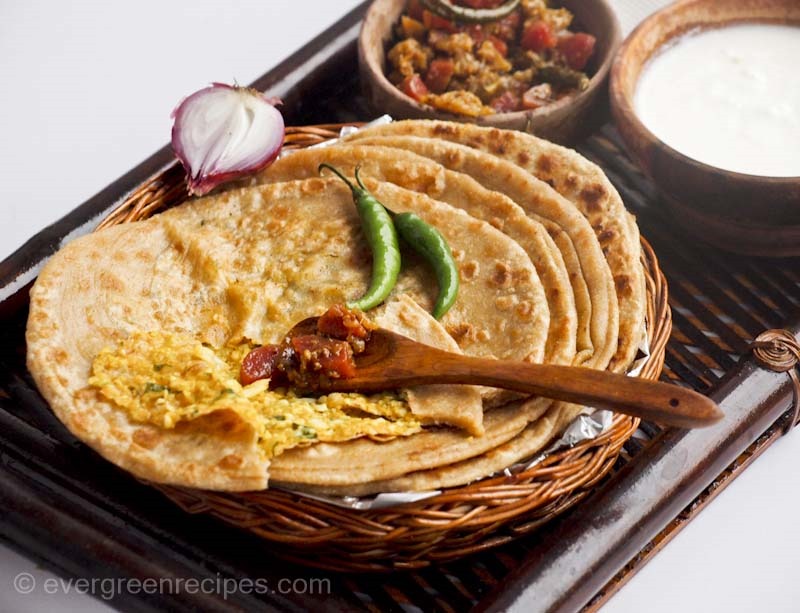 Got anything to say?
comments