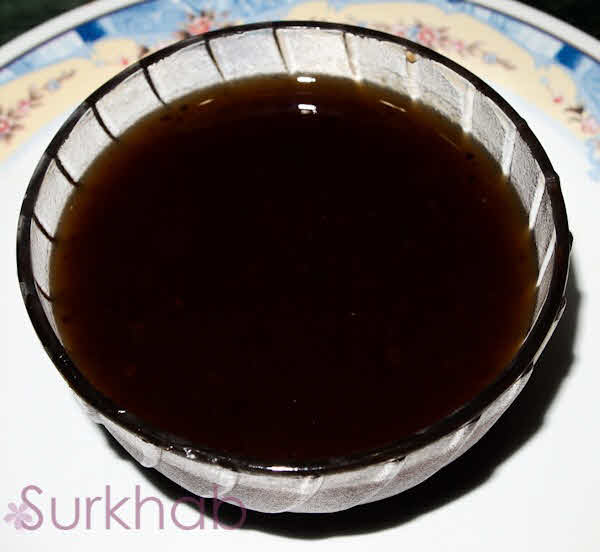 This is a sweet and sour chutney. Once made, it can last in the fridge for a good few months and freezes well. It can be served with various savoury snacks, chaats (spicy snacks), samosas, dahi vada and pakoras, just like tomato sauce/HP Sauce are used in the West. The word 'chutney' comes from original Hindi word 'chatni' and means 'a tangy and spicy sauce.
Preparation Time: 5 Minutes
Cooking Time :10 minutes
| | |
| --- | --- |
| Ingredients | Quantity |
| Tamarind | 100 gram |
| Sugar | 1 cup |
| Salt | to taste |
| Red Chilli Powder | 1/2 teaspoon |
| Water | 4 cup |
| Cumin Powder | 1/2 teaspoon |
Method:
1. Soak tamarind pulp in a large bowl, in hot water and leave for one hour or longer. If you have less time, heat it for a few minutes on stove. This will soften up the dry tamarind. It should be squishy.
2. Mash and squeeze the pulp out to separate seeds and skins.
3. Strain it through a large metal colander or sieve, add a little warm water to the remaining pulp and squeeze every last bit of pulp out. Now you should have a thick, smooth pulp. Discard stones and skins/husk/fibre.
4. Add 4 cups of water to tamarind and bring to the flame and cook for 10 minutes.
5. Strain it and add the sugar, chilli powder, cumin powder, salt, and mix well.
6.Cook again on medium flame till sugar dissolves completely and the chutney gets semi thick .
7 .Take out the pulp from the tamarind mixture.This Chutney thickens more on cooling so check for consistency when using.
8 . Enjoy!!
Got anything to say?
comments