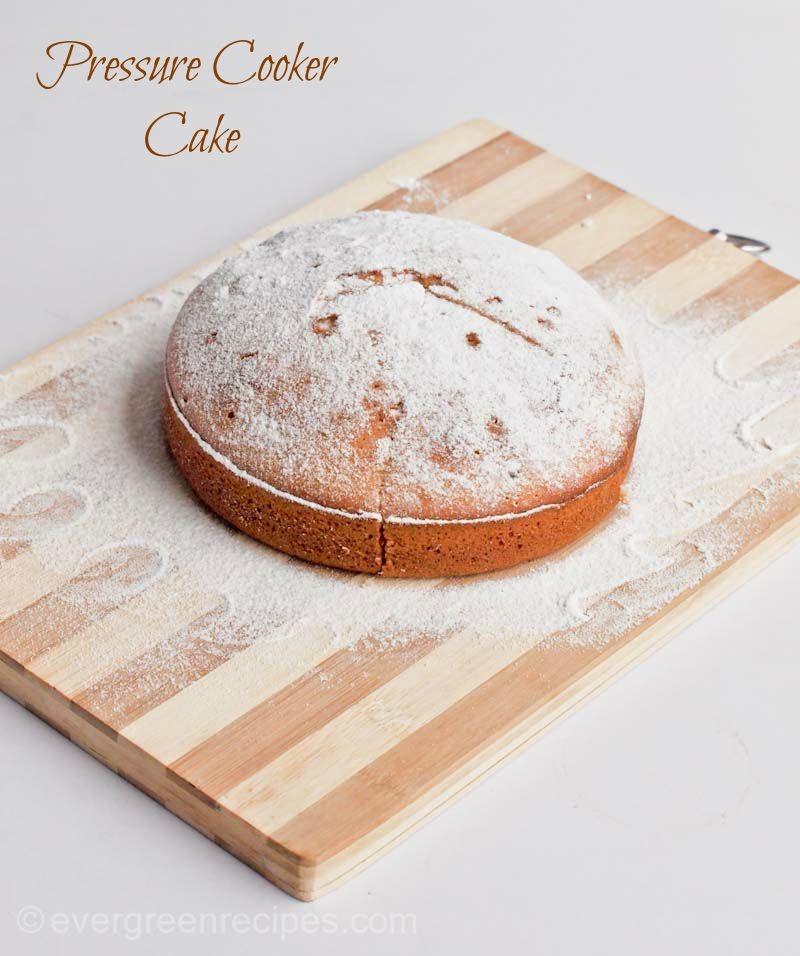 We often get requests for posting about making Cakes without an Oven, yes, you surely can do it and here is the recipe with exact step by step method to prepare it in your own kitchen.
Students and bachelors living in PGs or rent accommodations may not have a fully loaded kitchen with all the appliances one needs for the baking, but a simple hack for preparing cake in a pressure cooker can help them enjoy this cake almost anywhere and anytime.
Below is the step by step process to prepare the cake in a pressure cooker. I hope you will enjoy this cake.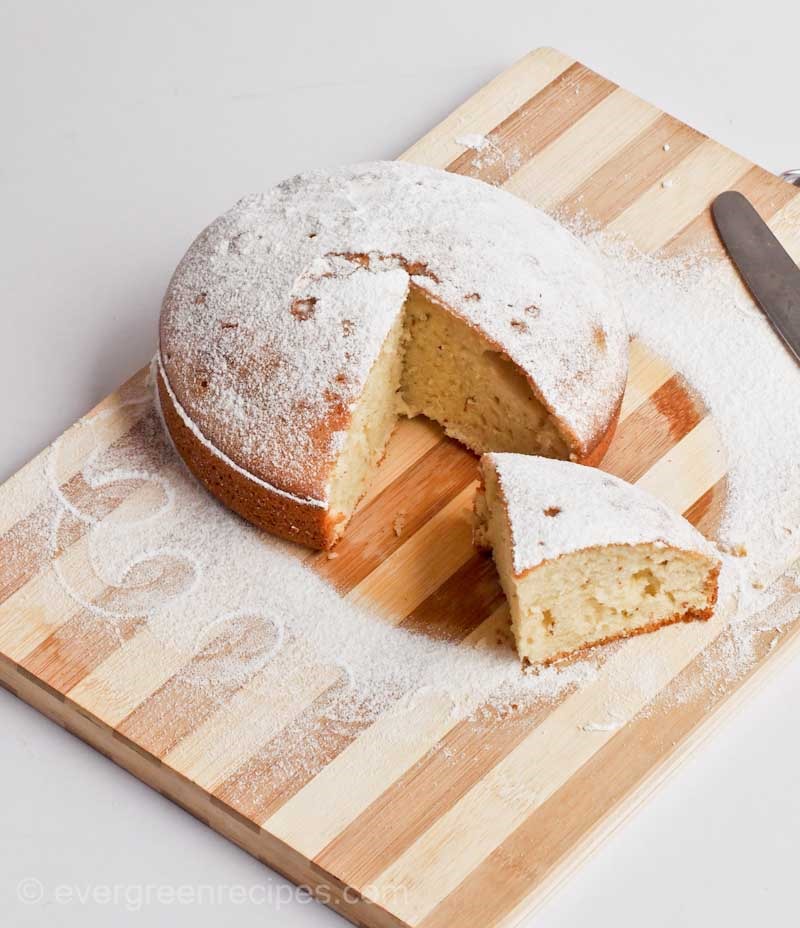 Preparation Time: 10 Minutes
Cooking Time: 35-40 Minutes
| | |
| --- | --- |
| Ingredients | Quantity |
| Flour | 1.5  cup |
| Baking powder | 1 teaspoon |
| Cooking soda | 1/8 teaspoon |
| Egg | 2 |
| Ground almond powder | 1 tbsp. |
| Lemon zest (optional) | 1/4 teaspoon |
| Milk | 1/2 cup |
| Vanilla essence | 1 teaspoon |
| Vegetable oil / Butter | 1/4 cup |
| Sugar | 3/4 cup |
Method:
For Eggless Cake: You can take half Cup beaten curd instead of the Eggs
1. Combine milk, sugar, lemon zest, vegetable oil and egg in a bowl, mix it well till the sugar dissolves completely. Add vanilla essence, mix it.

2. Then take the flour, baking powder, cooking soda and ground almond in a another bowl, mix it well. Add egg-milk (liquid ingredients) mixture to the flour.

3. Mix it well. Grease the baking pan/ mould with butter and pour the cake batter.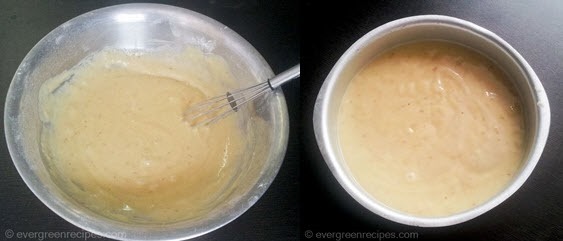 4. Heat the pressure cooker on high flame for 5 minutes before putting the cake mould. Put any aluminum or steel stand at the base of the cooker in which you have to put the cake mould. Don't put the cake mould directly into the cooker, because we don't need to add water so be careful, always put something at the base in which steam can pass. So your cake will not burn.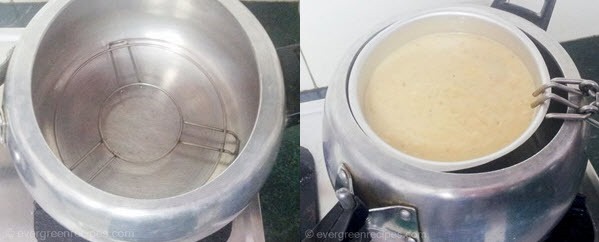 5. Put the cake mold in the pressure cooker, remove the whistle from the cooker.  Close the lid of the cooker. (Remove whistle from the cooker because we don't need to give whistle for the cake)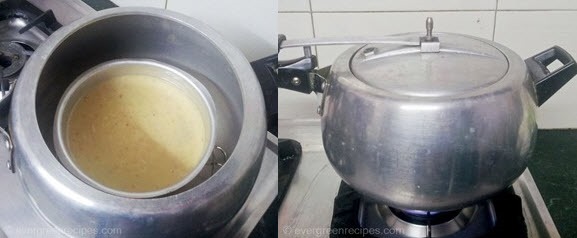 6. Cook it on high flame for 7-8 minutes, then low the flame and cook for another 25-30 minutes.

7. I opened the cooker after 26-27 minutes, the upper part was light in color and cake was not cooked properly.  Close the lid again, and cook for another 8-10 minutes till the upper part is beautiful golden in the color or insert a toothpick or knife in the center of the cake, if it comes out clean, cake is ready. Switch off the flame.

8. Let it cool at the room temperature, Invert  the cake in a plate or wire rack.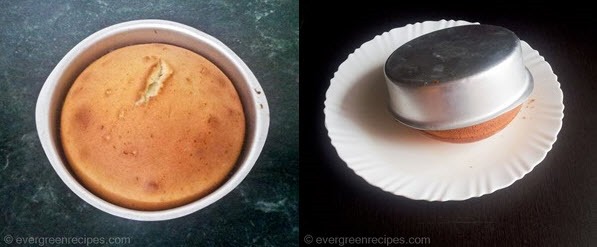 9. Here is the pic of beautifully cooked cake in a pressure cooker.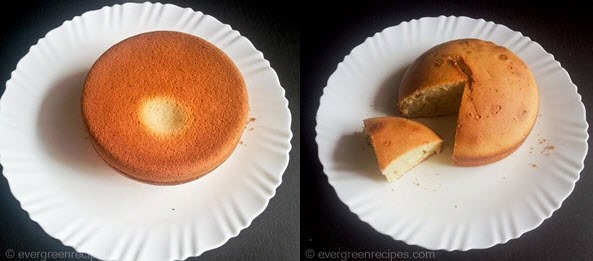 10.  I just decorated the cake with ground sugar/ icing sugar. Delicious cake is ready, enjoy with your loved ones.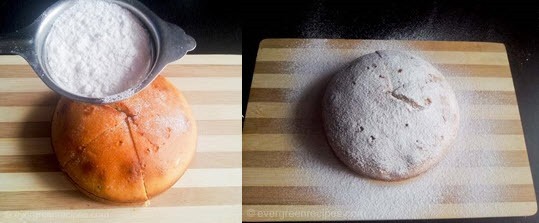 11. Enjoy!!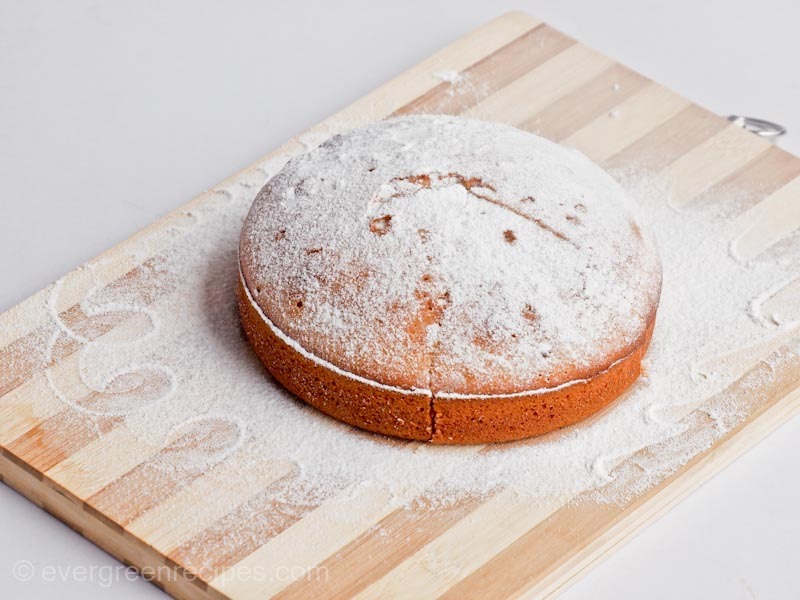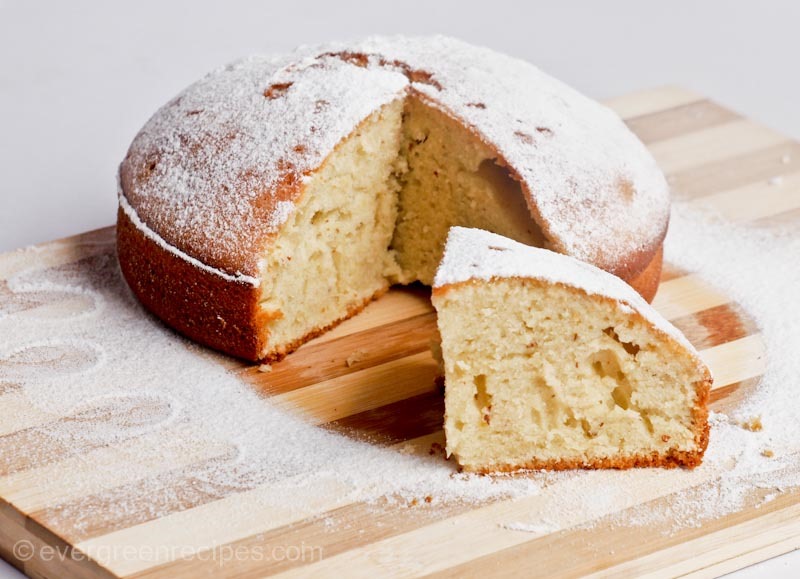 Got anything to say?
comments