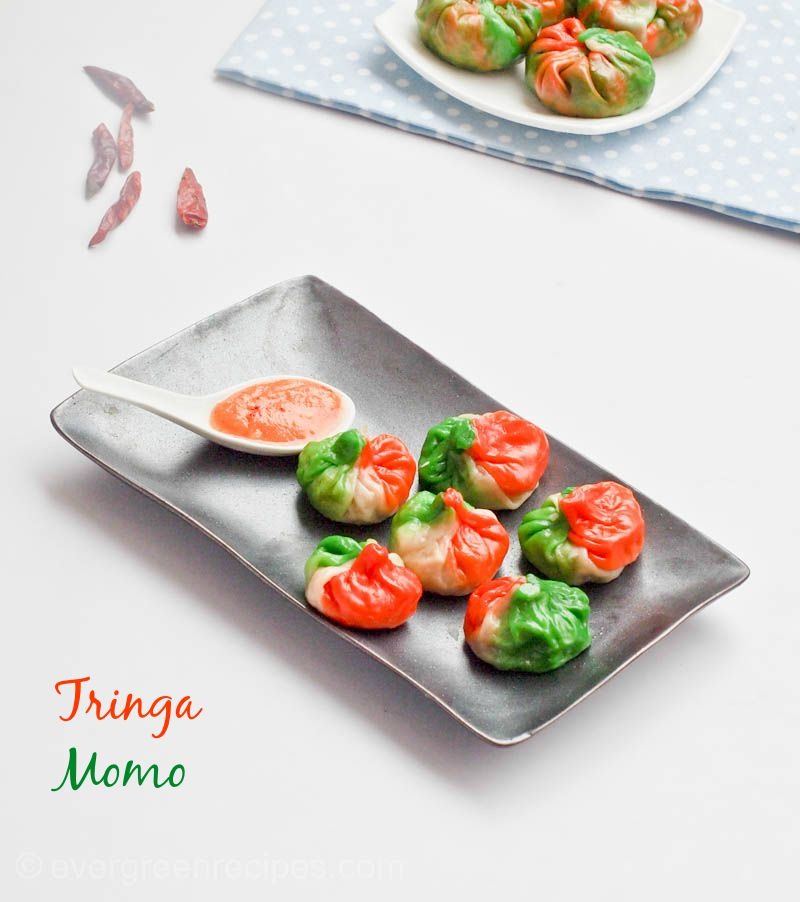 At Evergreen Recipes, we celebrate festivals by showcasing food you might want to enjoy. Independence Day is the national festival which calls for something special.
So, in coming week, we will be sharing recipes of dishes you would like to prepare along with the celebrations. First in line is the recipe of Tiranga Momo.
The name might be slightly exaggerated, but I couldn't come up with a better-suited name for a Momo blended into our beloved national flag.
Happy Independence Day to All.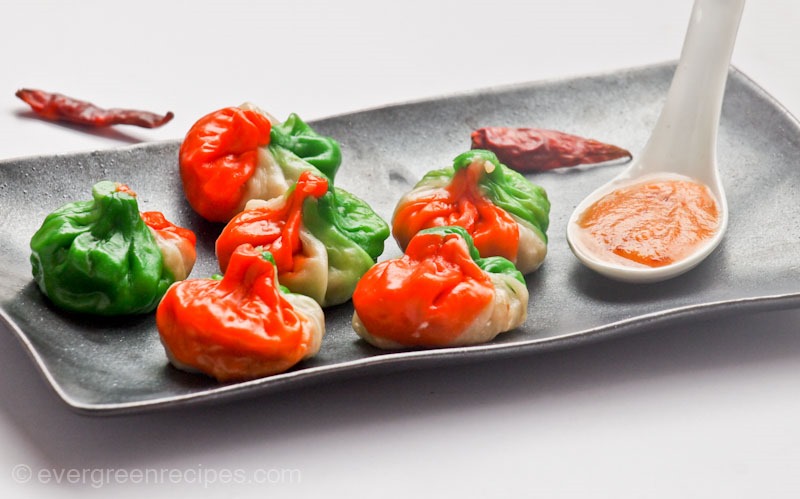 Preparation Time: 20 Minutes
Cooking Time: 10- 14 Minutes
Serving: 4
Ingredients for the Momo wrap/cover:
| | |
| --- | --- |
| Ingredients | Quantity |
| All purpose flour | 1.5 cup |
| Salt | small pinch |
| Green food color | a small pinch |
| Orange food color | a small pinch |
| water | to knead the dough |
Ingredients for filling:
| | |
| --- | --- |
| Vegetable oil | 1 tablespoon |
| Ginger | 1 teaspoon |
| Garlic | 1 teaspoon |
| Cabbage | 1 cup |
| Capsicum | 1/4 cup |
| Paneer | 1/2 cup |
| pepper powder | 1/2 teaspoon |
| Salt | to taste |
| Red chilly sauce | 2 teaspoon |
Method:
1. Heat the wok with oil, then sauté with ginger and garlic. Fry it for 30 seconds, then add chopped onion. Fry the onion till they are translucent in the color.

2. Add chopped cabbage and capsicum. Cook it on a medium flame for 3-4 minutes. Keep stirring in the process to avoid burning.

3. Add red chilly sauce, pepper powder and salt. Mix it well. Add crumbled Paneer and cook for another 1-2 minutes on high flame. Switch off the flame, filling is ready, let it cool at the room temperature.

4. Now prepare the wrap (shell or the outer crust) for the Momo. Divide the flour into three equal proportions and put them in separate bowls. Add a pinch of salt in each bowl.

5. Now add orange food color in one bowl, green food color in another bowl and one will be plain. Knead the flour well to make the dough as shown below in the image. (Now we have got 3 color dough for the tringa momo)

6. Make lemon sized balls from the each dough. Flatten it with your palms in

7. Mold them slightly into oval shape (a bit more stretched than oval) and attached three of them to get the color of the Flag.

8. Roll is using a rolling pin and then Cut it into a circle using a steel bowl. Prepare rest of the dough like this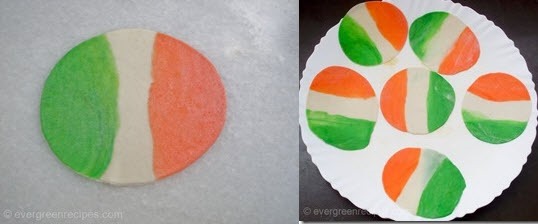 9. Put one teaspoon filling in the center of the dough and start folding and forming the pleats one by one. Join the pleats in the center as shown below in the image. Cover the Momos with wet muslin cloth or napkin till you are ready to steam the Momos. You can steam in Microwave or in a Momo steamer. I used my kadhai by putting 2 glass of water in the kadhai and let it boil. Then put steal channa in which steam can pass. Put Momos on the steal channa and cover . Steam cook for 8-10 minutes on medium flame.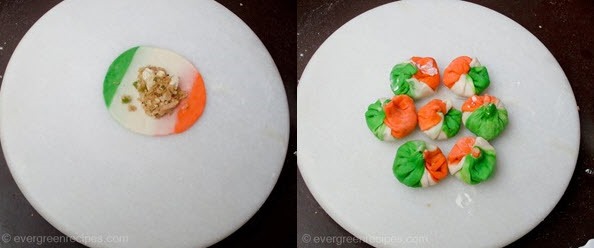 10. Enjoy!!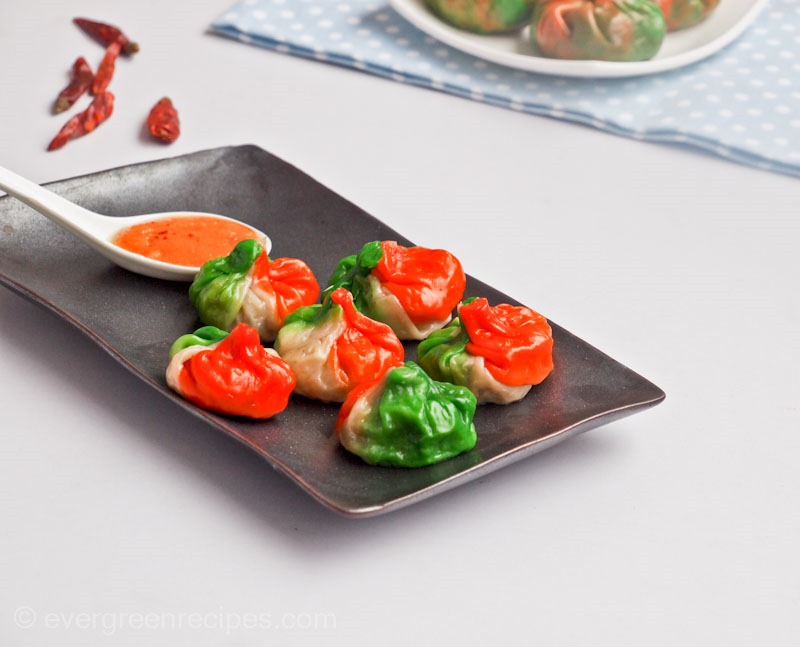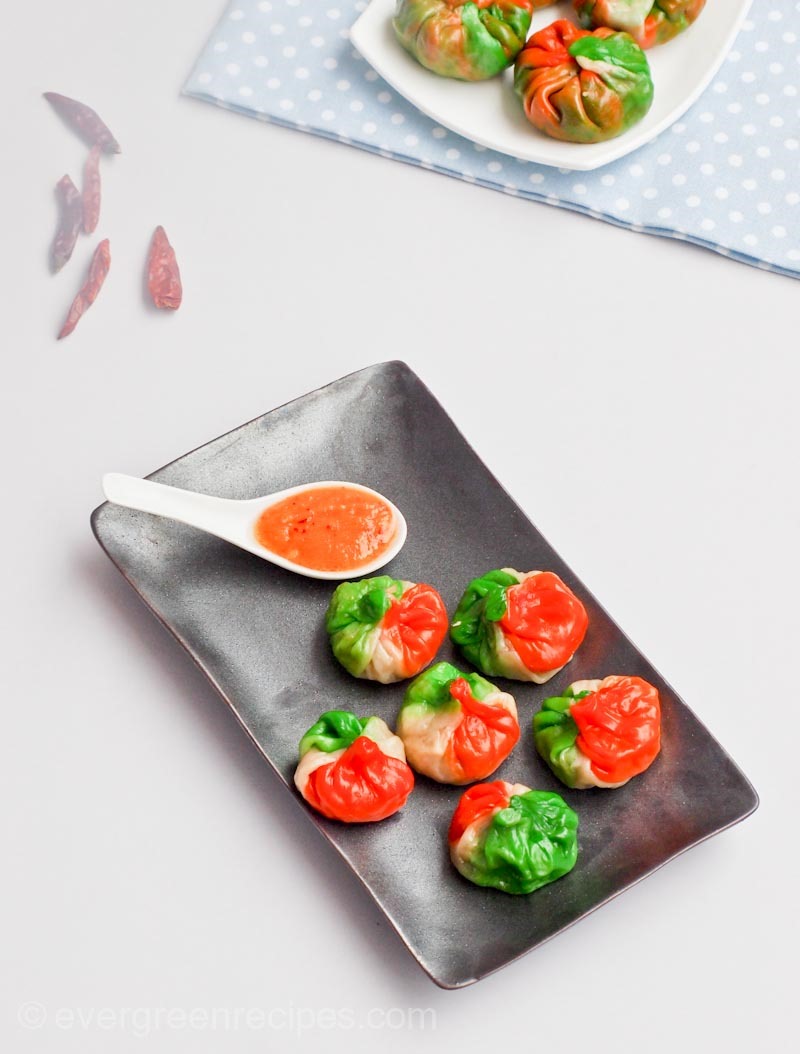 Got anything to say?
comments