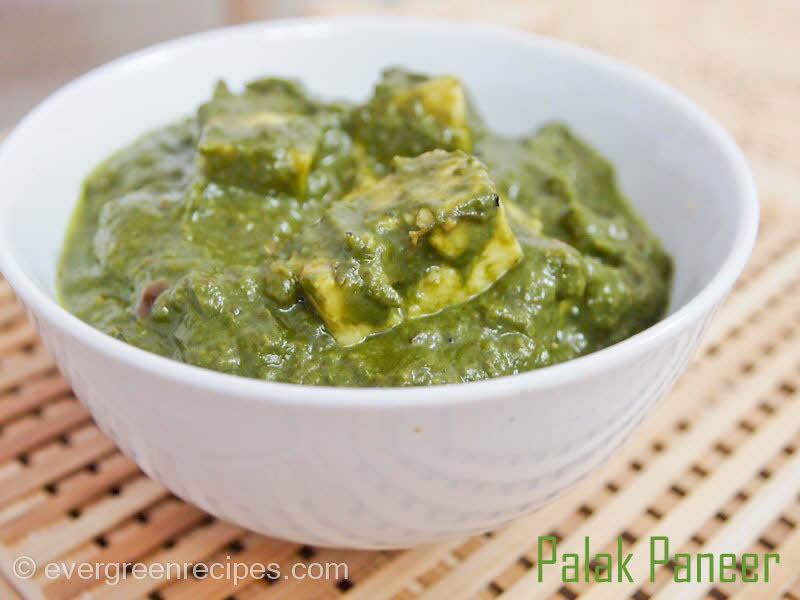 Palak paneer is made from ground spinach leaves and an Indian cottage cheese. It is rich, healthy and nutritious dish, well goes with chappatti. Presenting the ultimate palak paneer recipe. We all know the about the great taste of paneer and making it with spinach is nutritious….hmm I am out of words.
The taste is beyond putting in words here so, please take a look at this Recipe, prepare it, have it and ask yourself. Was visiting Evergreen Recipes worth? Enjoy.
Preparation Time: 10 Minutes
Cooking Time: 15 Minutes
| | |
| --- | --- |
| Ingredients | Quantity |
| Palak/ Spinach | 1 bunches |
| Onion | 1 |
| Tomato | 2 |
| Coriander Powder | 1/2 teaspoon |
| Garam masala powder | 1 teaspoon |
| Turmeric powder | 1/4 teaspoon |
| Milk | 1/2 cup |
| Salt | as needed |
| Paneer | 200 gram |
| Kasoori Methi | 1/2 teaspoon |
| Green chilli | 1-2 |
| Oil | 5 teaspoon |
| Red chilly powder | 1/2 teaspoon |
Method:
1. Remove all the stems part of spinach and wash the leaves properly.  Take a big pot or kadhai, add 1 teaspoon oil and add spinach leaves. Cook it on high heat for about 2-3 minutes or till it reduces in volume.

2. Grind Cooked leaves into a fine paste along with green chillies as shown below in the picture. ( I used 4-5 green chilli, because they were not spicy enough. (If you use more the gravy can be bitter in taste so be carefull)

3. Heat the oil in wok, and fry onion till golden brown in color.

4. Now add turmeric powder, red chilli powder, coriander powder and 1/4 teaspoon garam masala powder and cook the spices on low heat for about 1 minutes. Then add chopped tomatoes and salt.

5. Cook covered the spices on medium flame till tomato is mushy, then add kasoori methi.

6. Add ground spinach into the wok and mix it well. Cook it on a medium flame for about 5-6 minutes till oil shows separately.

7. Boil water and put paneer cubes in it for about 5 minutes to softened the paneer. Now add paneer cubes into spinach gravy and mix it well.

8. Add remaining garam masala powder and milk. Cook it for about 3-4 minutes on medium heat. Palak paneer is ready, Serve hot with chapatti.

9. Enjoy!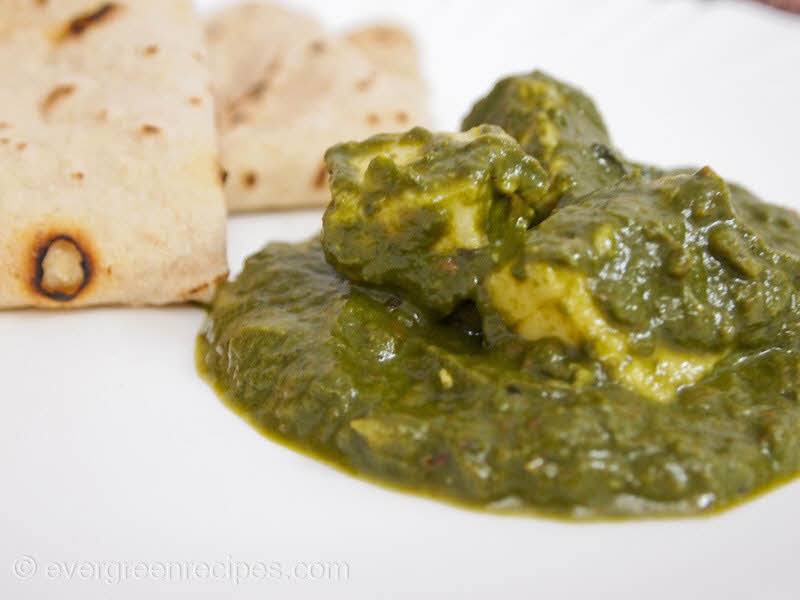 Got anything to say?
comments