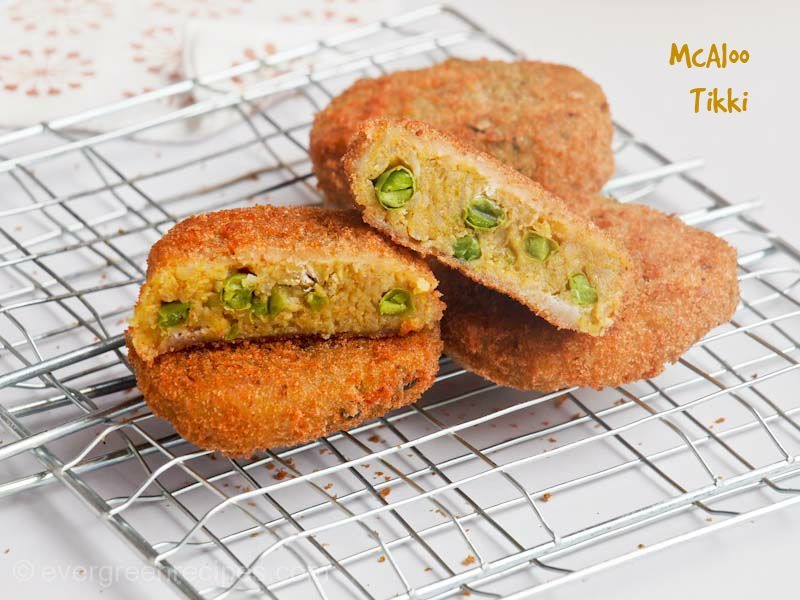 McDonald's is one of the favourite food destination of Kids, but I hate to go there. Don't get me wrong, I am not talking about the food, it's great, at least kids love them. But the place is so much crowded, I hate getting in line to order something and then  hunt for a place for us to sit down while carrying our orders in our hands. I plain weird for me, and for many people I know.
So, what's the solution?  I came up with the replica of McAloo Tikki, which McD puts in a variety of their signature recipes liek Mc Aloo Burger or Mc Aloo Wrap.
So, if you follow the step by step process of creating these Mc Aloo Tikki carefully, you are going to end up with the exact same thing you have at McDonald's and even better in some cases as you are assured of the quality of the food you eat.
Do try this out, I hope you will enjoy it as much as I did.
Preparation Time: 10-12 Minutes
Cooking Time:  10  Minutes
Serving: 4
| | |
| --- | --- |
| Ingredients | Quantity |
| Potato (boiled, peeled and mashed) | 2 cup |
| Green peas | 1/2  cup |
| Rice flakes / poha   (washed) | 1/2 cup |
| Butter | 2 tablespoon |
| Red chilly powder | 1 teaspoon |
| Turmeric powder | 1/2 teaspoon |
| Cumin powder | 1/2 teaspoon |
| Coriander powder | 1/2 teaspoon |
| Pepper powder | 1/4 teaspoon |
| Salt | to taste |
| Garlic chopped | 1 teaspoon |
| Corn flour | 1/4 cup |
| Baking powder | 1/2 teaspoon |
| Bread crumbs | 1 cup |
Ingredients for batter:
| | |
| --- | --- |
| All purpose flour | 1/2 cup |
| Corn flour | 1/4 cup |
| Baking powder | 1/4 teaspoon |
| Chilled water | 1/2 cup |
| oil | 1 tablespoon |
Method:
1. Boil potato and keep it in the fridge for 1-2 hours before using. So that it won't break when you will be making tikkis. Heat the non stick pan with butter.

2. Add green peas and mashed potatoes in the pan.

3. Cook it on medium flame for 1 minutes. Then add washed rice flakes in the wok, mix it well.

4. Add red chilly powder, turmeric powder, coriander powder, cumin powder, salt and pepper powder. Mix it well, Cook it on medium flame for 1-2 minutes. Switch off the flame.

5. Wrap it in thin plastic sheet as tight as you can in a cylindrical shape, close both the ends. I have tied it using a thread. Keep it in the freezer for 2 hours.

6. Combine 1/4 cup corn flour and 1/2 teaspoon baking powder in a bowl, mix it well and keep it aside. We will use this mixture for coating the tikkis before deep frying.

7. Combine all the ingredients given in the table" Ingredients for batter" in a another bowl.
8.  Mix it well, there should be no lumps in the batter. Now batter is ready for coating the tikkis.

9. Now take out the potato roll from the freezer and slice it into tikkis, they should not be too thin or thick. Take one tikki and use the mixture we prepared in step 6 to coat it.

10. Do it properly with all the tikkis. Now dip the coated Tikkis in the batter we prepared in step 7.

11. Then Coat the Tikki in Bread Crumbs.

12. And deep fry it on a Medium Flame till it is golden and crisp. Do the same with all the tikkis. Crispy mcaloo tikki is ready to serve.

13. Enjoy!!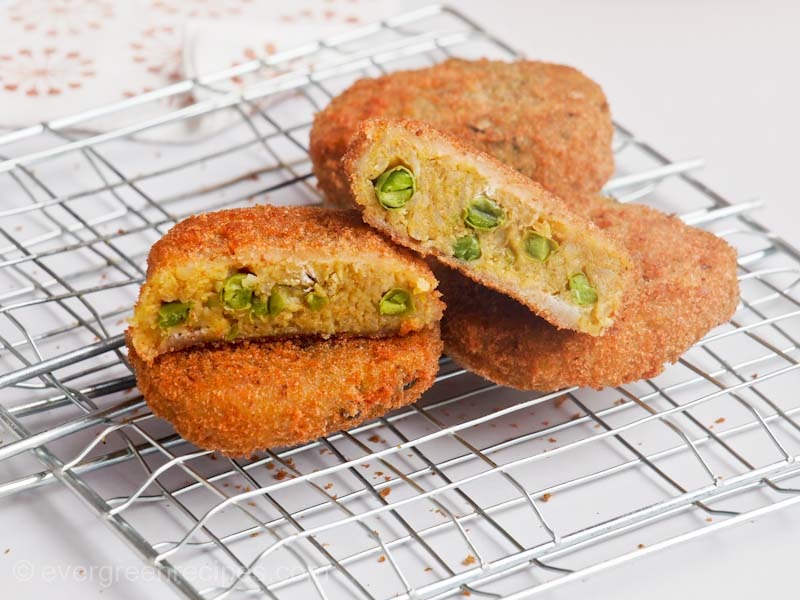 Got anything to say?
comments