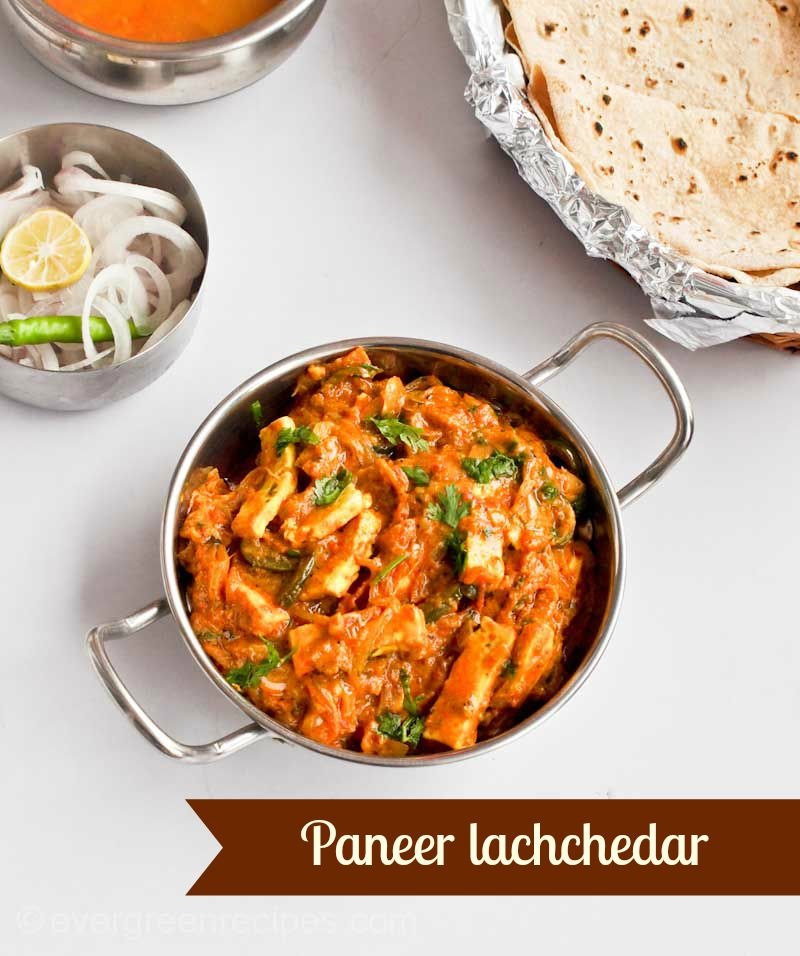 Here is the recipe of Paneer Lachchedar, another special recipe that uses Paneer as a key ingredient. I have a special love for Paneer, and whenever I visit a local restaurant, I always scan the menu to find interesting recipes.
And recently when I visited a local restaurant with my family, I ordered Paneer Lachchedar, found it different than the recipes I have shared on the blog.
[sociallocker id="4220″]
Download the PDF version of this recipe for offline purpose
[/sociallocker]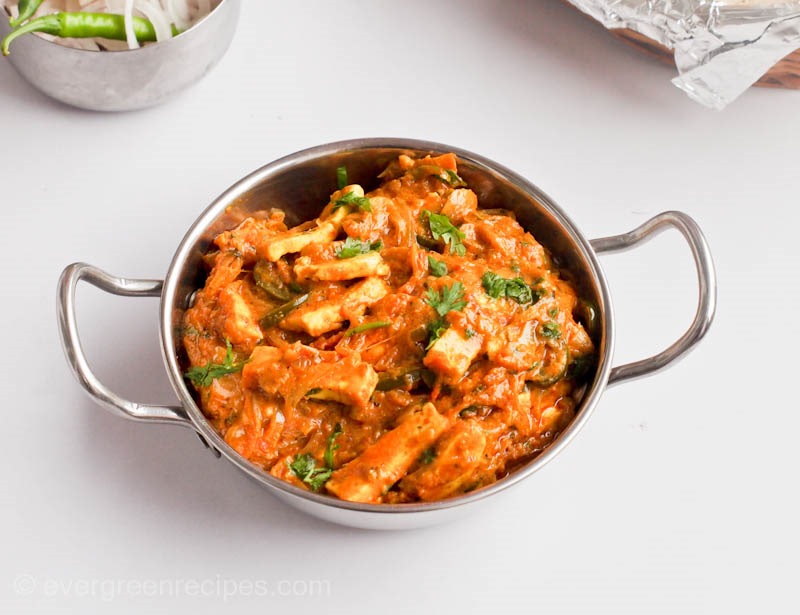 With some trial and error I was able to recreate the recipe for the blog, here it is. You can prepare this Paneer Lachchedar at home by following the simple and easy step by step process mentioned below along with photos. I hope you will love this one as well.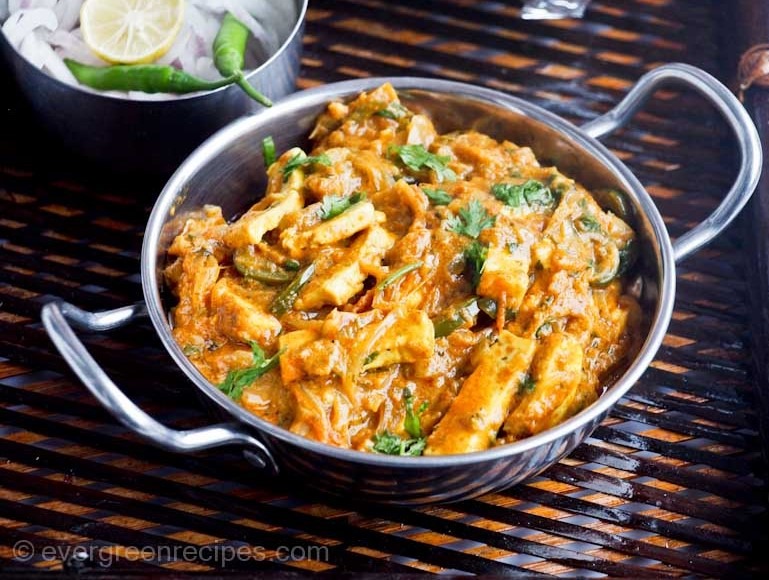 Preparation Time: 12-15 Minutes
Cooking Time: 10-15 Minutes
Serving: 4
| | |
| --- | --- |
| Ingredients | Quantity |
| Paneer | 300 grams |
| Onion | 1 chopped, 2 thinly sliced |
| Tomato | 2 chopped, 1 thinly sliced |
| Capsicum | 1 cut into thin strips |
| Ginger-garlic paste | 1 teaspoon |
| Red chilly powder | 1 teaspoon |
| Turmeric powder | 1/2 teaspoon |
| Coriander powder | 1 teaspoon |
| Cumin powder | 1/2 teaspoon |
| Garam masala powder | 1/2 teaspoon |
| Pepper Powder | 1/4 teaspoon |
| Salt | to taste |
| Cashew nuts Paste | 2 tbsp |
| Tomato puree | 1/2 cup |
| Fenugreek leaves | 1/2 teaspoon |
| Cardamom green powder | 1/4 teaspoon |
| Kashmiri red chilly powder | 1/4 teaspoon |
Method:
How to make Cashew nuts paste and tomato puree?
Soak Cashew nuts in hot water for 20-25 minutes, then grind it with 3-4 tbsp water to make fine and smooth paste.
Microwave tomato along with 2 cup of water for 8-10 minutes. Then peel of the skin of tomato and let it cool at the room temperature. Now grind it to make a tomato puree.
1. Keep all the ingredients ready.

2. Heat the wok/pan with oil and sauté with chopped onion. Fry onions till it is translucent in the color. Add chopped tomato and salt. Cook it on a medium flame for 1-2 minutes till the tomato is mushy.

3. Then  add ginger garlic paste and cook it for 1 more minutes.  Now add red chilly, turmeric, coriander, cumin, pepper and garam masala powder.

4. Add 4 tbsp water and cook the spices on low flame till oil shows separately.

5. Now add 3 tbsp more water  and thinly sliced onion, tomato and capsicum, mix it well.

6. Cook covered on medium flame for another 2 minutes. Then add tomato puree and cashew nuts paste.

7. Cook the spices on low to medium flame till oil shows separately. (it will take around 5-6 minutes, make sure keep stirring while cooking the spices to avoid burning. because we added cashew nuts paste, it sticks to the pan very quickly, so be careful)

8. Add Kashmiri red chili powder, cardamom green powder,  fenugreek leaves, and paneer strips.

9. Add 3 tbsp water, mix it well. Cook covered on low flame for 2 minutes. Switch off the flame, Delicious Paneer Lachchedar is ready to serve, serve hot with chapatti and rice.

10. Enjoy!!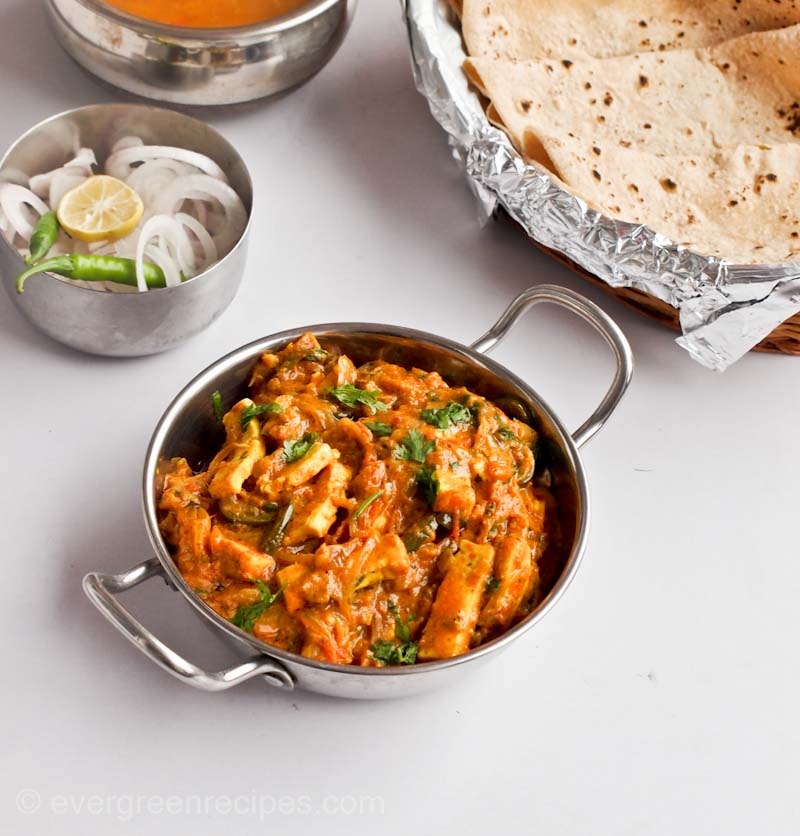 Got anything to say?
comments