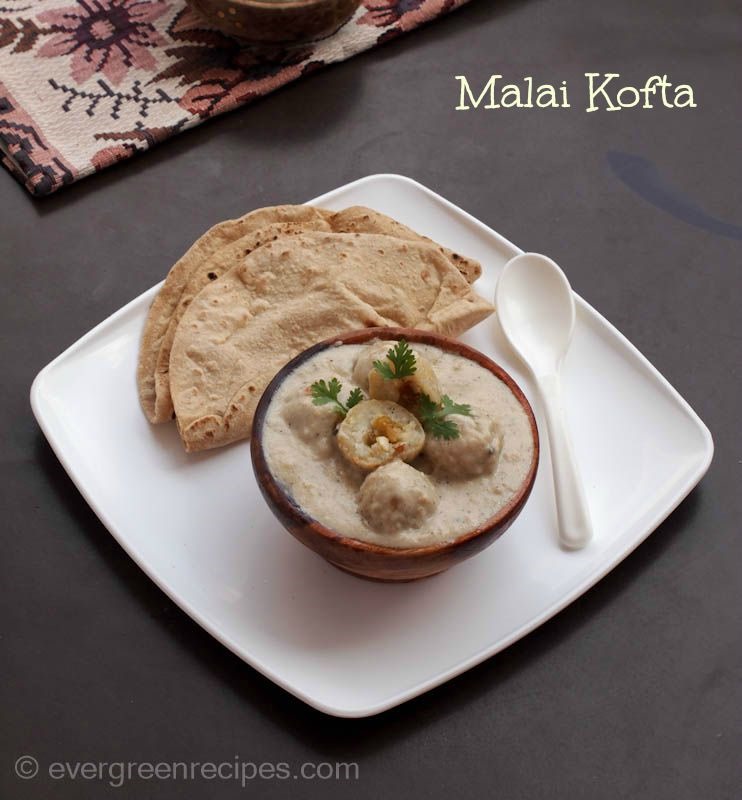 So Evergreen Recipes is taking requests for creating recipes you love. And here is one such recipe requested by a regular reader. In fact, I've got many emails and messages on my Facebook Page for the recipe of Malai Kofta.
I 've had the Malai Kofta at various places but the one I liked the most was in a local restaurant. I still remember the taste of it and prepared this one so replicate the taste, which, thankfully I've gotten it right, everyone who tasted it like very much and passed it for the blog.
So, presenting my recipe of Malai Kofta inspired from a local restaurant, you can prepare it in your own kitchen and I am sure you and everyone else is going to keep licking their fingers after having this.
Be sure to follow the step by step instructions along with pictures and it will come out perfect, just as it is in the pictures below.
So what are you waiting for? Make someone happy with your cooking skills. 🙂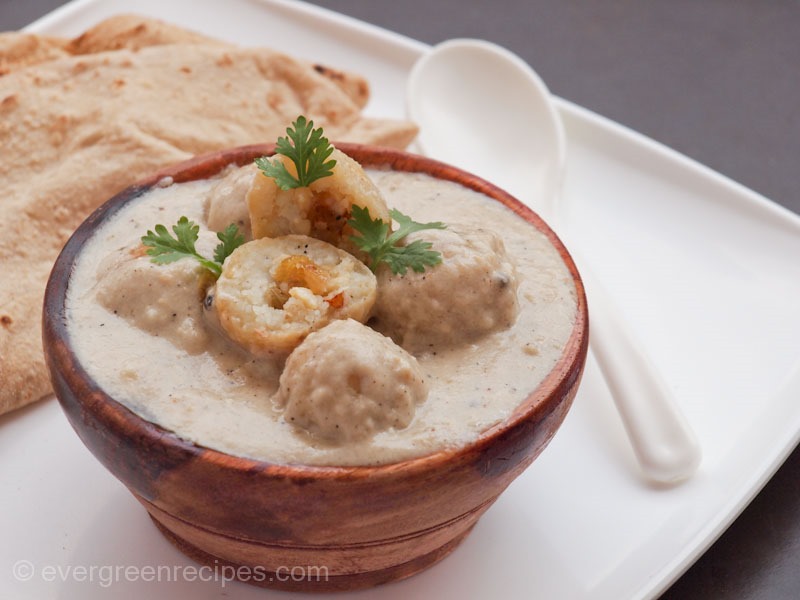 Preparation Time: 20 Minutes
Cooking Time: 20-25 Minutes
Serving: 4
Ingredients for making Kofta :
| | |
| --- | --- |
| Ingredients | Quantity |
| Paneer | 200 gram |
| Khoya/ Mava | 50 gram |
| Cardamom green powder | 1/4 teaspoon |
| Salt | 1/8 teaspoon |
| Almonds/ badam (chopped) | 4 |
| Cashew nuts/ kaju (chopped) | 4 |
| Raisins/ kishmish (chopped) | 5 |
| Ghee | 1 teaspoon |
Ingredients for Gravy:
| | |
| --- | --- |
| Onion | 3 |
| Cashew nuts | 15 |
| Bay leaf | 2 |
| Cardamom green | 5 |
| Ginger-garlic paste | 1 teaspoon |
| water | 2 cup |
| Cream | 1/4 cup |
| Pepper powder | 1/2 teaspoon |
| Green chilly | 6-7 |
| Butter | 4 tablespoon |
| Sugar | 1 teaspoon |
| Salt | to taste |
| Cardamom green powder | 1/2 teaspoon |
| Mava/ Khoya | 2 tablespoon |
Method:
1. Take one teaspoon ghee in a pan and add chopped almonds, cashew nuts and raisins. fry it for 30 seconds and switch off the flame. Combine grated Paneer, Khoya, corn flour, cardamom green powder and salt into another bowl.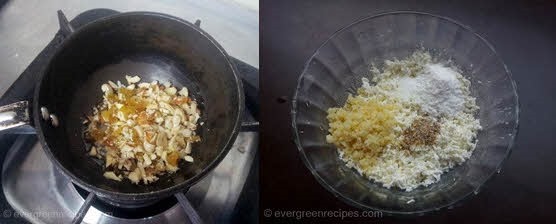 2. Mix it well to make a soft dough. Divide the Paneer dough into 10 equal portions. Take one portion of the dough and flatten it as shown below in the image.

3. Put 1/2 teaspoon roasted dry fruits stuffing and and close it, roll it between your palms to make lemon size balls. Do the same with the rest of the Paneer dough.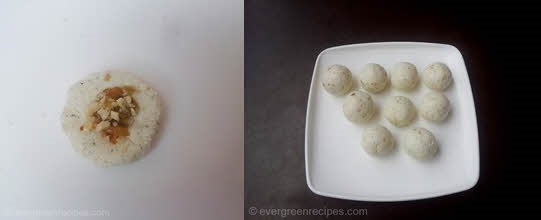 4. Heat the wok with oil and deep fry the balls on low heat till light golden in color. Don't get too much brown. I have fried these balls in two batches.

5. Drain it on tissue paper to absorb extra oil. Koftas are ready, keep it side. Boil 4 cup cup of water in another pan/wok and add diced onion. Boil it for 8-9 minutes. Drain the water, and let the onion cool at room temperature.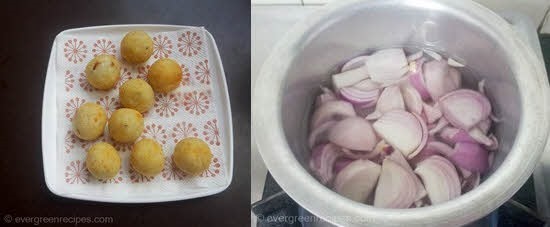 6. Now grind the boiled onion to make fine paste. Keep it aside.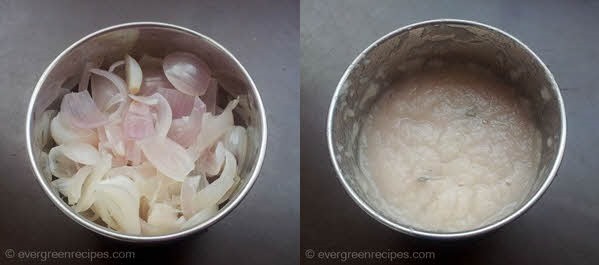 7. Boil 2 cup of water into another wok/pan and add cashew nuts. Boil it for 5-6 minutes. Drain the water and let it cool at room temperature. Take the boiled cashew nuts in a grinder, grind it to make fine cashew nuts paste. You can add 2-3 tablespoon of water while grinding the cashew nuts.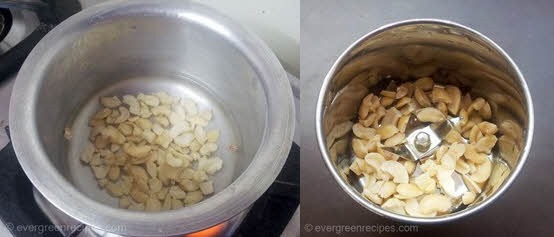 8. Heat another non stick wok with oil and saute with cardamom green and bay leaf.

9. Then add ground onion paste in the wok. Cook it on medium flame till oil shows separately. Then add ginger-garlic paste and cook for another 3-4 minutes.

10. Now add ground cashew nuts paste and 2 tablespoon butter in the wok. Cook it on low flame till oil shows separately and paste leaves the sides of the wok.

11. Add in green chilly and mix it well.

12. Add water and mix it well with the paste. Add pepper powder, salt and sugar. Cook it on medium flame for 3-4 minutes.

13. Add 2 tablespoon more butter and cream.

14. Add cardamom green powder and Khoya.

15. Add 2 crushed paneer koftas so that the gravy can be a slightly thick and mix it well. Cook the gravy on low flame 3-4 minutes. Add in koftas.

16. Cook covered on low flame for another 2-3 minutes. Delicious malai Kofta is ready to serve, Serve hot Chapatti, Naan , rice and pulav.

17. Enjoy!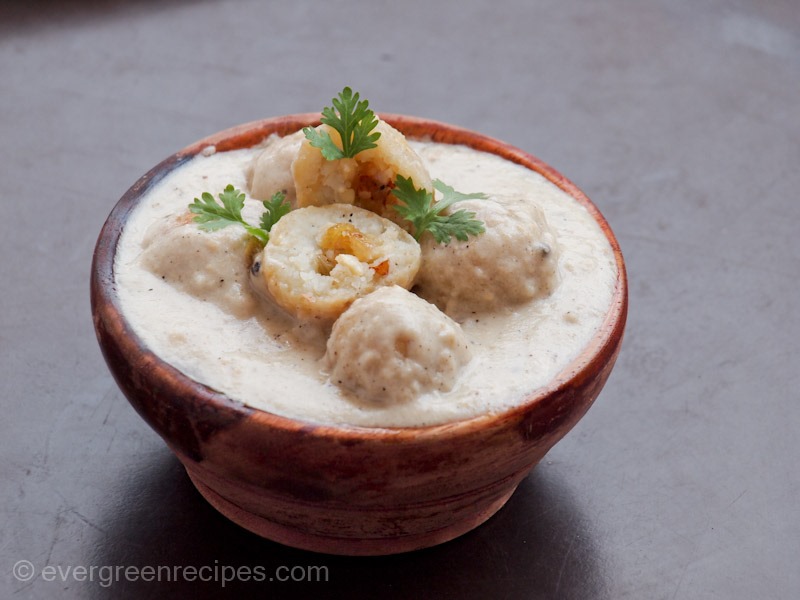 Got anything to say?
comments